Why the Media Will Never Actually Let Go of a Kate Middleton and Meghan Markle Feud
Kate Middleton and Meghan Markle are two of the most famous women in the world. Both of them married into the royal family; Kate married Prince William in 2011, and Meghan married Prince Harry in 2018. However, as soon as Meghan became a permanent addition to the family, the media started reporting that the two women don't get along — sources close to the family claimed that Meghan and Kate were feuding. Despite no proof that there is a feud between the women and no comments about it from the family, the media has never let the women's relationship go. And there is a reason.
When Meghan married Harry, rumors started about problems between the two women
As soon as Meghan officially became a member of the royal family, stories about her supposedly "strained" relationship with Kate Middleton flooded the news. It seemed that day after day, there was more drama occurring between the two women. Kate reportedly cried at Princess Charlotte's dress fitting for Meghan's wedding; Meghan allegedly yelled at Kate's staff; William and Kate supposedly flew commercial to make a dig about Meghan and Harry's private jet scandal. The rumors have been never ending, and it's even caused suspicions that Harry and William are no longer close.   
The duchesses are sisters-in-law — they don't have to be best friends
Regardless of whether there is any truth to the news stories (and none of them have ever been confirmed), people seem to forget that Kate and Meghan don't have to be best friends. It seems that since the women aren't doting on each other every minute, it must mean they hate each other — but that isn't necessarily the case at all. As with most sisters-in-law, being civil and good-natured toward one another is the most the women have to do. Since when does every woman need to become best friends with her in-laws? All that matters is that Meghan and Kate respect each other, which appears to be the case.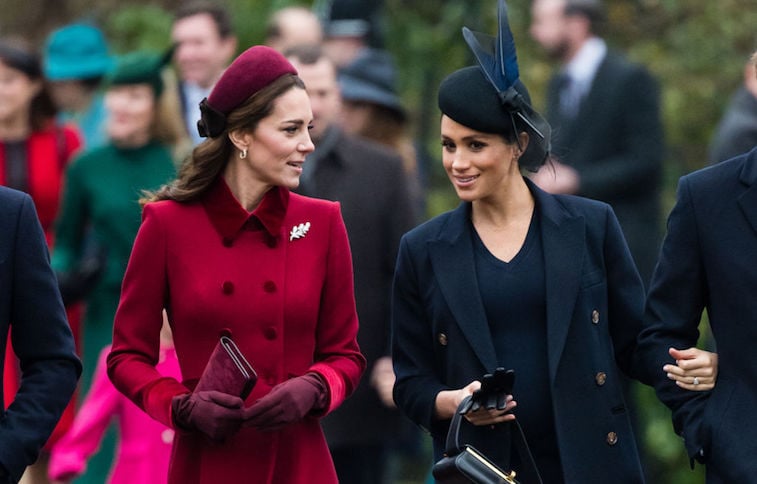 Kate and Meghan will always be relevant in the media
Meghan and Kate are well respected by each other and the people around them. But when a source brings up a potential story, it's natural for a media outlet to report on it. After all, it's the media's job to report on what they hear, and since Kate and Meghan are always relevant, it's something that most outlets will choose to cover. It's important to note that most reputable media outlets will explain that the rumors are unconfirmed or give the other side of the story, should there be one. And since families with prominence are important for the news, media outlets (especially tabloids) capitalize on every story they come across, no matter how small, which could be how the feud spun so out of control in the first place.
The royal family has other things to worry about besides the duchess' relationship
The royals don't take the time to discuss whether Kate and Meghan are best friends because their relationship isn't the most important item on the agenda. The royals are meant to serve the people; they aren't celebrities. Other royals have come under fire this year, including Prince William's alleged affair with Rose Hanbury (which there was never any confirmation of) and Prince Andrew's association with Jeffrey Epstein. Plus, Meghan and Harry are currently on a massive tour of Southern Africa, so there are just too many other things going on for the royals to worry about whether Meghan and Kate are best friends, which explains why they mostly choose not to comment on the situation.