Meet the Cauchis! Will 'Vanderpump Rules' Star Brittany Cartwright Change Her Name After Wedding to Jax Taylor?
Come Sunday, Vanderpump Rules stars Brittany Cartwright and Jax Taylor will be man and wife. The couple will wed Saturday, June 29 in her home state of Kentucky, and many of their Pump Rules co-stars will be there to celebrate the big day with them. 
And when those friends toast the happy couple, they'll be sending their well wishes to the Cauchis. Yes, the Cauchis. While Cartwright's husband-to-be is known as Jax Taylor to fans, that's not actually his legal name. 
Meet Jason Cauchi 
Diehard VPR fans have known for a while that Taylor's real name is Jason Cauchi, and that he started going by Jax Taylor in his early 20s when he was working as a model. 
Until recently, the fact that Taylor is using a stage name — a common practice in the entertainment industry — hasn't drawn much attention. But when he and Cartwright got engaged, fans began to wonder whether she would change her name, and if she did, whether she would be Brittany Taylor or Brittany Cauchi. 
Will Cartwright take her husband's last name? 
Cartwright hasn't confirmed whether she plans to legally change her name after her wedding. But an Instagram post from April indicates that the couple plan to use Taylor's legal name as their family name. The 39-year-old SURver shared a photo of Cartwright holding up a wooden sign reading "The Cauchis, Est. June 29, 2019." 
In a video filmed for Bravo's Daily Dish from December 2018, Taylor also said that if he and Cartwright start a family, their children will have his last name. "Our kids will have my last name, my legal last name," he explained. 
However, Taylor said he was in favor of Cartwright keeping her maiden name. "I think she should keep her last name," the Vanderpump Rules star said. 
At the time, Cartwright seemed torn about the idea of changing her name. "I'm still deciding what exactly we're going to do with that, because no one knows Jax as Jason Cauchi," she said. "So if I'm all of the sudden Brittany Cartwight-Cauchi, I feel like people are going to be like, 'What?' I think that might be a little confusing." 
She added that she didn't plan to take Taylor — which is her fiance's estranged mother's maiden name — as a last name, and that she'd likely end up hyphenating her name.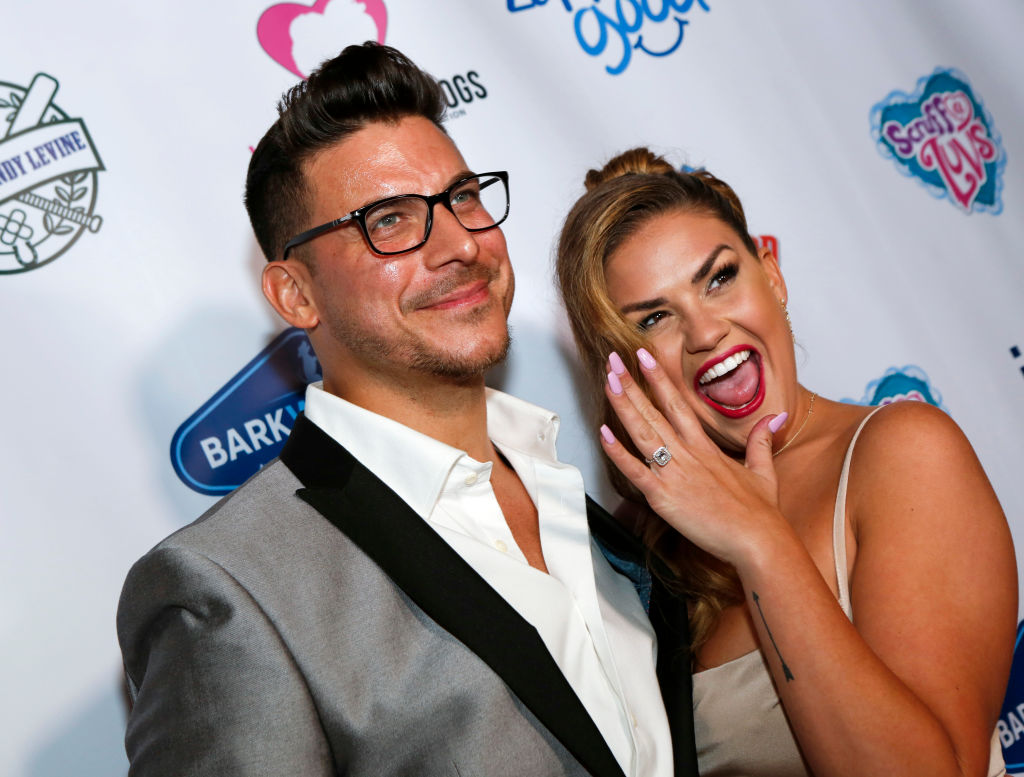 However, even if Brittany Cartwright legally becomes Brittany Cauchi or Brittany Cartwright-Cauchi, there's a good chance that professionally, she'll still go by her maiden name. Fans will just have to wait until after the wedding to see what she decides to do. 
As for those baby Cauchis? They could be here in the not-too-distant future. Taylor told Us Weekly in April that he wanted to start trying for kids on their wedding night. 
Cartwright is on board with the idea of starting a family right away. "I'm definitely eager to have kids and Jax is eager to have kids," she said. "When it happens it happens. We're not going to be very careful. We're gonna let it come with God's grace, and he'll give us a baby when it's ready."