Meet the Women Who Want to Win the Hearts of DJ Pauly D and Vinny on MTV's 'Double Shot at Love'
The Jersey Shore's most eligible bachelors are looking to settle down. Twenty women are competing to win the hearts of DJ Pauly D and Vinny Guadagnino on MTV's new show Double Shot at Love, which premieres Thursday, April 11.  

"Will you accept these bros?" 31-year-old Vinny asks in the just-released trailer for the show, which pokes fun at dating shows like The Bachelor (and also features the duo wearing sleeveless tuxedos). Based on the ladies' enthusiastic response when the Jersey Shore Family Vacation stars enter the mansion, it seems that the answer is a definite yes.

Who are the contestants?  

MTV has rounded up 20 women from around the U.S. who will vie for Vinny and Pauly D's affections in this Bachelor-meets-Jersey Shore dating show. They are:
Alli Adams, 28, from Green Bay, Wisconsin
Alysse Joyner, 24, from Brooklyn, New York
Ashley Lands, 24, from New York City
Brittani "B-lashes" Schwartz, 27, from Lake Grove, New York
Brittnay Dawson, 33, from Norfolk, Nebraska
Cate Lapera, 27, from Staten Island, New York
Christina Lawrence, 29, from Los Angeles
Derynn Paige, 25, from Franklin Lakes, New Jersey
Deseree Flores, 37, from Scottsdale, Arizona
Elle Wilson, 25, from Waverly, Pennsylvania
Holly Gurbisz, 26, from Matawan, New Jersey
Maria Elizondo, 22, from West New York, New Jersey
Marissa Lucchese, 22, from Massapequa Park, New York
Michelle "Mish" Gao, 22, from Tustin, California
Nadya Erazo, 29, from Pomona, California
Nikki Hall, 26, from Los Angeles
Shira Tran, 27, from New Orleans
Susan "Suzi" Baidya, 30, from Irvine, California
Victoria Fryer, 25, from Chicago
Zuljeily Andino, 30, from Miami
The 20 women will face off against each other with the goal of avoiding the dreaded elimination ceremony. However, the guys don't hold all the power. They must also compete for the affection and attention of the contestants. MTV promises it will be a "reality-dating show unlike any other."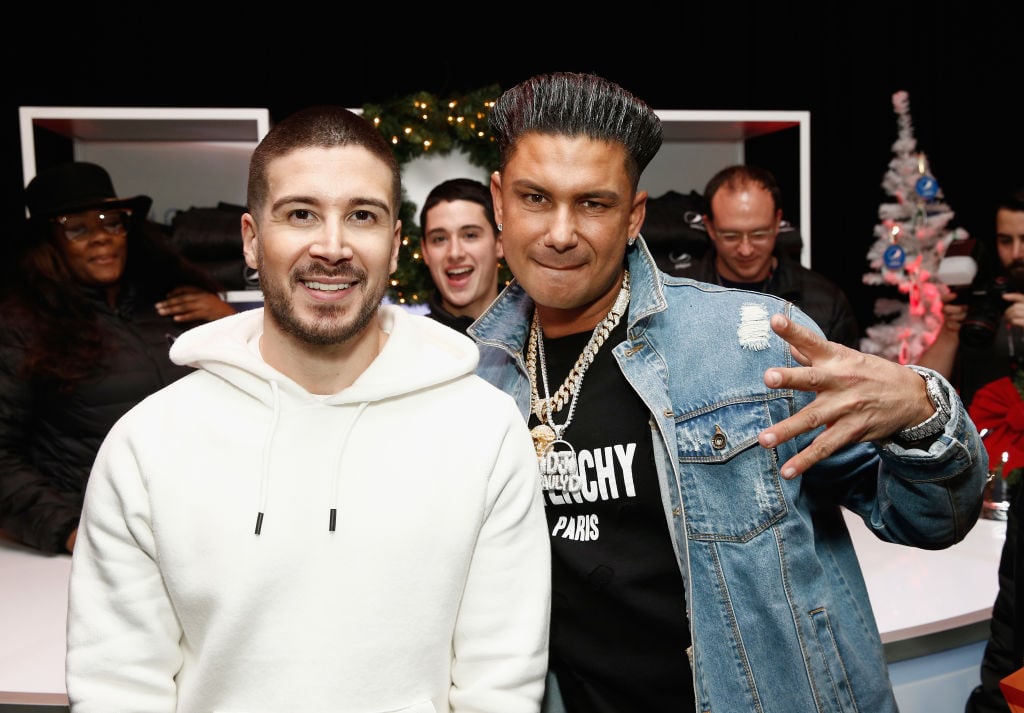 The 38-year-old Pauly D, is looking for a woman who can keep up with his luxurious lifestyle while he holds down a residency at a Las Vegas nightclub. Vinny says he's ready to get back in a relationship, but will he really be able to find someone to take home for Sunday family dinner?

One contestant, Maria Elizondo, appeared on Season 7 of MTV's Are You the One? On that show, she was a perfect match with Shamoy, but things didn't work out (it turned out he had a girlfriend back home) so now she's trying her luck with the Jersey boys.

The other contestants include a nursing student, a personal trainer, a dancer, the host of a travel TV show, and of course, multiple models.

The show is an offshoot of two earlier MTV dating shows: Double Shot at Love, which featured bisexual twins searching for the one among a group of 12 men and 12 women, as well as 2007's A Shot at Love with Tila Tequila.
Double Shot of Love with DJ Pauly D and Vinny premieres with back-to-back episodes on Thursday, April 11 at 8/7c on MTV.
Read more: 'Double Shot at Love with Pauly D & Vinny': How the 'Jersey Shore' Stars Will Compete for Love
Check out The Cheat Sheet on Facebook!