Meghan Markle Accused of Being 'Tacky' for Banning Wimbledon Photos
It's safe to say that actress Tatum O'Neal isn't much of a Meghan Markle fan, calling the duchess "tacky" for banning people from taking photos of her at Wimbledon. Markle was at the tennis tournament last week, where she dressed casually in jeans and a white jacket with a fashionable hat to keep the sun off of her face.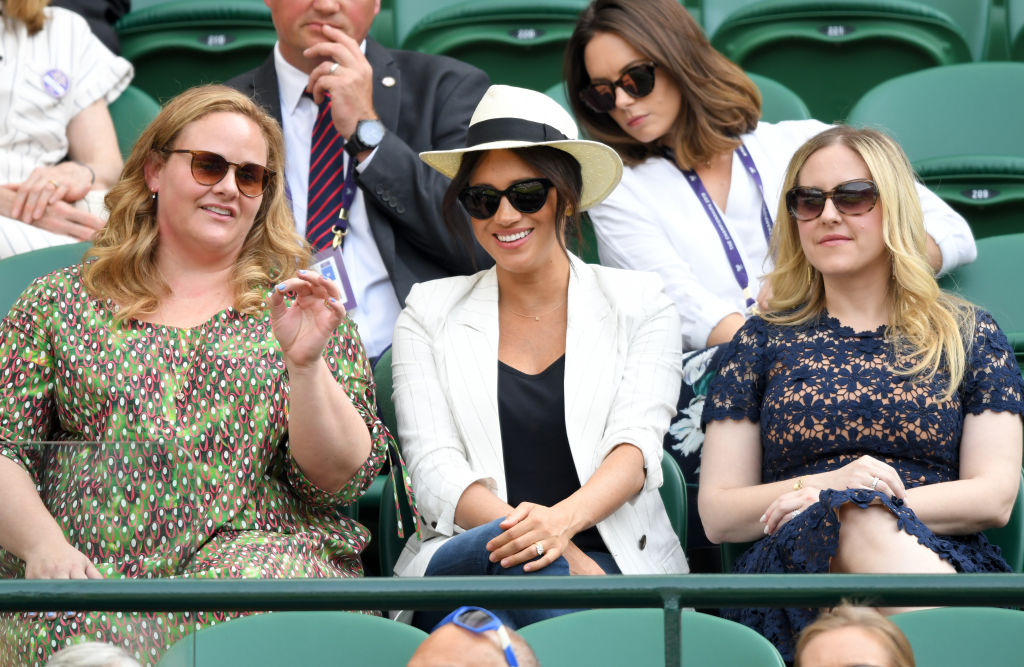 Markle's security kept people from taking photos
During her time at Wimbledon, Markle had security with her, with one guard warning tennis fans that they couldn't take her picture because she was there "in a private capacity."
Among the many people who weighed in on the matter was O'Neal, who said she was disappointed by Markle's move, noting she hoped the duchess would be the "next Princess Diana."
The actress, who was married to U.S. tennis star John McEnroe, told Good Morning Britain: "If you think of Princess Diana, and how absolutely inclusive she was, and she would never turn anyone away. I had so much hope for Meghan — I wanted her to be the next Princess Diana."
She added, "It seems like it's all about her. It's really upsetting me. To have a bodyguard to muscle somebody out, I just think it's so tacky."
According to O'Neal, Kate Middleton, in contrast to Markle, "gets" what it means to be a royal.
Piers Morgan weighs in
Naturally, Piers Morgan, who often finds fault with Markle, weighed in with his perspective, saying: "If you go to Wimbledon… in the best seats in the house for nothing and you take your two bezzies… you're public people."
He added: "If you want to be private, go back to America and live privately."
Morgan later ranted: "I don't know what they're trying to achieve. She wants all the good stuff and she's behaving like a Hollywood actress. She wants to have her cake and eat it and it's driving people nuts."
Did Markle ban photos?
The story first emerged when Sally Jones, who was sitting in the same row as the duchess, explained in a Daily Mail column that a protection officer had told her not to take photos of Markle.
She noted: "I think this royal protection officer was quite embarrassed. He appeared a bit mystified as to why he was being asked to make such a request. I told him it was bonkers and that, even if I had been trying to snap the duchess, I'd have got a blurry picture of her right ear."
Jones continued: "Apart from anything else, there were hundreds of people clicking away. I said to him, 'Have you thought about having a word with any of the television cameras?' He looked a little uncomfortable."
Speaking to GMB, Sally Jones explained how she was approached by the security guard and tod, "Would you kindly not take photos of the Duchess – she's here in a private capacity."
She added, "And I was a bit gobsmacked. I thought 'what, have I upset people?' Then, suddenly, I felt a bit angry and a bit bemused. I almost burst out laughing."
The palace responds
Markle sat in an exclusive area of the crowd, separated from other fans by rows of empty seats. Her appearance at the event, one official told The Times, "was a nightmare," adding, "she was a nightmare. She wanted to come incognito but there were problems."
A spokesman for Buckingham Palace responded, noting: "It is not unusual for people accompanying Members of the Royal Family at private, or public, engagements to ask members of the public not to take photographs. This is to enable Members of the Royal Family to properly engage with people and events."