Meghan Markle and Her Makeup Artist Are Closer Than You'd Think
Meghan Markle seems to be settling comfortably into her role as Duchess of Sussex, and fans are loving every part of it. While it had previously been thought that Harry's new wife was doing her own makeup for royal engagements, it has been revealed that she recently reunited with her makeup artist and close friend, Daniel Martin. The two met up this past week, and while what they actually talked about remains between only them, it is known that Meghan served a nice spread of tea and avocado toast.
What is Daniel's nickname for Meghan Markle?
The two appeared to enjoy catching up, as Daniel posted a picture of what they ate on Instagram. And while his post gave fans a glimpse of the yummy food that the pair ate, it revealed something even sweeter: Daniel's nickname for Meghan. So what does the makeup artist call the Duchess? His name for her is the Avocado Toast Whisperer. Also included in the spread were chocolate truffles for Meghan and Daniel's enjoyment.
Meghan and the royal lifestyle
Meghan certainly knows how to keep things regal when she welcomes a guest at Kensington Palace, and the queen surely would approve. Before joining the royal family, she got plenty of practice while writing her lifestyle blog, The Tig. It was there that she used to give fans a glimpse into her own life, and offer tips on healthy eating and lifestyle habits, and it seems as if those tips have carried over into her new life. The brunch was served on elegant silver plates, with matching cups and a turquoise teapot. What a modern, wonderful look for the new royal.
Did Daniel do Meghan's makeup for the royal wedding?
Fans all over the world fell in love with Meghan's natural makeup look on the day she married Prince Harry, and many have been trying to replicate the look ever since. It was elegant without being overpowering, highlighting Meghan's strong features and natural beauty. Meghan was adamant about the fact that she wanted to look as natural as possible while walking down the aisle, and most importantly, she did not want her freckles covered up. With soft eyes, minimal blush, and pale pink lips, it looks like Daniel got Meghan's desired look just right.
How has Meghan's makeup look changed since becoming a royal?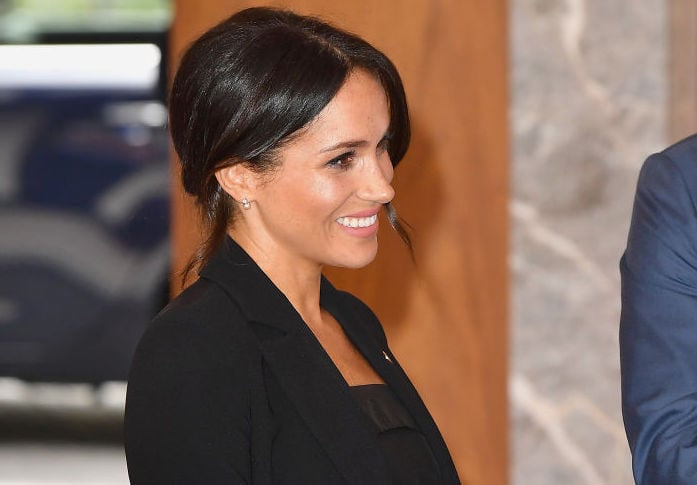 Now that Meghan's acting days are behind her, she seems to be adapting to a new makeup look, and it suits her well. We won't likely be seeing the Duchess in bold looks, as it is royal protocol to wear natural makeup to royal engagements and events. According to Daniel, Meghan won't be wearing bright red lipstick any time soon, as she will be sticking to softer pinks, corals, and neutral colors. While she likes a bold eye makeup look, fans should not expect to see anything too over the top on Meghan. She'll go for defined browns and earth tones for a polished look, one that Harry undoubtedly loves!
What about Meghan's hair?
As everyone is well aware, Meghan is known to wear her hair in her signature messy bun, both for royal engagements and personal outings. The center-parted, swept-back look suits her well, as it compliments her high cheekbones and dark eyes. While the messy bun is a far cry from the structured updo's that we are used to seeing Meghan's sister in law, Kate, wear to royal events, it is a look that the Duchess is unlikely to abandon anytime soon. It would appear that Meghan has brought her own style into the royal spotlight, and fans are certainly not disappointed.