Meghan Markle and Kate Middleton Aren't Faking Their Friendship
The relationship between Meghan Markle and Kate Middleton is a fascinating one for royal fans. They are two commoners who married into the same royal family, so some followers want them to be best friends while others are more interested in looking for clues of jealousy and envy.
In any case, Markle and Middleton were faced with all kinds of feuding rumors when Markle married Prince Harry last year. However, the two duchesses seem to be getting along better these days. It's likely that some onlookers think they are just faking everything for the cameras, but the truth is that Markle and Middleton really are becoming closer.
Meghan Markle and Kate Middleton were reportedly feuding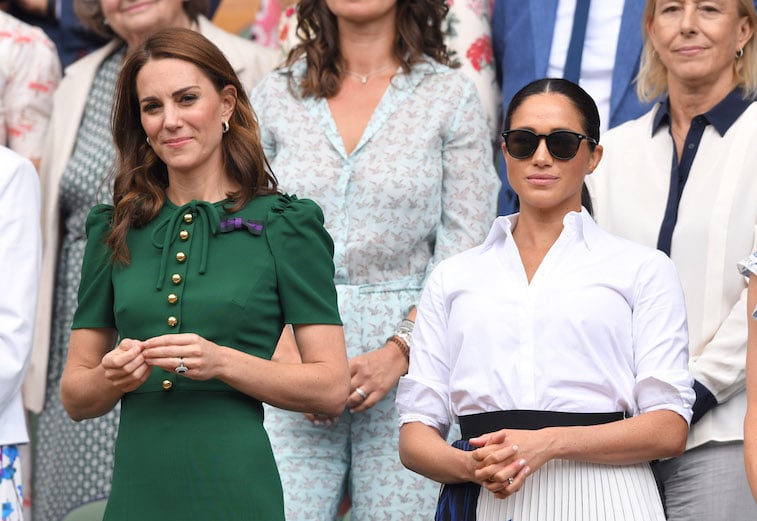 Last year, rumors began circulating of a feud between Meghan Markle and Kate Middleton. Apparently, the two duchesses had never gotten along that well due to their different personalities and upbringings.
During preparations for Meghan Markle's big wedding, the bride-to-be allegedly made Kate Middleton cry. The story goes that there was a stressful dress fitting for Princess Charlotte and all the pressure got to the two women.
Markle, who wanted everything to be perfect, was angry that her demands were not met. It got to the point where Kate Middleton left in tears.
A similar incident reportedly happened during Archie's christening in July 2019. A source said that Meghan Markle confronted Kate Middleton about stealing the former's spotlight, and this put a huge riff between them. Middleton was allegedly "visibly shaken" throughout the whole event.
Meanwhile, there are also rumors that Kate Middleton yelled at Meghan Markle as well. Once, when Markle was speaking to Middleton's staff in a certain manner, Middleton did not hold back her words and told Markle off.
Meghan Markle and Kate Middleton have been spending time together
While all the tabloid gossip makes it seems as if the two ladies should be sworn enemies at this point, they look to be getting closer to each other.
In the past couple of months, Meghan Markle and Kate Middleton have been seen at events together. They seem to be close at Trooping the Colour, Wimbledon, and their husbands' polo match. The duchesses were spotted talking and laughing together without any signs of a feud between them.
Royal experts believe that, after Meghan Markle gave birth to her first child, she and Kate Middleton have been bonding over motherhood.
"Coming from different backgrounds, I think, they have more the makings of a team than people imagined," royal author Robert Lacey noted. "And they have a common interest as partners to these two men who are so crucial to the monarchy, along with their children."
Meghan Markle and Kate Middleton are not faking their friendship
Of course, some fans immediately suspected that Markle and Middleton are only faking their friendship to deflect those feud rumors. However, sources close to them are maintaining that the two women actually are getting along well.
"Kate was a great source of support to Meghan in the days leading up to Archie's birth," an insider said. "Despite reports of a rift, they are family and have a really lovely friendship… They talk and text regularly, they have more in common, and Kate has wanted to make sure Meghan has felt welcome into the family."
Even body language experts believe that the duchesses are showing clear signs of genuine friendship. Looking at photos of them at Wimbledon, body language expert Blanca Cobb revealed that "there was no evidence of a feud at the event." She noted that their heads were tilting towards each other and that their hands and fingers were relaxed without any tension.