Meghan Markle and Prince Harry's PDA Is Annoying Their Friends, Report Says
Meghan Markle and Prince Harry can't keep their hands off each other. Whether they're giving interviews, strolling down red carpets, or hitting sports events, the lovebirds aren't afraid to show a little PDA. While many royal watchers enjoy watching the couple flaunt their affections for one another, their friends are reportedly fed up.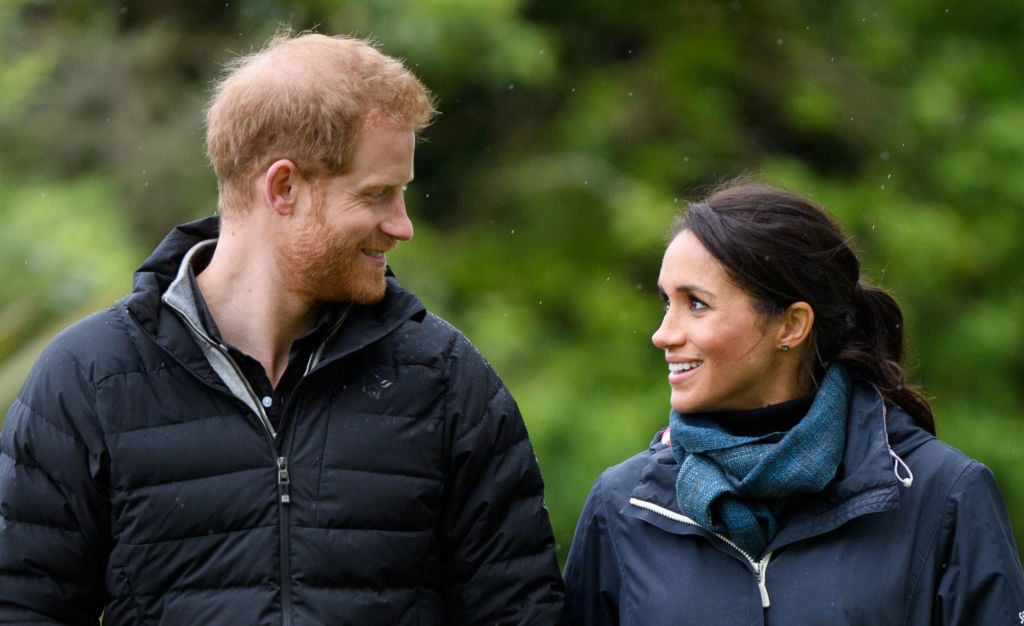 What their friends have said about their behavior 
The Daily Mail reports that their friends are particularly upset over their etiquette at dinner parties. Prince Harry and Markle reportedly insist on sitting next to each other and have "been rejoicing in affectionate dinner-table PDAs" — which goes against "longstanding rules."
The rules for dinner parties say that couples should not be seated next to each other "to avoid a public display of affection putting guests off their food." However, Markle has reportedly dismissed those regulations as "exclusive" and "traditional."
The "frowned upon" behavior has reportedly upset the duke's circle of friends. The report says they now "roll their eyes" at Markle's "American ways," and that they've even stopped inviting her out to dinner events. Yikes.
Royal officials have not commented on the report. However, it wouldn't be surprising if it's true, considering all the times Markle has broken royal protocol. The duchess is always straying away from fashion guidelines, and she's opted to live a more private life than usual.
They've faced PDA criticism in the past
It seems like some people just can't believe that Prince Harry and Markle are as in love as they look, as they've accused the royals of "playing up their romance for attention," Elle reports.
However, sources have said that their love is definitely as genuine as it appears. "The PDA is all genuine," an insider previously told Us Weekly. "None of it is an act."
Another source made similar comments to Elle, adding, "This is how you want the man that your best friend is with to look at her. It's really lovely."
Right on. Besides, how can you fake something as magical as this:
Does their PDA really break royal protocol?
Prince Harry and Markle arguably pack on more PDA than any other royal couples. But that's not exactly a bad thing. Insiders told Elle in 2018 that there's no limit or rule regarding how affectionate royals can be. 
"It's up to each and every royal and royal couple how affectionate they are," Myka Meier, an etiquette expert trained by a former member of Queen Elizabeth's household told the publication. "There's no protocol that tells them they can't hug or kiss or touch. There's no rule book like that. Each senior member of the royal family is trusted to make the judgment calls of what's appropriate and when. It's all about being trusted to make those calls on their own."
Well, it seems like Prince Harry and Markle have made their call, and that seemingly includes lots of PDA. But for the sake of the friends, they might want to tone it down a bit. Just a thought.