Meghan Markle Wore a Vintage Coat and Black Skinny Jeans to Her NYC Baby Shower
ICYMI: Meghan Markle is in New York City for a not-so-secret baby shower with her best girlfriends. The Duchess of Sussex might have disguised herself earlier on in the trip, but she did not hide herself — or her outfit — while on her way to her royal baby shower on Manhattan's Upper East Side today.

Meghan Markle's baby shower outfit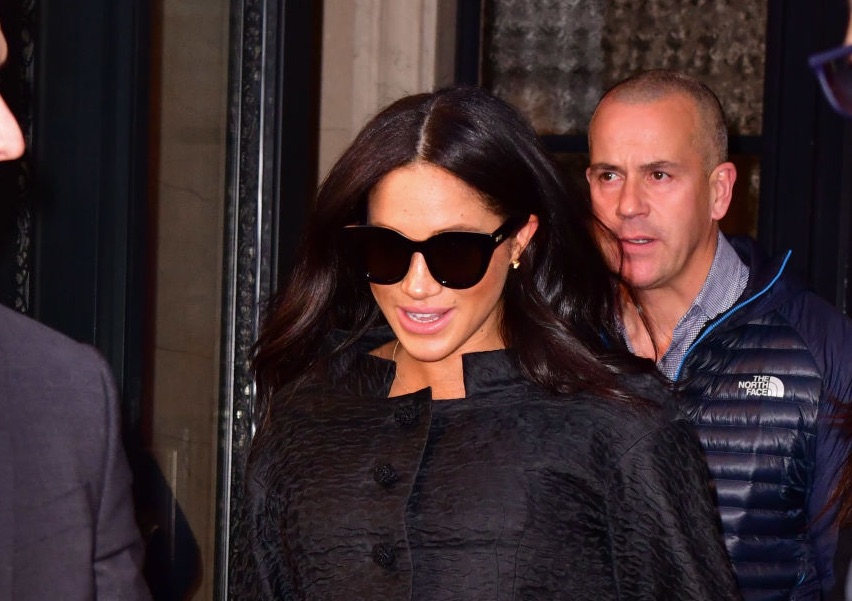 In the royal family, jeans are not considered appropriate for most royal engagements and family affairs (though they do make exceptions). And, if her baby shower were in London, Meghan Markle probably would have opted for something less casual. But, alas, the Duchess of Sussex is off-duty! Which means her typical dresses, skirts, and pantsuits are also on a momentary break.

That said, Meghan Markle's baby shower outfit is hardly close to what she used to wear to events and gatherings with friends. After all, she still represents the queen, which means ripped jeans are no longer feasible, no matter how in style they might be.

Today, the Duchess of Sussex stepped out on the Upper East Side in a pair of black skinny jeans and a dark charcoal-colored coat with nude pumps and a matching nude bag. According to Pop Sugar, Meghan Markle's coat is from William Vintage — a 1965 Courrèges Haute Couture cloak — and her jeans are by maternity brand, Hatch. Her suede heels are Stuart Weitzman and her handbag is the Matryoshka Locked L Shoulder Bag from Carolina Herrera. The duchess also sported Le Specs sunglasses.

Meghan Markle's baby shower

Despite royals being against baby showers, Meghan Markle has humored her friends by partaking in a royal baby shower during her girl's trip to New York City. The Duchess of Sussex's shower took place today, February 19th on the Upper East Side. It was hosted by her good friend, Jessica Mulroney and a dozen of her closest friends — including Priyanka Chopra and Abigail Spencer — were in attendance.

"This trip is a lovely chance to catch up with friends and spend time in a city she loves," a source told Harper's Bazaar. "This will be the last time a lot of them will see Meg until after the baby is born so it's nice to share precious moments," they added.

Meghan Markle has allegedly had the trip planned for months. She flew in over the weekend and has spent time catching up with Jessica Mulroney — the two were spotted at Ladurée in SoHo on Saturday, February 16th for tea and macaroons in one of the bakery's private eating areas — and her other close friends.

She is staying in a five-star hotel (not disclosed for security reasons) for five nights and has allegedly enjoyed the amenities and private dining options during her trip. In addition to her baby shower, she plans to get some shopping in, as well as hit up some of her favorite spots in the city.

Check out The Cheat Sheet on Facebook!