Meghan Markle Channeled Princess Diana With Her Oprah Interview Look
Similarities have been drawn between Meghan, Duchess of Sussex and Princess Diana since the 39-year-old's interview with Oprah Winfrey aired on March 7, 2021.
Meghan's comments in the two-hour TV event, Oprah With Meghan and Harry: A CBS Primetime Special, echoed much of what her late mother-in-law said during a 1995 Panorama interview. However, the similarities go beyond content. Meghan channeled Diana with her Oprah interview look.
Meghan Markle wore a black and white outfit like Princess Diana did in her 'Panorama' interview
RELATED: Meghan Markle Tells Oprah Winfrey She Couldn't 'Be Left Alone' for Fear of Suicide: 'I Didn't Want to Be Alive Anymore'
The Duchess of Sussex channeled Diana with her Oprah interview outfit. Meghan wore a $4,700 Armani dress featuring a similar color palette to her mother-in-law's interview look. Meghan sported a simple black dress with a white and light blue flower accent. 
Looking back at Diana's outfit, she also wore black and white clothes. The late royal wore a black blazer with what appeared to be a white top and a black skirt. Diana accented the look with a pair of black high heels, something Meghan also did for her interview.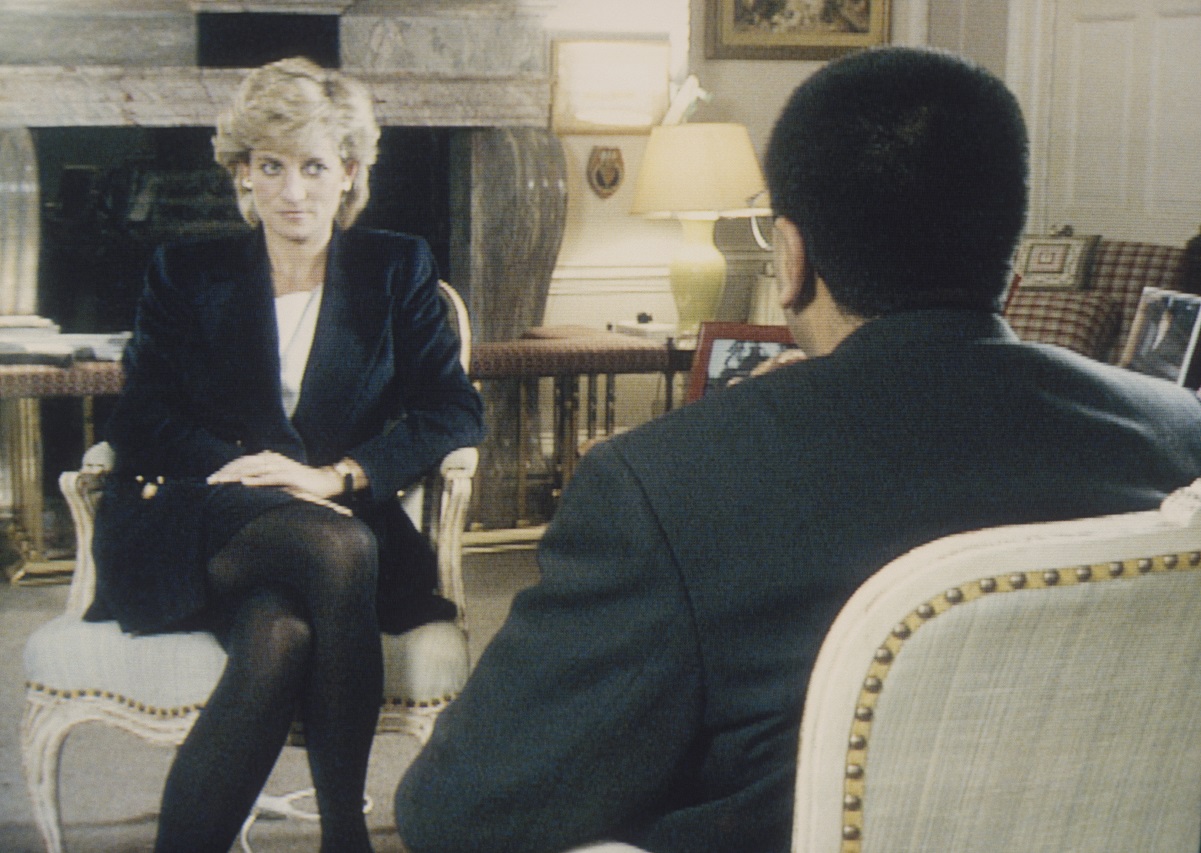 RELATED: Meghan Markle Compares Herself to Ariel in 'The Little Mermaid': 'She Has to Lose Her Voice'
Not only did Meghan's outfit choice give off Diana vibes but the flower added another layer of significance. According to Town & Country, the former Suits star chose the dress because the lotus flower on the shoulder is typically associated with rebirth and enlightenment. 
Meghan Markle also channeled Princess Diana by wearing dark eye makeup
Meghan kept to her signature glowy makeup look for her Oprah interview. She showcased her freckles like she usually does but she switched things up with her eyes. Looking at footage from the interview it appears the Duchess of Sussex played up her eyes a bit more than she normally does.
RELATED: Meghan Markle Reveals to Oprah Winfrey the 'Turning Point' in Her Relationship With Kate Middleton
Sure, Meghan's known for sporting a brown, smokey eye look but she went heavier on the eyeliner this time. Who else did something similar? Diana. When the mother of Prince William, Duke of Cambridge and Harry secretly taped an interview at Kensington Palace she wore dark eyeliner. 
Meghan Markle made nods to Princess Diana with her jewelry
Meghan thought about her Oprah interview outfit down to her accessories. She wore a few pieces of meaningful jewelry that go beyond her wedding ring, which Harry designed himself.
Meghan opted to wear a bracelet that once belonged to Diana. Why? So her late mother-in-law "could be with" her, according to People magazine. The bracelet is the same one Harry used to make Meghan's wedding ring.
When the Duke of Sussex was designing her ring, he took two stones from the bracelet. They're the smaller stones that sit on either side of the larger stone Harry sourced from Botswana. 
Meghan also wore a necklace by Pippa Small, which she previously wore on a 2018 royal tour. The gold and aquamarine four-stone piece may have been a nod to Meghan and Harry's growing family. They're expecting baby no. 2 — a sister for Archie Harrison Mountbatten-Windsor — in the summer of 2021.
RELATED: What's Prince Harry and Meghan Markle's Age Difference?