Did Meghan Markle Eat Pigeon During Her Royal Tour In Morocco?
Meghan Markle and Prince Harry just wrapped up their final royal tour before welcoming Baby Sussex. The Duke and Duchess of Sussex spent three days in Morocco meeting Morocco's ruler King Mohammed VI, the country's prime minister Saad-Eddine El Othmani, taking to the people of Morocco, and engaging in several tourist attractions.
The royal couple traveled to the North African country on behalf of the British government. A Kensington Palace spokesperson spoke to People about the tour saying, "It will build on the close relationship between the U.K. and Morocco. The Duke and Duchess are looking forward to the visit which will highlight the vital roles that girls' education and youth empowerment are playing in, and shaping, modern Morocco." It looks like the royals also had the chance to sample some local dishes during their trip.
Did Meghan Markle eat pigeon during her royal tour to Morocco?
During their Moroccan adventure, Prince Harry and Meghan Markle visited the Villa des Ambassadeurs hotel in Rabat. During their visit, Chef Moha Fedal, who runs the Moroccan version of Masterchef, presented the parents-to-be with a meat pie that's traditionally made using pigeon meat.
Though the prince had tried the dish previously, it was Markle's first time sampling it. After taking a bite, the duchess noted that it was, "very good" before she passed it to her hubby. Markle also gifted the chef with a copy of her Together cookbook. She signed it saying, "Chef Mohar. Wishing you continued success and congratulating you on your incredible work in engaging the community in cooking. All the best. Meghan"
Is it safe for pregnant women to eat pigeon?
Since pigeon is a type of poultry like chicken or turkey –it should be pretty harmless for anyone to consume as long as its cooked properl, even pregnant women like Markle. After all, the meat pie filled with pigeon is a staple of Morocco, so we're certain pregnant women eat it all the time.
Also, the duchess and the prince traveled with a doctor during this quick royal tour, so we're sure they got the OK before Markle tried anything she was unsure about.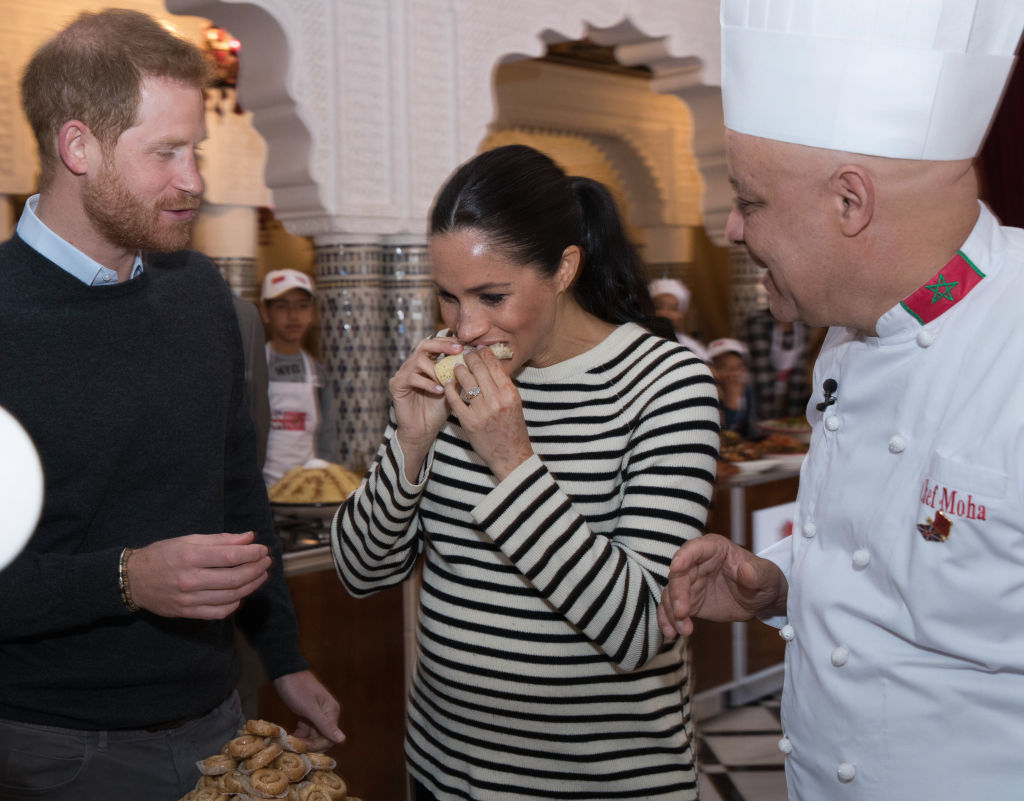 Why was going to Morocco so important to Meghan Markle?
The Duchess of Sussex has never been to Morocco –however, considering how close it is to her due date, many people were shocked she wanted to squeeze in one last royal tour. Markle wanted to make sure she was at Prince Harry's side on this trip because the cause is near and dear to her heart.
In 2016, former First Lady Michelle Obama wrote about the state of women's education in Morocco. In a piece for CNN, she said, "While Morocco has made huge strides in education, and nearly all girls there attend elementary school… many of them drop out of school by the time they turn twelve. Right now, only 14 percent of girls in rural Morocco attend high school." Markle is an avid feminist and has been outspoken about education for women and girls across the globe.
Check out The Cheat Sheet on Facebook!