Meghan Markle Had an Honest Response to Pharrell Praising Her Relationship with Prince Harry
Meghan Markle and Prince Harry's relationship have their fans, but also there are many rooting against their relationship. They have sometimes responded to those people and had friends defend them.
Pharrell Williams recently met the royal couple at the Lion King premiere and he praised their relationship. Find out what Markle's honest response was to his nice words.
Meghan Markle and Prince Harry have had negative attention on their relationship
Not everyone was thrilled with the news that the actress started dating Prince Harry. Things got so bad that he had to release a statement.
"His girlfriend, Meghan Markle, has been subject to a wave of abuse and harassment," read the statement. "Some of this has been very public – the smear on the front page of a national newspaper; the racial undertones of comment pieces; and the outright sexism and racism of social media trolls and web article comments."
Some of her famous close friends have defended her over the years. Priyanka Chopra talked about Markle handling racism in her role. "I've seen that and it's really unfortunate. But if there's anyone who can handle it, it's her," she told the Sunday Times. "Of course it has to do with racism, it's an obvious reason."
She told Pharrell Williams that others 'don't make it easy'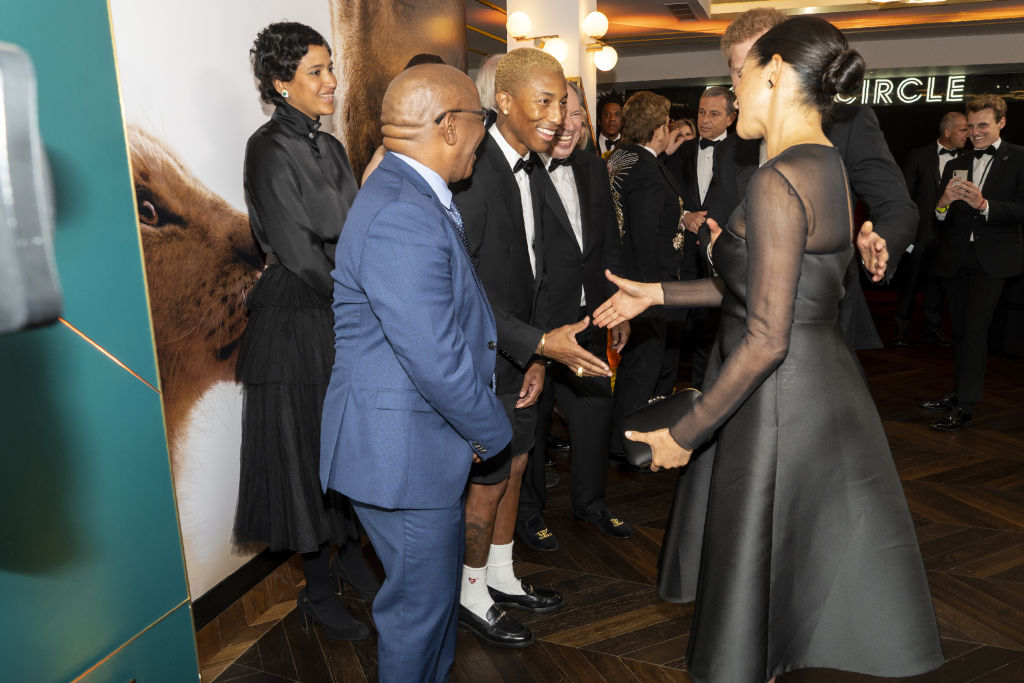 It's not a secret that many have tried to tear the royal married couple down. Pharrell Williams acknowledged that when he met the couple at the Lion King premiere in London, England.
"So happy for your union," he told the couple. "Love is amazing. It's wonderful. Don't ever take that for granted, but what it means in today's climate. I just wanted to tell you, it's so significant for so many of us. Seriously." Markle responded with, "Thank you, they don't make it easy."
She also has Beyoncé's support
Of course, that's not the only celebrity interaction the couple had at the premiere. They met other cast members including Beyoncé and Jay-Z Carter. The singer was seen hugging the Duchess and saying "my princess."
The music artists previously paid tribute to Markle by accepting their Brit Award in front of a painting of her modeled after Queen Elizabeth II. Makeup artist, Daniel Martin revealed what Markle's reaction was after he sent her a picture of the tribute. "She wrote me back, like, the big eye emoji," he told Gayle King.
The icon also wrote a tribute to Markle on her website for Black History Month that year. "Meghan's background as a film and tv actress has allowed her to use her platform for good. Meghan's charitable work in communities of color began years before becoming the Duchess of Sussex. As a global ambassador for World Vision, she traveled to Rwanda to see how access to clean, safe water impacts children, an issue that is near and dear to our hearts," read the tribute.
It looks like the royal couple was there to support the Lion King cast, and the cast has shown their support in different ways.