Meghan Markle Leaning On This New Friend As She Adjusts To Life As A Royal
Meghan Markle is making new friends as she adjusts to life as a royal. The former actress has struck up a close friendship with Izzy May and is reportedly leaning on the publicist as she gets accustomed to her new setting.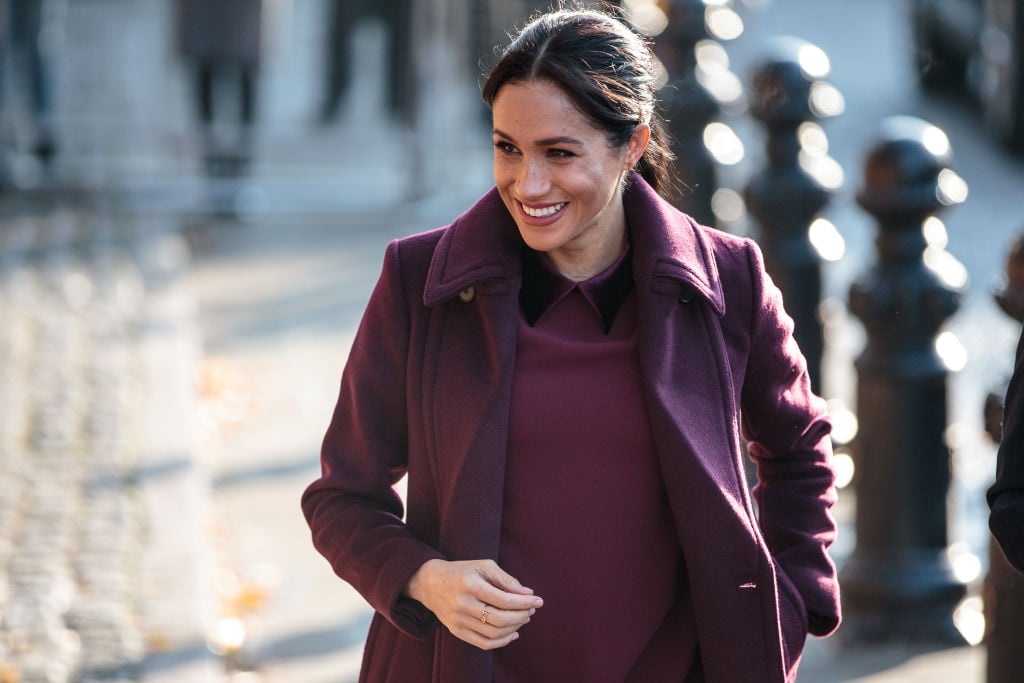 Inside Meghan Markle's new friendship
Sources claim that Markus Anderson, of Soho House, is the one who introduced Markle to May. They met shortly after Markle moved to London and immediately hit it off. May is popular in the publicist world and has a number of celebrity clients, including David Beckham. Given her background, May understands the need to keep her friendship with Markle private, which is why they are rarely seen in public together.
"Izzy is one of Meghan's dearest and closest friends and she values her friendship so very much," a source dished. "Izzy keeps their relationship really quiet and very much under the radar."
Although they keep things quiet, May did make an appearance at Markle's wedding to Prince Harry last year. According to Express, May was seated in the second row at the lavish ceremony inside St. George's Chapel. May rubbed elbows with a variety of celebrities at the event, including the likes of Oprah Winfrey, Serena Williams, and George and Amal Clooney.  May has never commented on her friendship with the former actress, but she clearly holds a special place in her heart.
Meghan Markle leans on her new friend
The insider added that May helped Markle adjust to life when she first made the move from Canada. The two support each other in a number of different ways and often do social events together. Considering how Markle did not know a lot of people in London when she relocated, having a close friend must have made the transition a little easier.
For her part, May graduated from Sussex University and has worked for Burberry since 2011. She was instrumental in launching Beckham's new football venture in Miami, which is set to happen in 2020.
It is not known if May's relationship with Markle extends beyond friendship, but it sounds like she is exactly what Markle has needed these past two years. Having another shoulder to lean on comes at a perfect time for Markle, who is facing more rumors of a feud with Kate Middleton.
Kate Middleton and Meghan Markle spark more feud rumors
Markle made her first public appearance since giving birth to her baby boy, Archie Harrison, over the weekend. The Duchess of Sussex attended the Trooping the Colour event with other members of the royal family. Body language experts examined footage of Markle's appearance and believe there is clear evidence of tension between her and Middleton.
Although the former actress appeared relaxed during most of the event, Middleton looked tense whenever Markle was around, signaling there may be something to the feud rumors after all.
Middleton and Meghan Markle have fought rumors of a falling out for several months. Their feud allegedly started while Markle was preparing for her wedding and escalated from there. The royal family has completely ignored the reports, though some inside sources claim that the real beef is between Harry and William. Whatever the truth, last weekend's royal engagement made it clear that something is amiss with the so-called Fab Four.
Controversy at Trooping the Colour event
Unfortunately for the royal family, the feud rumors are the least of their problems. Royal watchers were pretty angry after seeing Markle and Harry stand towards the back of the balcony as the royal family took a photo during the Trooping the Colour event.
It is tradition for members of the royal family to watch the parade from the platform, but fans were left puzzled as to why Harry and Markle were bumped to the back of the line.
Last year, the Duke and Duchess of Sussex stood directly behind Prince William and Middleton and could not be missed. This year was the complete opposite. In fact, you could barely see Harry and Markle, who were pushed to the very edge of the photograph. It is unclear why the two were pushed away from the center of attention, though their reported feud with William and Middleton could be the reason.
Meghan Markle has not commented on her close friendship with May or her rumored feud with Middleton.