Meghan Markle Shares Her Love for Rescue Dogs and the Joy of Adopting Pets in Touching Message
Meghan Markle loves her rescue dogs, writing about the joy of adopting pets and hopefully inspiring others to adopt a rescue animal as well. In a foreword she wrote for the Annual Review of Mayhew, the U.K. animal welfare charity of which she's a royal patron, Markle shared her own dog rescue experience.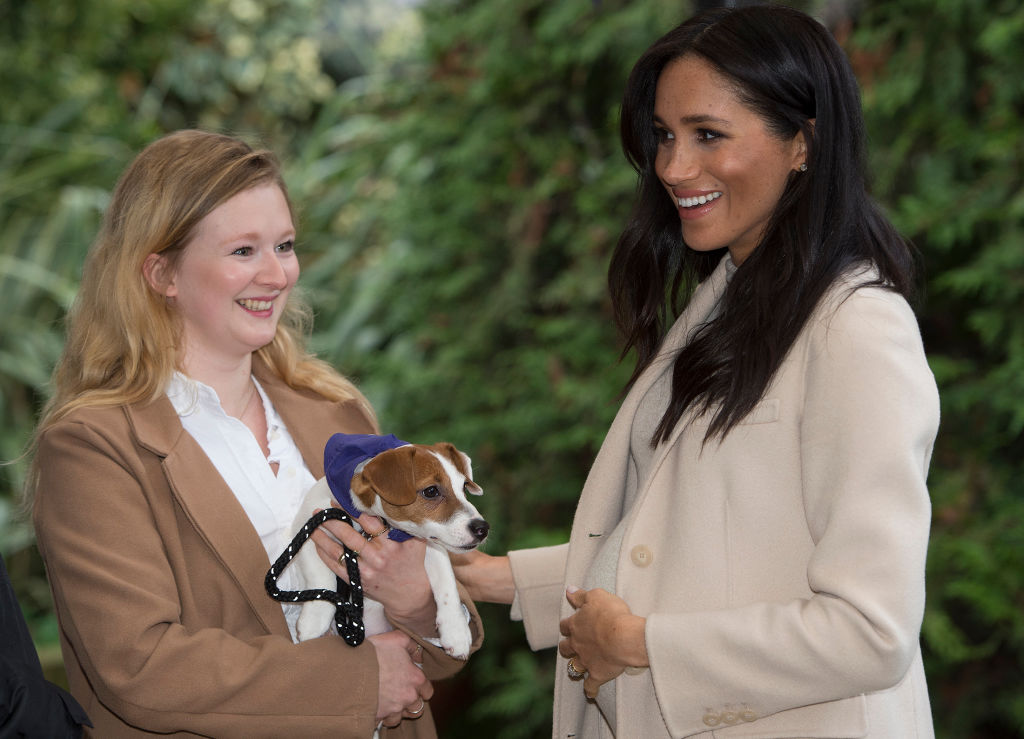 Markle has a history with rescue dogs
Markle had one rescue dog, Guy, who moved with her from Canada to London and she and Prince Harry also adopted a dog last August.
In the foreword, which the Duchess of Sussex wrote before her baby arrived, according to a palace source, she notes: "As a proud rescue dog owner, I know from personal experience the joy that adopting an animal into your home can bring. The role that we, as people, play in rehoming and rescuing these animals is vital, but the role of organisations such as Mayhew is unparalleled."
Pet adoption 'will change your life'
Mayhew offers veterinary care and support for dogs and cats. She continued with her forward, praising the organization and noting: "What initially struck me about Mayhew specifically is their community approach not simply to rehoming animals, but in the preventive care that inhibits these cats and dogs from ending up in shelters in the first place."
She continued: "From Mayhew's global education programmes to their community work on a micro level with the elderly, homeless and vulnerable communities, they actively seek solutions that allow people to stay with their animals and have the support they need to do so."
The duchess added: "The choice to adopt a pet is a big decision that comes with much responsibility but infinite return on the investment," calling the experience one that "will undoubtedly change your life."
She concluded: "As Patron of Mayhew, I encourage you to get involved in whatever way you can — either through pet adoption, volunteering, donation, or spreading the word. We are all interconnected and through these animals we find an even great link to community and the part we can play."
She shared: "I am proud to support Mayhew and to work alongside them as they continue to improve the lives of animals and people, to create more supportive and compassionate communities both in London and internationally."
The celebrity who inspired Markle
While her words might inspire others to consider adopting a rescue pet, it was actually another celebrity who prompted her to consider it in the first place.
In a 2016 interview with Best Health, she explained how she came to rescue her first dog, Bogart, noting, "I was in LA and I went to this dog rescue [shelter] and they had gotten him and his brother."
She continued: "So I saw him and I was sitting there with him and then Ellen DeGeneres and Portia de Rossi walk in. Now, I don't know her, but Ellen goes 'Is that your dog?' And I said, 'No,' and she's like, 'You have to take that dog.' And I said, 'Well, I'm deciding.' And she's like, 'Rescue the dog!'"
Markle compared it to "like if Oprah tells you to do something," continuing, "I'm sitting there holding him and she's like 'Have you thought of a name for him yet?' And I said, 'Well, I think I'd name him Bogart,' and she's like 'You're taking the dog home.' And she walks outside to get into her car but instead of getting in she turns around and comes and taps on the window glass and she yells 'Take the dog!' And so I brought him home. Because Ellen told me to."