Revealed: Meghan Markle's Maternity Wardrobe Is Worth Over Half a Million Dollars
Meghan Markle's pregnancy is unlike any other royal. Not only did the Duchess of Sussex celebrate her firstborn with a star-studded, $200,000 baby shower in New York City, but her maternity wardrobe costs a fortune, too. According to reports, the mother-to-be has spent over half a million dollars — AKA, seven times more than Kate Middleton spent in her pregnancy — on 75 maternity looks.

We take a closer look at Meghan Markle's maternity wardrobe, including her most expensive ensemble — ahead.

Meghan Markle's maternity wardrobe

Throughout her pregnancy, the Duchess of Sussex has wowed in a variety of maternity ensembles, including some that are on the more affordable end of the spectrum. However, when added up, Her Royal Highness has racked up quite the bill (though, we imagine some of these items were borrowed from designers). Love the Sales reports that the Duchess of Sussex's 75 maternity looks add up to a whopping £478,920, which is around $636,679, or $8,485 per outfit.

Like her sister-in-law, Kate Middleton, Meghan Markle's style choices have helped brands gain a tremendous amount of financial success in the last couple of years. And, her maternity wardrobe is no different. According to Love the Sales's report, the mother-to-be's "Meghan Maternity Effect" has caused an influx of fashion searches over the past eight months with some styles and brands gaining over a 5,000% increase in search volume.

Here's a look back at some of the most-searched items, plus Meghan Markle's most expensive maternity look.

Veja V-10 Sneakers

While in Australia for the Invictus Games, Meghan Markle dressed down for a sailing competition, which caused a frenzy of searches — particularly around the Veja V-10 Sneakers. Thanks to the duchess, the sustainable sneaker brand saw a 300% increase in overnight search volume.

Karen Gee shift dress

During her Australian royal tour, the Duchess of Sussex used her trip as an opportunity to highlight some Aussie designers. Meghan Markle wore a white shift dress from Karen Gee and everyone went wild for it. The search volume grew by over 5,800% and caused the brand's website to crash.

Oscar de la Renta dress

Meghan Markle's most expensive maternity look so far? The Oscar de la Renta dress she wore to the Geographic Society Awards in October 2018. The laser cut black bird dress reportedly cost around £10,000 ($13,000) and the Duchess of Sussex paired it with £490 ($650) Aquazzura black bow heels.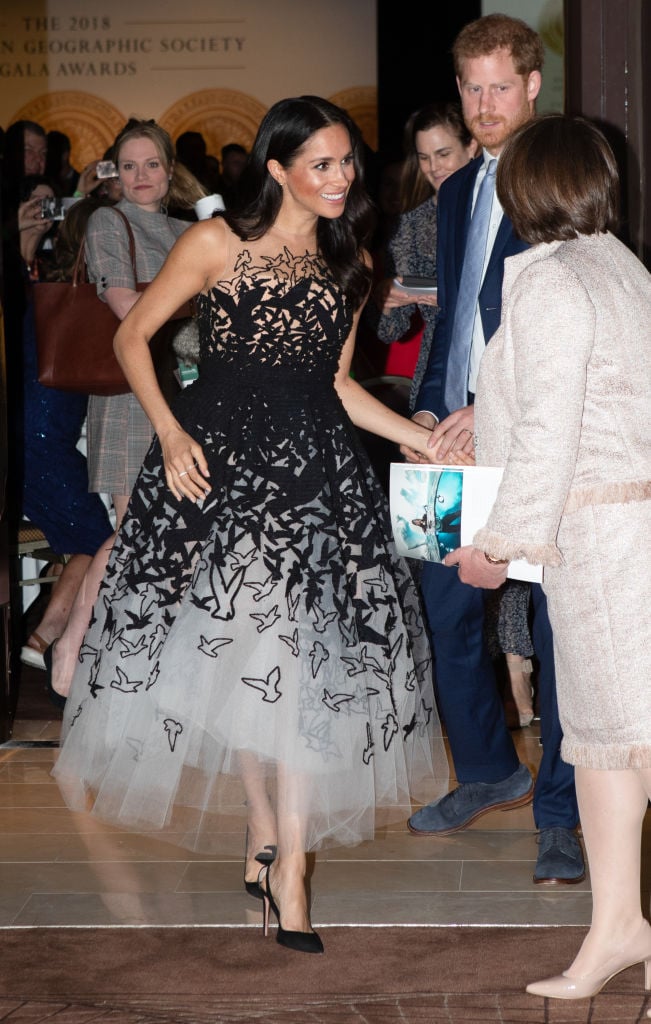 Victoria Beckham double-breasted coat

On Christmas Day, parents-to-be Prince Harry and Meghan Markle stepped out for their last service as a family of two. The duchess wore a £2,250 ($3,000) double-breasted coat by Victoria Beckham.

In addition to the outfits detailed above, the Duchess of Sussex has worn a variety of incredible — read: expensive — designer garments throughout her first pregnancy. While visiting Fiji in October 2018, Meghan Markle stepped out in a stunning white Zimmerman dress. She also wore Jason Wu, Self Portrait, and Hugo Boss during her first trip Down Under.

Additionally, Meghan Markle has stepped out in Karen Walker, Burberry, Givenchy, and some more affordable options from H&M and Aritzia throughout her pregnancy.

Check out The Cheat Sheet on Facebook!