Meghan Markle Can't get a Break From the Negative Media, Even As a New Mother
Ever since American actress Meghan Markle began dating Prince Harry back in 2016, she's been in the middle of a media storm that she can't seem to escape from. Meghan has been on maternity leave since before she welcomed her son, Archie, with Harry back in early May. However, she did make it out to celebrate the queen's birthday this past weekend at Trooping the Colour. But despite being a new mother, Meghan can't seem to escape the negative media that surrounds her.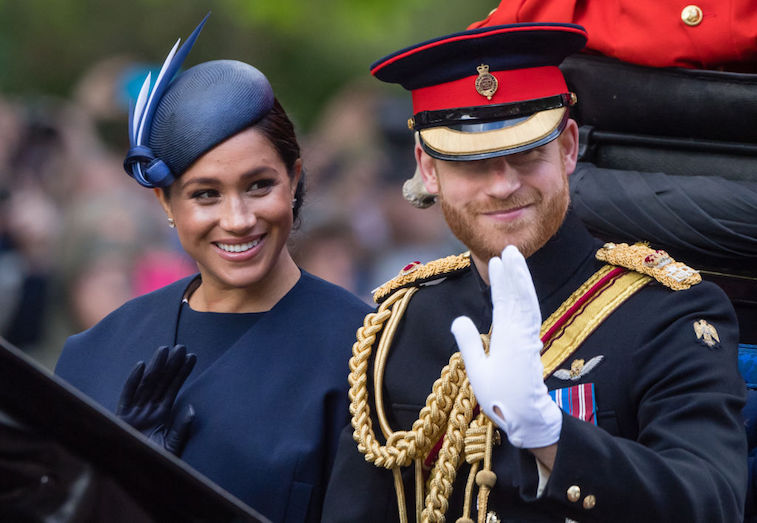 When Meghan didn't meet President Trump, conservative news outlets gave her a tough time
President Trump and his family recently took a trip to Europe, which consisted of spending plenty of time with the royal family. While all of the working royals attended a dinner with the president and spent time with him otherwise, Meghan did not because she was still on maternity leave. However, critics felt that the only reason Meghan didn't attend the dinner was because she didn't want to be in the same room as Trump. (Can we blame her? Trump had previously made remarks calling Meghan "nasty.") Piers Morgan called her absence "unacceptable" and said she was trying to give a "metaphorical bird" to the president.
People were quick to judge Meghan's appearance at Trooping the Colour
Despite not attending the state banquet during Trump's visit, Meghan did attend her grandmother-in-law's birthday celebration this past weekend, known as Trooping the Colour. However, people were quick to notice that Meghan looked different than she did before she had the baby. While many news outlets reported that Meghan had a post-pregnancy glow, it was mostly social media that made comments about the duchess looking exhausted. Considering she gave birth five weeks ago, she has every right to look exhausted, and it's no reason to shame her.
Royal fans were still leaving comments about Kate Middleton on Meghan and Harry's Instagram
When Harry and Meghan wed, they branched off into their own royal duo. The couple got their own Instagram, and the Kensington account became solely for the Cambridge family. However, fans of Kate's still leave comments on Meghan's Instagram account giving shoutouts to the Duchess of Cambridge. "Kate looks absolutely stunning, graceful and regal! A true royal duchess," one user wrote on the Sussex account. "Kate always looks great," another user commented. "Kate is stunning. True princess," someone else said. Fans of Meghan's replied to the comments noting this was the Sussex Royal account, but it seemed the Duchess of Cambridge's fans were commenting intentionally.
Meghan's maternity leave has likely been a nice escape from the negativity
Nothing has been easy for Meghan since she became a royal. And the past several weeks of maternity leave have probably been the best thing she could ask for. Her mother is reportedly staying with her while Harry continues his royal duties, and it's been a nice break for Meghan from the public eye. While social media is still filled with trolls, we can only hope that when the duchess officially returns from maternity leave, people give her a new chance. She may break royal protocol from time to time, but all things considered, she's done pretty well at her new job.
Check out Showbiz Cheat Sheet on Facebook!