Meghan Markle or Kate Middleton: Why Do so Many Royal Fans Take Sides?
Meghan Markle joined the royal family in 2018, but even when she was still Prince Harry's girlfriend, everything she did automatically got compared to Kate Middleton.
The media often pit the two duchesses together, and royal fans also like to join in by picking sides, with some people being Team Kate and others being Team Meghan. But why do fans usually feel like they must support one or the other? Is it possible to like both?
Meghan Markle and Kate Middleton reportedly had a feud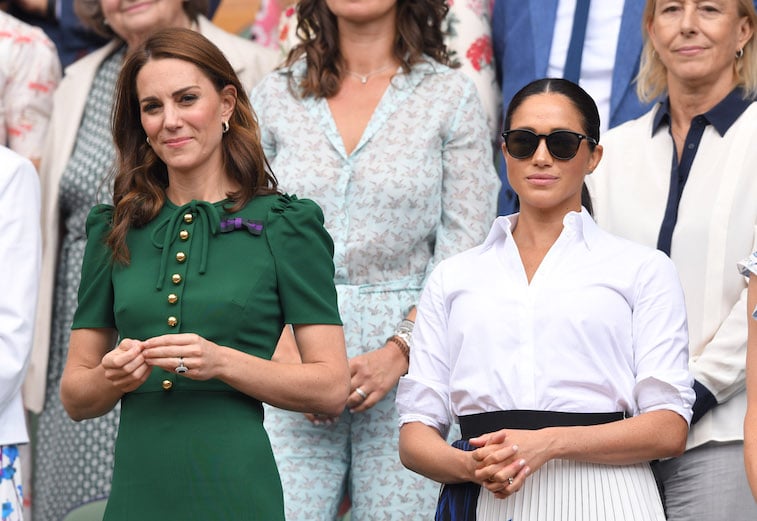 The biggest event that caused the split in the fandom might have been the "feud" that Markle and Middleton were engaged in last year.
Rumor has it that the two women had a hard time getting along. Markle reportedly made Middleton cry during a dress fitting before Markle's big wedding. Later on, Middleton yelled at Markle for speaking harshly to Middleton's staff members.
Their "feud" has been attributed to their different personalities and backgrounds, with some people believing that it's impossible for them to ever be best friends.
Meghan Markle and Kate Middleton might have snubbed each other recently
After Markle gave birth to her son in May, there were reports that she and Middleton could be getting along and bonding over motherhood. However, that never stopped anyone from continuing to compare the two women and pit them against each other.
More recently, fans were encouraged to pick sides when it seemed like Markle and Middleton were trying to throw shade at one another.
After Markle and Prince Harry were slammed for taking four private jet rides in just 11 days, Middleton and Prince William were seen traveling on a budget commercial flight.
Markle and Prince Harry are currently in southern Africa right now on a royal tour. During this trip, the couple is emphasizing their work ethics, which many onlookers see as a jab at Middleton and Prince William, who have both been criticized for not working hard enough.
Why do royal fans often take sides?
Regardless of whether Markle and Middleton get along or not, royal fans often feel the need to be on the side of one duchess and not the other.
A big part of this is because both Markle and Middleton feel like they are similar enough to be compared, yet different enough to feel like only one should be the winner in the race of life. Both Markle and Middleton married princes who are brothers, so they seem to have similar roles in the royal family.
However, they approach royal life differently and people also respond to them in different ways. For fans, it usually feels like one woman must lose in order for the other to win.
However, it's important to note that this persisting attitude of comparing women can be damaging to both Markle and Middleton. Having strangers pick sides can drive a wedge between them, causing them to resent each other. This would obviously not do the royal family any good as they would now have to focus a lot of energy on fighting nasty rumors instead of serving the public.
Ultimately, there is actually no right or wrong way to be a royal wife and mother. Middleton clearly has a traditional approach to her job while Markle has new ideas to bring into the royal family.
At the end of the day, the other royals around them seem content with how they are both operating, so that should be all that matters.
Royal fans should also encourage friendship between Markle and Middleton. There is a lot more that can be accomplished if these two duchesses think of themselves as a team instead of rivals.