Meghan Markle Pays Subtle Tribute to Harry and Archie While Snubbing Queen Elizabeth
Meghan Markle paid a subtle tribute to Prince Harry and their son, Archie Harrison Mountbatten-Windsor, during a recent appearance at the US Open. The former Suits star spent her weekend cheering on Serena Williams at the tennis tournament in New York, and some eagle-eyed fans noticed a touching tribute to her family hanging around Markle's neck.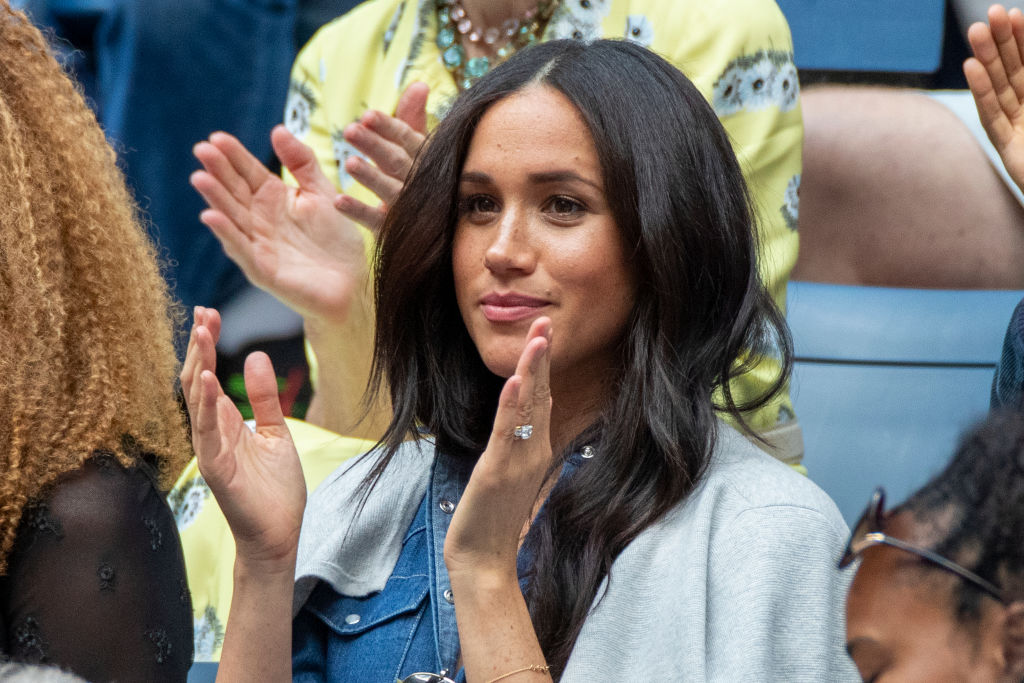 The tribute was a sweet nod to Harry and Archie, but it comes after Markle and Harry turned down an invitation to spend a few weeks at Queen Elizabeth's Balmoral estate — further escalating the feud rumors between the Duke and Duchess of Sussex and the rest of the royal family.
Markle shows Serena Williams her full support
Markle flew to the states shortly after reports surfaced that she snubbed the Queen's invite to spend a few weeks at Balmoral. It was first believed that Meghan Markle denied the invitation because Archie was too young to travel, but it now appears as though Markle had another reason for giving Her Majesty the cold shoulder.
Markle has been best friends with Williams for several years. A few months ago, Markle and Kate Middleton watched Williams compete at Wimbledon. The trip to New York, however, was Markle's first since her luxurious baby shower back in February, in which she partied with a slew of celebrities — much to the disappointment of royal watchers.
Williams and Markle have been friends since 2010 when they were introduced at a Super Bowl party. Harry and Markle invited Williams to their wedding last year, and sources say that she frequently talks to the tennis pro throughout the year. While there is nothing wrong with their friendship, the New York trip did not do any favors for the couple.
"[We have] known each other for a long time, but we really are relying on each other a lot recently," Williams shared in 2018.
Prince Harry and Meghan Markle face backlash
A few weeks before the outing to New York, Harry and Markle came under fire for using private jets. According to Express, the pair flew on four separate flights in under two weeks, a move that caused a stir because it directly contradicts Harry's commitment to the environment.
Harry and Markle later defended their actions and vowed to no longer use private jets unless it was done for the safety of their family. A couple of Meghan Markle's celebrity friends also supported them on social media, including Elton John, who said he allowed them to use his private jet so they could travel in safety.
Amid the backlash, Harry is reportedly worried that it might affect his new charity, the Sussex Foundation. Harry and Markle started the new endeavor this year after separating from Prince William and Middleton's organization, the Royal Foundation.
Meghan Markle pays tribute to Harry and Archie
Despite all the negative coverage in the media, Markle seemed unfazed during her trip to New York. She even paid a subtle tribute to Harry Archie in the form of a necklace. The former actress rocked a gold necklace that featured an "A" and "H" on the chain.
The piece is estimated to be worth a little over $125. As royal watchers are aware, this is not the first time Markle has worn a necklace with her son's initials. During her appearance at Wimbledon, Markle displayed a similar piece of jewelry with an "A" on it.
Sources, meanwhile, claim the New York outing was a last-minute decision. Unfortunately, Markle's support did not help Williams win the day, as the tennis star fell short of nailing her 24th Grand Slam.
Are Harry and Markle a PR disaster?
In light of all of their missteps in recent weeks, royal experts believe Harry and Markle are quickly becoming a PR nightmare for the monarchy. While Buckingham Palace is doing its best to control the damage, Markle is reportedly taking the lead and is behind most of what has happened.
There is no telling if Prince Harry and Meghan Markle will be able to turn things around, but it is evident that they won't be flying via private jets anytime soon. The couple has yet to respond to the criticism about rejecting the Queen's invitation to Balmoral, which will probably spark even more royal fallout.