Will Meghan Markle and Prince Harry Share a Photograph of Archie in Honor of Father's Day?
Father's Day is this Sunday and while we're not exactly sure how Prince Harry and Meghan Markle will celebrate with their son, Archie Harrison Mountbatten-Windsor, we're hoping they'll mark the occasion with a new photo of the newborn as they did on Mother's Day last month.

Meghan Markle and Prince Harry shared special photo on Mother's Day

Six days after Markle, the Duchess of Sussex, gave birth to baby Archie on May 6, 2019, the new family of three celebrated Mother's Day.

The new parents shared a sweet and meaningful post on their Instagram account.

The picture showed who we can assume to be Markle holding her newborn with beautiful purple flowers in the background.

Prince Harry, the Duke of Sussex, and Markle captioned the image with the following:

"Paying tribute to all mothers today – past, present, mothers-to-be, and those lost but forever remembered. We honour and celebrate each and every one of you."
"Today is Mother's Day in the United States, Canada, Australia, New Zealand, South Africa, Kenya, Japan, and several countries across Europe. This is the first Mother's Day for The Duchess of Sussex."
They also included an excerpt from Nayyirah Waheed's poem, "lands."
"my
mother
was
my first country;
the first place i ever lived."
Poet Waheed is bi-racial, which is another way Markle has honored her heritage and used to her status as a member of the British royal family to promote works of other Black and bi-racial creators.
Special meaning behind purple flowers
It's clear from the caption the couple put a lot of thought into their Mother's Day post.
The purple flowers in the Instagram photo, forget-me-nots, were Princess Diana's favorite flower. Not only did the flowers honor Prince Harry's late mother but they honored "all mothers" as the couple wrote in the caption.
Will Meghan Markle and Prince Harry share a photograph of Archie in honor of Father's Day?
Again, while we're not sure how they'll celebrate this Sunday, we can assume the Duke and Duchess of Sussex will celebrate Father's Day similarly to how they celebrated Mother's Day: with a new photograph of baby Archie.
Maybe the world will get a sweet photograph of Prince Harry holding his son alongside his own father, Prince Charles.
We can assume the couple will put just as much thought into a Father's Day post, that is, if they decide to post anything at all, as they did with their Mother's Day post.
Details of Archie's birth
Archie Harrison Mountbatten-Windsor joined the British royal family at 5:26 a.m. on May 6, 2019, weighing 7 pounds 3 ounces. He's now seventh in line to the throne after his father, uncle Prince William, and cousins George, Charlotte, and Louis, along with his grandfather, Prince Charles.
Although there were rumors Markle would deliver the baby at home, she gave birth to Archie at Portland Hospital, near their newly renovated home of Frogmore Cottage at Windsor. The details about Archie's birth were made public when the couple filed their son's birth certificate.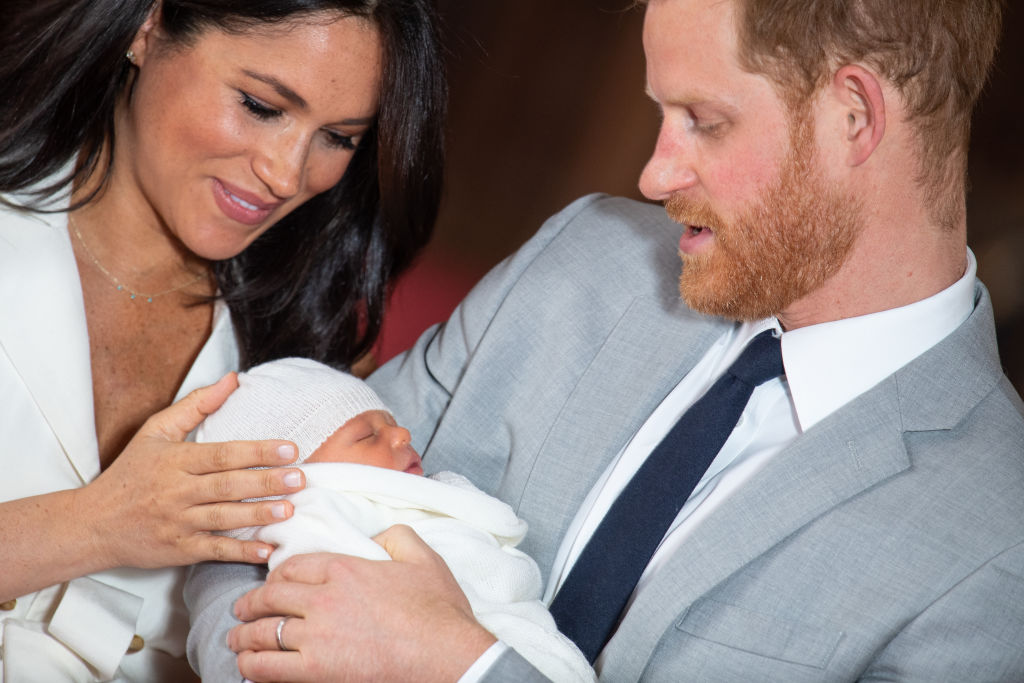 The Duke and Duchess of Sussex skipped the traditional newborn photocall of standing on the hospital's steps, and opted for a more relaxed version at St. George's Chapel two days after Archie's birth. Cooing over their newborn, Prince Harry and Markle gushed about their son, with Markle describing Archie as an even-tempered baby.
While it's certain the Duke and Duchess won't have a photocall for Father's Day as they did for Archie's birth, there's a good chance they will share a sweet photograph of the baby on Instagram along with heartfelt and meaningful words in the caption.