Meghan Markle Reportedly Isn't 'Comfortable' With Prince Harry's Exes and Will Likely Skip Cressida Bonas' Wedding
Did you hear? Cressida Bonas is getting married!
Over the weekend of Aug. 16, she and her longtime boyfriend, Harry Wentworth-Stanley, got engaged. Now that their wedding plans are underway, fans are wondering whether Bonas' ex and good friend, Prince Harry, will attend the ceremony. 
Luckily for them, a new report has offered details, explaining that the duke will likely attend the upcoming wedding. But he might be riding solo, as Meghan Markle is reportedly "less comfortable" around Prince Harry's exes.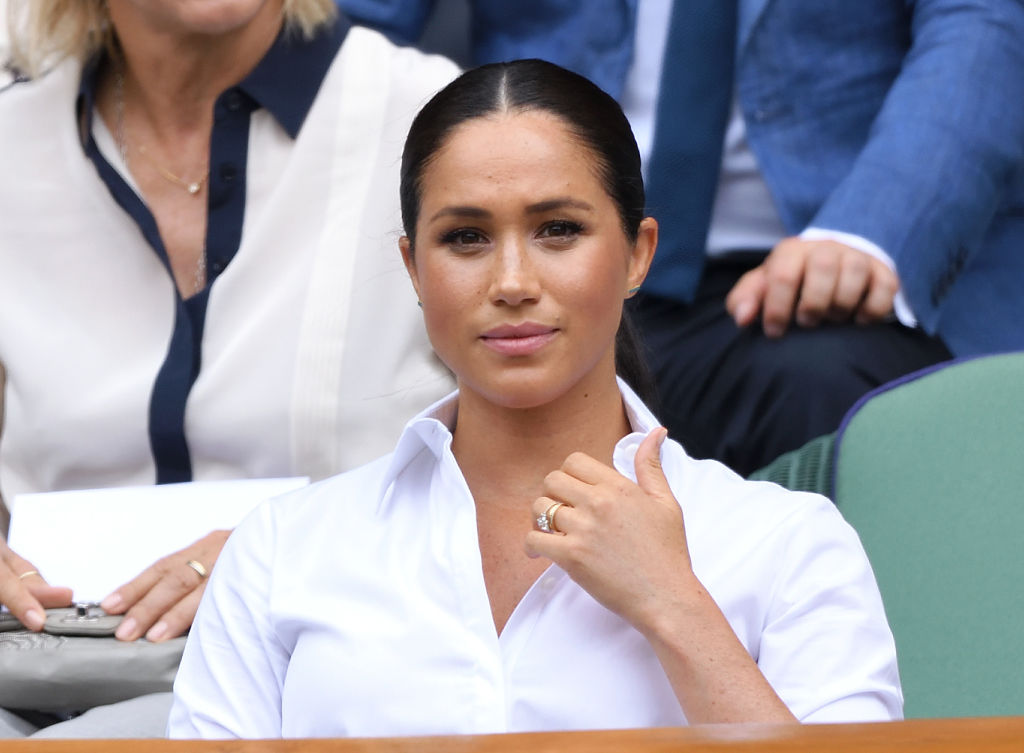 More on Bonas' guest list
Royal expert Adam Helliker told Fabulous Digital (via The Sun) on Aug. 23 that Prince Harry "will definitely go" to Bonas' wedding. After all, she did attend his May 2018 wedding with Markle.
"Harry will definitely go, as he has remained on very friendly terms with Cressida, who has never said a word in public about her relationship with the prince," Helliker explained. "Harry is also very friendly with the bridegroom's mother, Clare Milford Haven."
Meanwhile, a royal insider added, "Invites haven't gone out yet, but I'm told Harry and Meghan will be invited. Harry and Cressie are on good terms, Meghan has got to know her and they are expected to attend."
But Markle reportedly might not accept the invite
Helliker said that the duchess might skip the event, as she's "known to feel less comfortable with Harry's former girlfriends, particularly Chelsy Davy, who was the prince's first love and with whom he went out, on and off, for seven years."
"It was Meghan who ensured that Chelsy was not included on the list for the evening party after their wedding," Helliker added. "This was a very pointed snub when many of Harry and Chelsy's mutual friends from pre-Meghan days were invited to the Frogmore House party."
Royal officials have not yet commented on the report, but it wouldn't be surprising if it's true. Royal expert Katie Nicholl previously told Cosmopolitan that Prince Harry cut contact with his exes shortly after the royal wedding.
It's unclear whether Markle had a hand in that decision, but be honest — no one wants to see their partner anywhere remotely close to their ex. So, it makes sense that she wouldn't want to tag along to Bonas' wedding.
A closer look at Bonas and Wentworth-Stanley's relationship
These two reportedly dated before Bonas began dating Prince Harry in 2012. She and the duke were together for two years before splitting in 2014. A source told People magazine, "He found her too needy and it just wasn't working out."
A friend added, "[Cressida] is a lovely girl, and a beautiful girl, but this has run its course. It wasn't [meant] to be."
Later, Bonas and Wentworth-Stanley reconnected. According to Instagram, they've been together since 2017.
The real estate agent announced their engagement on Aug. 18. "We getting married," he captioned a photo of the two. The picture shows them smiling as Bonas flaunts her sparkler, which features a white stone surrounded by white and red gems.
The aforementioned royal source said their wedding will likely take place in 2020. But the location and official wedding date are still unclear.
We'll keep you posted with any updates on their big day.