Meghan Markle Quietly Meeting with Activists and Making a Secret Visit During Africa Tour Is Winning Her Praise
While Prince Harry was attending a number of engagements during his royal tour of Africa, Meghan Markle was quietly taking care of some important business as well. Part of that very personal effort included making a private visit to pay her respects at the site where a Cape Town student was murdered.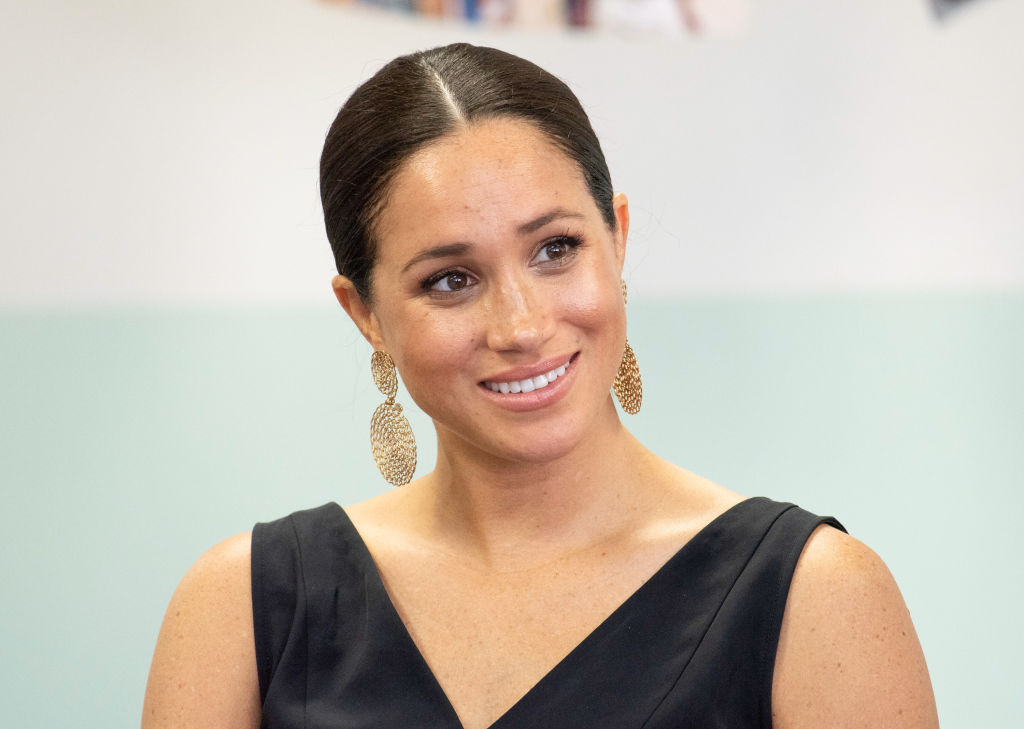 Markle pays her respects
Markle visited the site where 19-year-old student Uyinene Mrwetyana was raped and murdered in late August, where the duchess tied a yellow ribbon and paid her respects. The image was posted on the Sussexes' Instagram account, with the caption: "'Simi kunye kulesisimo' — 'We stand together in this moment.'"
The post further explained that the Duchess of Sussex visited the site "to pay her respects and to show solidarity with those who have taken a stand against gender based violence and femicide. Over the last month in Capetown, protests erupted through the streets in outrage over GBV (gender-based violence) in South Africa. The Duke and Duchess had been following what had happened from afar and were both eager to learn more when they arrived in South Africa. The Duchess spoke to the mother of Uyinene this week to relay their condolences."
The post further explained that visiting the site and "being able to recognize Uyinene, and all women and girls effected by GBV (specifically in South Africa, but also throughout the world) was personally important to The Duchess."
Further, Markle "has taken private visits and meetings over the last two days to deepen her understanding of the current situation and continue to advocate for the rights of women and girls."
She emphasized the importance of "hope in action"
Markle also met with a group of women to discuss gender inequality and violence, sharing images from that conversation on Instagram and remarking: "On Thursday we convened a meeting of minds — a group of women ranging from a legendary anti-apartheid activist, female parliamentarians, professors, educators and policy makers to discuss the rights of women in South Africa."
Markle shared the inspiration behind gathering this group, noting: "In the lead up to this tour it weighed heavily on my heart to see the countless violations against women, and I wanted to spend my time on the ground learning about the situation at hand."
She noted that there has to be more done than hoping for things to improve, noting: "In sitting down with these forward thinkers, it was abundantly clear — it is not enough to simply hope for a better future; the only way forward is 'hope in action.' I'm eager to spend the next few days in South Africa continuing to learn, listen and absorb the resilience and optimism I've felt here."
Markle is praised for her efforts
While Markle has faced a lot of criticism as of late, her meetings while in Africa and the visit to pay her respects and take a stand on important issues are being praised.
One Twitter user noted: "This is a very sad story. I applaud Meghan for reaching out to show respect & compassion to Uyinene's family. I also applaud Meghan for standing in solidarity with the women of South Africa against the femicide that is happening in the country. Hopefully change will happen soon."
Another Twitter user noted: "I admire Duchess Meghan for using her platform to show solidarity with victims of GBV. I hadn't heard about Uyinene's murder until yesterday. Hopefully drawing more international attention to this matter will lead to the justice she and many others deserves."
Other Twitter users agreed, with another fan remarking: "That's why I love Princess Meghan so much. She truly cares about people. The tragic story of Uyinene is so painful and heartbreaking. She was just beginning to start her life. We must protect women and girls all over the world."
On her Instagram posts about her visit and meeting, fans were thrilled to see Markle focusing her attention in this important way. Comments included: "Such essential work! Heartbreaking but wonderful to see this fight being highlighted here" and "People can criticize Megan all they want. It doesn't change the fact that she's a phenomenal woman doing amazing things."