Why Meghan Markle Returned to the Public Eye to Watch Serena Williams at Wimbledon
Meghan Markle has been away from the public eye on maternity leave after giving birth. She did return for a public event, and she once again is back to cheering on her good friend, Serena Williams. Find out about her latest appearance and more about their friendship.
Meghan Markle is on maternity leave after giving birth to Archie
Markle gave birth to Archie Harrison, and is on maternity leave afterward. Prince Harry has continued appearing at some public events.
Her first public event since giving birth was at the Trooping the Colour parade. She was seen wearing a new eternity ring that she reportedly received from Prince Harry as an anniversary gift. Her engagement ring was also updated with new diamonds.
There have been rumors that Markle has been social with friends in private. One of them included Serena Williams.
There was a rumor that Serena Williams met baby Archie
The tennis star previously planned Markle's baby shower in America. She talked about what it was like planning the big affair.
"Planning something like that takes a lot of effort," she told Business of Fashion. It wasn't a lot of work because of the royal, but because of her personality.
"I'm a perfectionist, so I'm like, 'Let's make it perfect.'" she admitted. "It's been a lot the last few days." Williams said she also sent pampers to the mother ahead of her giving birth.
There was a report that she visited Markle to meet baby Archie in 2019. That's because she had to go to Paris for the French Open. Williams also posted a picture on Instagram that some believed was a regal state room in Windsor. However, that same photo was later tagged to be located in Paris and the Olympian never confirmed this report.
She made a surprise appearance at Wimbledon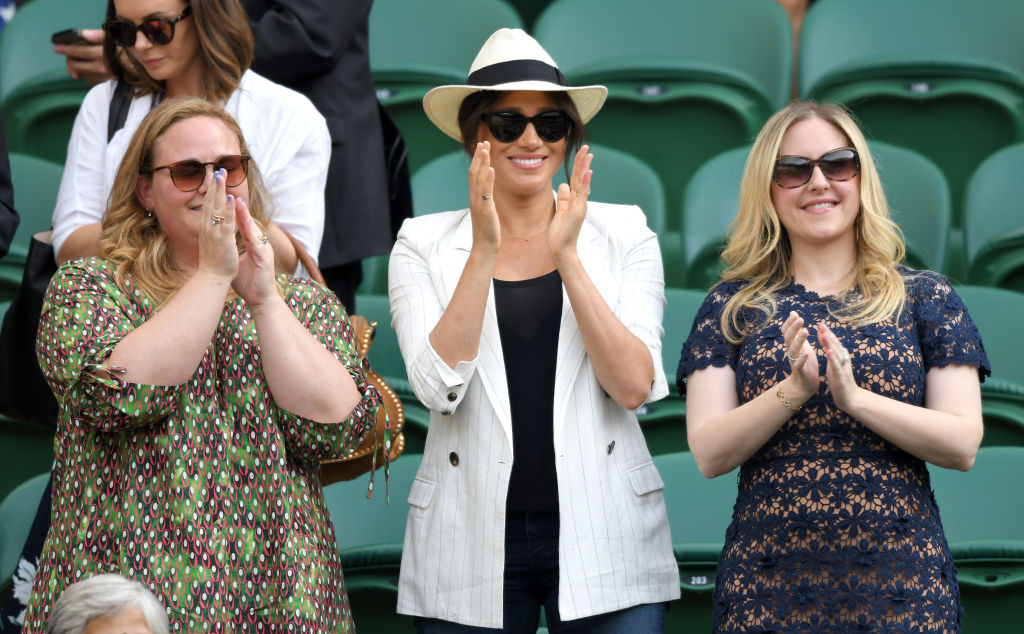 The new mother was spotted supporting her friend at Wimbledon. She was with her friends Lindsay Roth and Genevieve Hillis, according to People.
This certainly isn't the first time she showed her support for the professional tennis player. She previously attended Wimbledon in 2016 with Prince Harry.
Markle and Williams met back in 2014 when they participated in DirectTV's Celebrity Beach Bowl together. They played in a flag football game.
"We hit it off immediately, taking pictures, laughing through the flag football game we were both playing in, and chatting not about tennis or acting, but about all the good old fashioned girly stuff," Markle revealed in The Tig. "So began our friendship."
The former blogger also wrote about how her relationship with the athlete grew. "She quickly became a confidante I would text when I was traveling, the friend I would rally around for her tennis matches, and the down to earth chick I was able to grab lunch with just a couple weeks ago in Toronto," she wrote.
Many have wondered who Meghan Markle and Prince Harry will pick to be the godparents of baby Archie. Some wondered if Williams is one of them. However, the royal couple reportedly won't announce who they pick.