Does Meghan Markle Straighten Her Hair? Beauty Tips the Duchess Swears By
With her signature messy bun and perfect makeup application, royal fans want to know everything about Meghan Markle's beauty tips. But, on top of that, they also wonder about how she gets her naturally curly hair so sleek. Does Meghan Markle straighten her hair? Up ahead, we take a look at how the duchess achieves those lived-in waves, plus the beauty tips she swears by.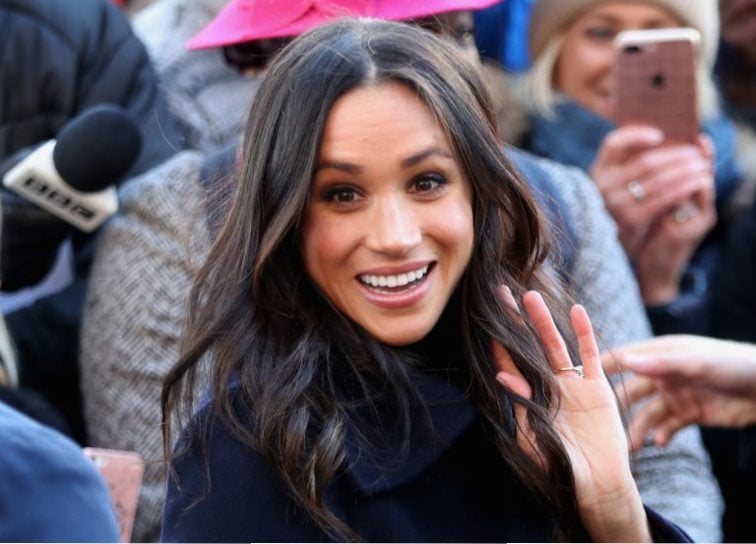 Does Meghan Markle straighten her hair?
With photos circulating of her gorgeous, naturally curly hair, many want to know: Does Meghan Markle straighten her hair? And, according to some of her former stylists, she does. However, the duchess doesn't reach for a hot tool to get the job done (though she likely uses one for touchups or to create her signature waves). She is reportedly a big fan of in-salon keratin treatments that help combat frizz and make curly hair appear more relaxed. "Meghan came to see me at least twice for keratin treatments," the duchess's former hairstylist, Theonie Kakoulli told People. "It's great for people with naturally curly hair like Meghan, it takes the frizz out and makes it more manageable — she said it made a real difference," she concluded.
In-salon keratin treatments are made up of protein (keratin) and amino acids that work to target natural curl patterns in the hair. With the application, the hair appears smoother and, ultimately, straighter, too. That said, since Meghan likes to wear her hair in a natural-looking wave, she likely goes back in (or, her stylist does) with a straightener to create a lived-in wave effect.
Meghan Markle's beauty tips
In addition to keratin treatments, the duchess also swears by a few other beauty splurges. As a former Hollywood star, she had access to some of the best makeup artists, hair stylists, and facialists in the business, so it's no wonder Meghan Markle's beauty tips are in abundance. Here's how to achieve great skin, hair, and makeup, Meghan Markle style.
Smile
One of Meghan Markle's beauty tips actually has nothing to do with beauty but can make a big difference. In a past interview with Express, the then-actress said her top beauty tip is to smile. "Everyone looks prettier when they smile," she told the outlet.
Curl your lashes to look more awake
In that same interview, she also shared her appreciation for eyelash curlers and said: "I always think that [curling your lashes] makes you look more awake."
Messy bun
The duchess hasn't spoken out about her signature 'do, but we're adding it to the list anyways. Meghan Markle's messy bun is a chic way to style second (or third) day hair and, despite it's so-called "mess," it appears put together and intentional.
Minimal makeup
Meghan Markle's makeup at official royal engagements is typically always the same (or similar). And, while it's easy to chalk that up to the royal family beauty rules (minimalistic is key!), it's actually her personal preference. "I don't tend to go totally bare, but on non-filming days I will only wear tinted moisturizer, mascara, blush, and a ChapStick for my lips," she told Express back in 2015.
Check out The Cheat Sheet on Facebook!