Meghan Markle Gets More Style Inspiration From Princess Diana Than We Realized
Meghan Markle's fashion sense has been a major part of her royal reputation since she first began dating Prince Harry. The two recently welcomed their first child together, and Meghan has retreated from the spotlight a bit since then; she's also toned down her looks. However, she still knows how to get dressed for an event (though she's broken a few royal rules), and she channels Princess Diana through her fashion choices more than we realized.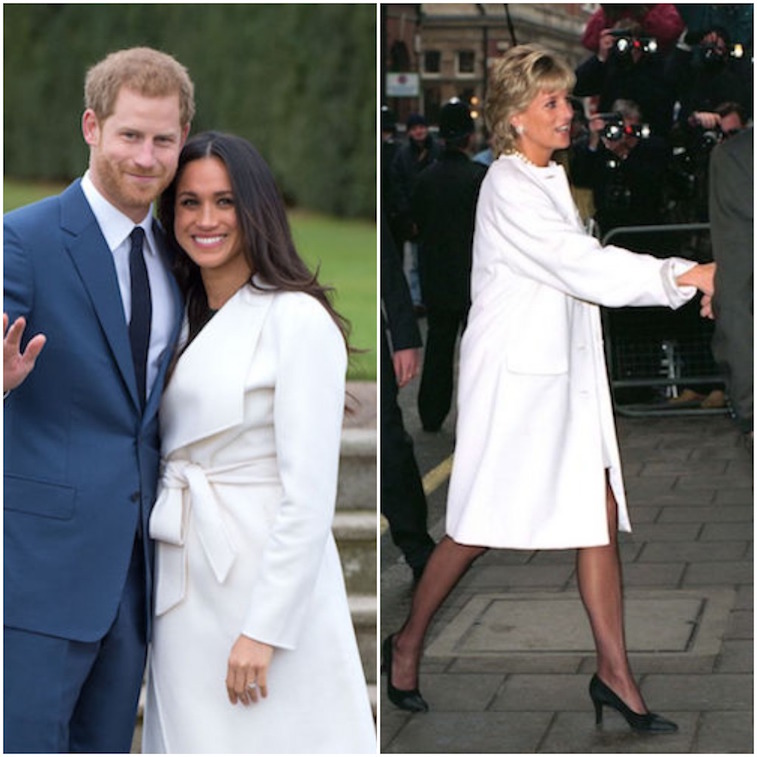 Meghan's fashion has often been compared to Kate Middleton's
When Kate Middleton joined the royal family, she quickly became a fashion icon. People began buying whatever she wore — especially because some of her looks were so affordable. It became known as "the Kate effect." Then, when Meghan and Harry began dating, people instantly started comparing Meghan's fashion sense to Kate's. The two dress differently, though they've reportedly taken some inspiration from one another over the last couple years. But they've also taken inspiration from their late mother-in-law, Princess Diana.  
Prince Harry thinks his mother and his wife would have been 'thick as thieves'
When Meghan and Harry started dating, she immediately was disliked by the public. As anyone in the public eye knows, the press and the public tear everyone apart. However, Harry seems to think that if his mother were still here today, and Diana would be "thick as thieves." It's possible that Diana would be able to relate to Meghan's struggle with the press, since Diana was hounded by paparazzi and often talked about during her high-profile divorce from Prince Charles. Or perhaps Harry simply thinks they dress the same and would love each other's style.
Meghan has worn Diana-inspired looks on many occasions
Meghan and Diana's looks have been compared a few times, but there are actually several occasions when they've worn something similar. At Trooping the Colour in 2018, Meghan wore a pink off-the-shoulder dress similar to a gown Diana wore back in 1987. Meghan has also been seen in a button-down look, plus a black and white outfit, that both bear a striking resemblance to Diana's fashion. Plus, they've both worn iconic blue coats to upscale events and have dressed down in white button downs and jeans as well. It's possible that the two are simply on the same wavelength when it comes to fashion, but it makes more sense that Meghan would be intentionally inspired by some of Diana's best outfits.
Both Meghan and Kate still honor their late mother-in-law, though they never met her
Although neither Meghan nor Kate ever met their mother-in-law, they both still honor her by wearing her jewelry to events. Kate recently wore a pair of Diana's earrings to Meghan and Harry's son's christening, and Meghan has some of Diana's stones in her engagement ring. Both Prince William and Prince Harry also try to honor their mother in any way they can, and neither has ever fully gotten over the loss. However, they have healed a bit from her death and have found two incredible women who do their best to keep Diana in their memories.