Meghan Markle Just Surprised Her Longtime Makeup Artist in N.Y.C.
Meghan, the Duchess of Sussex, recently took a trip back to the United States. She has had a whirlwind visit so far and packed a lot into a short amount of time. She had the joy of cheering her friend Serena Williams on at the US Open, which was the main reason for her royal venture. Before that, however, she made the journey to a friend and longtime makeup artist for his birthday. Read on to learn more about all the sweet details.
Meghan Markle reunites with Daniel Martin with cupcakes
Meghan's makeup artist, Daniel Martin, actually did her makeup for her momentous wedding day and the two are great friends. He also helped plan Meghan's baby shower in New York City. He was helped in that endeavor by more of Meghan's friends, Serena Williams, Abigail Spencer, and Jessica Mulroney.
Martin shared a sweet post to Instagram of a plate full of cupcakes complete with a single candle. He captioned the photo along with a sweet message for Meghan. "I am so overwhelmed by all of your well wishes! My sincerest gratitude!! Thanks to everyone for reaching out to me today and Meg, love you friend for surprising me on my special day ❤️ #itsmybirthday," Martin captioned the photo. The Duchess surprised Martin with the plate of cupcakes for his special day.
This isn't the first time Daniel Martin has shared an image with a shout out to Meghan Markle
This is not the first time that Martin has shared photos implying his unique friendship with Meghan. In January of this year, he shared a photo of a yummy snack that the Duchess had prepared for him when the two reunited. The image was of some delicious avocado toast and some tea prepared by Meghan herself.
"Back to our Tig days… ❤️ Thank you Meghan for being the consummate hostess this weekend and still being the #avocadotoastwhisperer, YUM! ‍♂️ ☕️ #foodie #foodiegram," he captioned the image.
The Duchess of Sussex took a yoga class in N.Y.C.
Meghan also found the time to visit a favorite spot of hers for some much-needed yoga and relaxation at Modo Yoga in the West Village. The yoga visit came after she touched down in New York City. Meghan and a friend decided to attend the yoga class on account of jetlag, which was full to the brim.
According to People, the class had up to 60 people in attendance. A source revealed intimate details about the class from one of its attendees. "There were lots of sweet, knowing smiles," the source explained. "She has been going to Modo Yoga for many years and tries to do so whenever she is in New York," continued the source. "It was the perfect remedy for jet lag." Instead of demanding a private session at the studio, Meghan was very chill and proceeded to join the other people in the class.
She cheered on Serena Williams at the US Open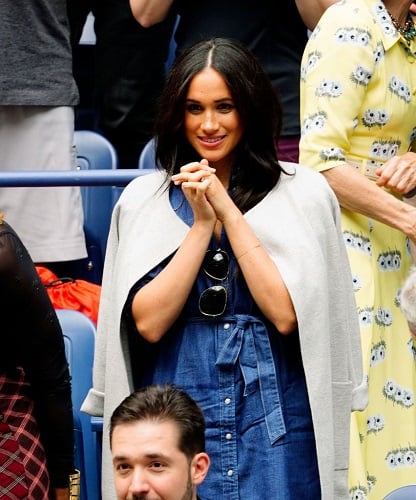 Even though Serena Williams lost the prize to Bianca Andreescu, Meghan was still there to encourage and cheer her on at the Arthur Ashe Stadium in Queens on Saturday. She sported a casual look with a blue J. Crew dress and white cardigan of the same brand. She is clearly a good friend who wanted to be there for Williams no matter the outcome. The Duchess may be royalty, but she hasn't forgotten her good friends that she still cherishes and finds time for.