Meghan Markle Is a Victim of Mom Shaming: Should the Palace Improve Her 'Motherly Image'?
The media and public have been super critical of Meghan Markle, but some keep piling on, criticizing her as a new mom to baby Archie. One PR expert believes that the palace should be working on her "motherly image" in the face of the intense mom-shaming she's experienced.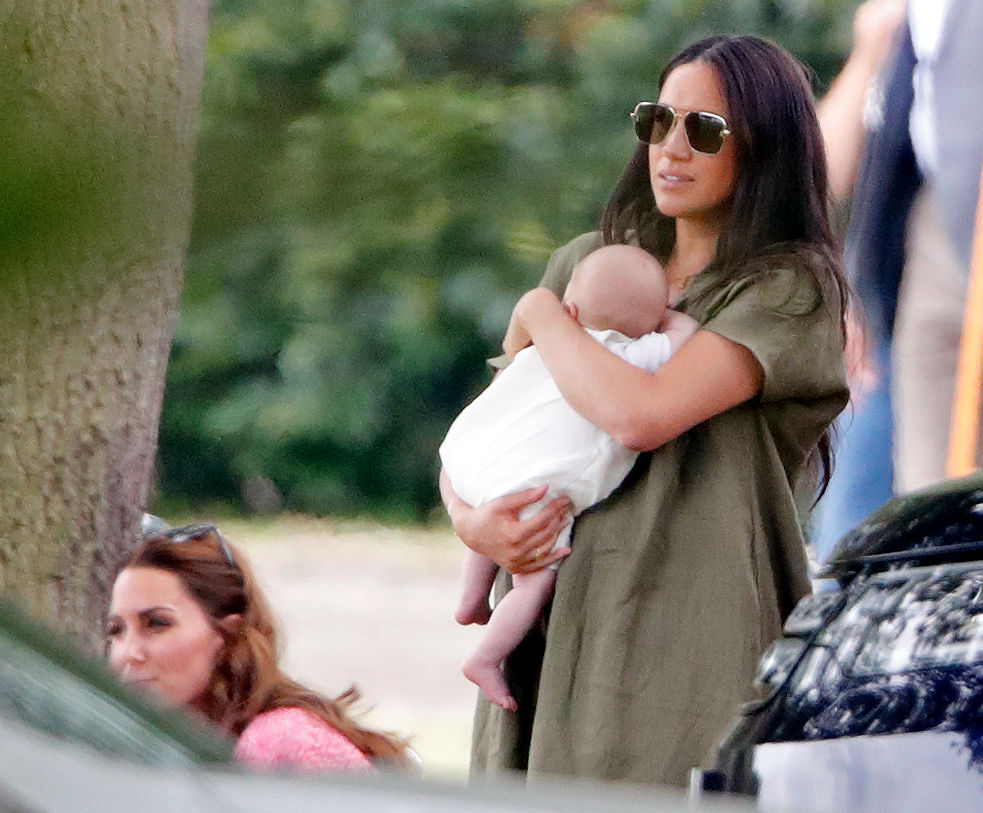 Markle was mom-shamed for the way she was holding Archie
Royal watchers didn't hold back when they saw photos of Markle at a charity polo match this summer, where she and Archie came to support Prince Harry. Specifically, people were overly critical of the way she was holding the baby, as the mom shamers came out in droves to attack Markle.
People criticized her on social media, as one person noted on Instagram: "The multiple nannies 'forgot' to teach her how to best hold a newborn" and others scolded her for the way she wasn't properly supporting the baby's neck and body.
Parenting experts, however, confirmed that Markle didn't do anything wrong, as Dr. Jen Trachtenberg, a board-certified pediatrician and author of Pediatrician in Your Pocket, told TODAY Parents: "There is no one right way to hold a baby. You want to make sure the baby is secure and that's exactly what Meghan was doing. She's holding him tightly with two arms. He's not crying and he's not uncomfortable."
The reason behind Markle's awkward hold
There were others who defended the way Markle was holding Archie, explaining that, with cameras there to snap photos of the mother and son, she was likely trying to shield him from photographers.
In one discussion on social media, a Twitter user remarked: "She can't have any maternal instincts at all. Archie's neck and whole body not supported by her at all. No sun hat to protect him."
Among the responses was one Twitter user who noted: "That's not what I see here. I could be totally wrong, but I see a mother being very protective and almost wrapping him up with as much of her arm as she can. I remember what it feels like."
Does Markle's 'motherly image' need a boost?
Tom Bourlet, PR and Marketing Manager for Eventa, believes that more should be done to protect Markle's "motherly image," telling the Express: "Meghan has been at the end of some incredibly unfair 'mum shaming.' There certainly seems to be an agenda against her within a group on social, especially on Twitter, with her every action ridiculed, almost pointing towards a break from tradition." 
In his opinion, "While there might be a nanny in place — it might be worth her looking after her child when in public, so as to show a motherly image. There can certainly be an improved strategy on demonstrating her great skills as a mother in a careful and delicate way so that they aren't simply using Archie like a PR tool."
He admitted, "I almost feel reluctant to state that she should show herself as a good mother, in modern times it seems ridiculous and incredibly sexist that this is required for the public to be happy," adding, "but looking from a PR angle, it will paint her in a good light with the masses."
Bouret shared one strategy that would be easy to attempt: "They could certainly orchestrate some imagery showing her as a good mother (in a playground or feeding her children) which is sent to press, rather than relying on photographers catching her at an unfortunate angle."