Meghan Markle Was Late For Trooping Of The Colour For This Very Normal Reason
All eyes were on Meghan Markle when she attended her first royal engagement since giving birth to baby Archie in May. The Duchess of Sussex dazzled onlookers during the Trooping the Colour parade earlier this month, but royal watchers were quick to notice that Markle was late arriving on the balcony with the rest of the royal family. Turns out, there was a very good reason behind Markle's delay.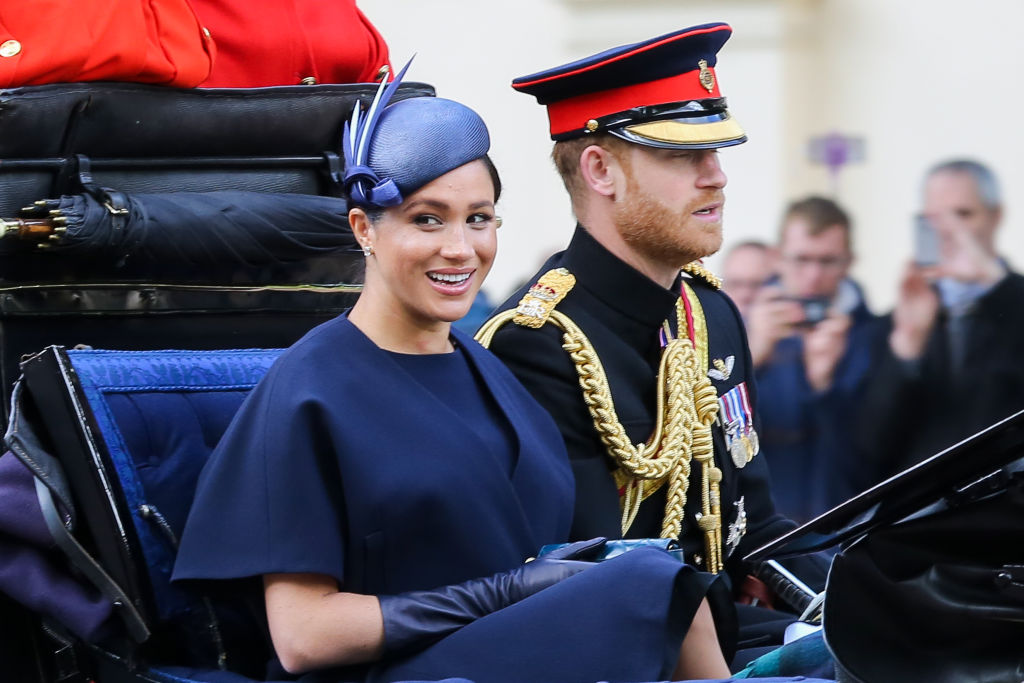 Meghan Markle is late for Trooping the Colour
The Trooping the Colour event is held in honor of Queen Elizabeth's birthday. This year marked Her Majesty's 93rd birthday and most members of the royal family were in attendance to watch the festivities unfold.
The only exception was Prince Philip, who retired from royal duties a few years ago. The royal family traditionally watches the parade from a balcony at Buckingham Palace, which is where fans noticed Markle's late arrival.
Markle showed up at the event alongside her husband, Prince Harry, Kate Middleton, and Camilla Parker Bowles. The foursome arrived in a carriage and were nothing but smiles for the cameras.
The appearance was somewhat of a surprise for Markle, who has spent the past few weeks on maternity leave and was not expected to return to royal duty for some time. But while everyone else showed up on the balcony on time, Markle was nowhere to be seen.
Why wasn't Meghan Markle on time?
When Markle finally appeared on the balcony, she had switched up her outfit by ditching her coat and gloves. According to Express, the outfit swap suggests that Markle was taking care of Archie behind the scenes, which explains why she was late for the balcony appearance. Inside sources claim that Markle and Harry want to be more hands-on when it comes to parenting and are doing much of the child rearing on their own.
Markle and Harry are following Middleton and Prince William's lead as far as the parenting goes. William and Middleton are very active in raising their three children, with William famously participating in diaper duty, late-night feeding sessions, school drop-offs, and bath time. Markle and Harry reportedly want to be just as active, which is why they have hired minimal staff to help out.
Meghan Markle returns to maternity leave
While it was great to see Markle back in action, the former Suits star is expected to return to maternity leave for a few more months. Kensington Palace has not revealed when Markle will resume her royal duties, but she will likely wait until the end of the summer before making another public appearance.
One source claims that the only reason Markle attended Trooping the Colour was because she thought of it as a family event more than anything. Markle wanted to be with the rest of the royal family as they celebrated Elizabeth's birthday.
Apart from the late balcony appearance, fans also noticed Markle sporting a new ring at the event. The band was actually a gift from Harry and sources believe he gave it to Markle in celebration of their first child.
Controversy at Trooping the Colour
Although fans were happy to see Meghan Markle back in action, her appearance at Trooping the Colour was not without controversy. At one point on the balcony, it looked as if Harry and Markle were involved in a tense exchange. Cameras caught Harry talking with someone to his right when Markle, standing in front of the Duke, turned around for a quick word.
Lip readers believe that Harry answered Markle's question before telling her to "turn around." Harry then pointed to the people below the balcony and told Markle, "Look," reminding her not to turn her back on the crowd.
Some experts believe that Markle may have wanted to leave the balcony to care for Archie, but Harry wanted her to stay because the anthem was about to start. Archie did not make an appearance at the event because he is only a month old. Middleton and William's three children — Prince George, Princess Charlotte, and Prince Louis — were at the event.