Meghan McCain Had an Impressive Response to Trump's Latest Attack on 'The View'
We haven't been big fans of Meghan McCain's work on The View. On too many occasions, we've seen her take the easy way out in political debates and even lose her composure on the air.
In the worst cases, McCain has used the story of the day to make the conversation about her and her family. Overall, she's made us wish she showed more professionalism as charges of nepotism continue to swirl about her.
However, she's faced more pressure than usual in the last few days. As Donald Trump continued attacking her late father, Senator John McCain, she's had to go to her day-job at The View in front of millions of viewers.
To her credit, she came to work on March 20 seeming determined to rise above the muck. After the panel weighed in on the subject, McCain offered up a convincing response to Trump's insults.
McCain: 'Do not feel bad for me and my family.'
Before McCain had her say, her co-hosts on The View laid into Trump for his comments. Whoopi Goldberg, who recently returned from a life-threatening illness, appeared short of breath as she denounced the president.
"You're getting smaller every day, and that's why you can't deal with this," she said in a direct address to Trump. "John McCain…this is a man of integrity — look it up. Look. It. Up."
Abby Huntsman, Joy Behar, and Sunny Hostin all followed Whoopi in criticizing Trump and the toxic hatred Cindy McCain (Meghan's mother) has experienced online. When Meghan McCain's turn came, she thanked her co-hosts for support and spoke with poise.
"I think if I had told my dad, 'Seven months after you're dead, you're going to be dominating the news and Twitter,' he would think it was hilarious," she said. "Hilarious, that our president was so jealous of him that he was dominating the news cycle in death."
"Do not feel bad for me and my family," McCain continued. "We are blessed. We are a family of privilege." If we had been in the audience, we probably would have stood and applauded.
McCain: Focus on bullied kids, veterans without support.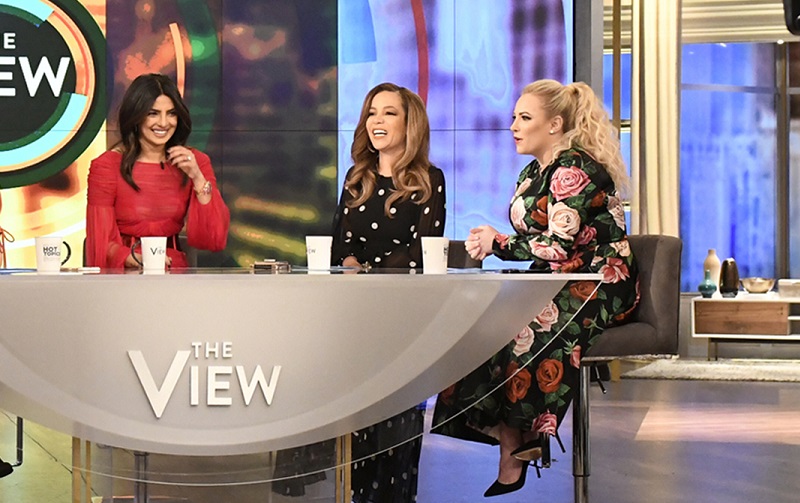 "Feel bad for people out there who are being bullied that don't have support, that don't have the women of The View to [help them]," McCain went on to say.
There are kids committing suicide because of cyberbullying. There are people going through rough times … there are veterans who come back … we have 20 veterans a day committing suicide. These are the issues I beg the White House to pay attention to.
You have to give credit where it's due, and McCain deserves some after her appearance today on The View. Not only did she speak without referring to some tired talking-points; she delivered her words with conviction.
When Barbara Walters originally came up with the concept of women of different generations talking intelligently on issues of the day, we imagine this is what she had in mind.
Check out The Cheat Sheet on Facebook!