Melissa Gorga Had 1 Thing to Say About Teresa Giudice's Rumored Affair
Teresa Giudice spends a lot of time in the spotlight — after all, she's the main cast member on the Bravo Network show The Real Housewives of New Jersey. But recently, she was photographed holding hands with another man while in Miami (she's still married to Joe Giudice, who is currently in prison). The public immediately began speculating an affair; her sister-in-law Melissa Gorga had one thing to say about the whole situation.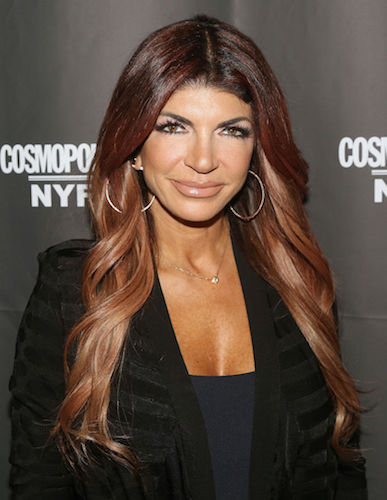 Giudice's husband is currently serving a 41-month prison sentence
Both Joe and Teresa Giudice were indicted on charges of fraud back in 2013. After a long battle in the courts, the two were both found guilty of various charges and sentenced to prison time. Teresa was sentenced to 15 months while Joe was sentenced to 41 months. Teresa served her sentence first and ended up being released after only 11 months; she was home in December 2015, just in time to spend the holidays with her family. Joe's sentence began in 2016, and he's been in prison ever since — he's set to be released this year. However, even though the two are almost done serving their time, things still haven't been very smooth.
Joe Giudice may be deported once his sentence is done
Giudice was born in Italy and came to the U.S. when he was a baby. Although he's been living in the United States his entire life, he never actually became a legal U.S. citizen. This means that since he's been charged with a crime, a judge can deport him. At Joe's deportation hearing, a judge ruled that he'd be deported immediately after his release. However, Joe has a wife and four daughters still living in the U.S., so the family filed an appeal with the hope the judge will reconsider. But Teresa has been back and forth about whether she'd stay with her husband if he did end up deported.
Teresa Giudice was recently photographed holding hands with another man in Miami
Teresa Giudice has been out of jail for more than three years now, and she's worked hard to get her life back on track. But now, she's in the media again for allegedly having an affair while her husband is in prison. Teresa was spotted holding hands with a 26-year-old named Blake Schreck, a realtor from New Jersey, in Miami recently. People immediately speculated the two were an item, but Teresa's lawyers deny the alleged affair. However, one person rooting for her is Bravo star Andy Cohen. "I want her to be getting it from this guy," Cohen told Melissa Gorga, Teresa's sister-in-law, according to People.
'I'd know… She'd maybe be beaming," Melissa Gorga said, denying Teresa's affair
Gorga came to Teresa's defense and said the Real Housewives star definitely isn't having an affair — because she'd know about it. Teresa's co-star and family member said there's no way Teresa would be able to hide it. "I'd know something," Gorga said. Teresa has vehemently denied the rumors, but the hand-holding is pretty hard to misjudge. However, time will tell if there's more than meets the eye to the photo or if it's actually completely innocent.
Check out The Cheat Sheet on Facebook!