'Miitomo': What Nintendo's First Mobile App is and Isn't
Nintendo announced last year that it would give into the inevitable and start making mobile games. It took longer than expected, but the company's first app is almost here. It's called Miitomo, and it's a lot of things, but it sure isn't the Mario game many were expecting.
In fact, it's surprisingly hard to summarize. Miitomo is a social app about collecting clothes for your avatar, answering questions, and learning new things about your friends. How does it all fit together? To find out, I downloaded it from the Japanese App Store, where the app launched before its upcoming worldwide release. Here's what I learned.
1. Miitomo isn't really a game
Nintendo may be known for its video games, but the company's first mobile app isn't much of a game at all. Of all of its wide-ranging features, the closest thing to a game here is Miitomo Drop. This tucked-away mini-game is basically pachinko, a popular gambling game in Japan. It has you drop your character down a chute filled with bumpers and platforms, where it bounces around until it stops. Whatever prize you land on is yours to keep. That concludes the game portion of Miitomo.
2. It's mostly about dressing your Mii
When you boot up Miitomo for the first time, it has you create a Mii character, which is basically a cartoonish avatar that represents you. One of the biggest sections of the app revolves around collecting articles of clothing for your Mii. You can play the Miitomo Drop mini-game to try to win shoes, pants, shirts, and accessories. You can also visit the shop, where you'll find tons of different fashionable (or not) items you can try on and purchase if you have enough coins.
3. It's part social network
In addition to filling your Mii's virtual closet, you can populate your friends list by linking the app with your Facebook and Twitter accounts. It displays which of your friends also have Miitomo, so you can easily connect with them.
4. It asks you questions
The social aspect of Miitomo revolves around a series of questions your Mii asks you. When prompted, it poses quandaries like "What's something you've noticed becoming really popular recently?" and "What did you do last weekend?" You can type in whatever answers you like, and your friends can see what you have to say. They can also like your responses and respond if they so desire.
Beyond that, you can visit your friends' Miis and pose them questions directly. This is Miitomo's version of direct messaging, or private chatting.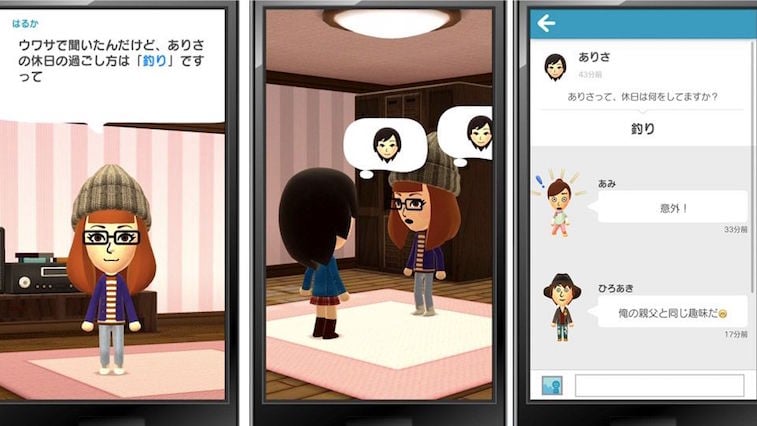 5. You can take "Miifotos"
Once you have your Mii dressed to the nines, you can pose it and take a picture in front of a number of different backsplashes. You can have your friends' Miis join you in the "fotos" and share the pictures with your network.
6. It has in-app purchases
Miitomo has no fewer than three different kinds of in-game currency. For answering questions and linking up with friends, you'll acquire candy, tickets, and coins. You have to spend these things to buy clothes and play Miitomo Drop. Once you run out of in-game currency, you can spend real-life money to get more. Clothes don't come cheap, so it doesn't take long before you'll be scrounging for more.
7. Honestly, it seems pretty pointless
Unless you get excited about collecting clothes and playing a shallow mini-game, most adults probably won't find much to care about in Miitomo. It's just too weird, cutesy, and unfocused.
But perhaps that's unfair, because Miitomo is clearly aimed at the younger crowd. Nintendo needs to win over all the kids it can, especially now, when young gamers are more jazzed about Minecraft and Clash of Clans than they are about Mario. Nintendo faces an uphill battle to become relevant again, and Miitomo is one of many steps in that direction. Still, I wish the company's first mobile app had wider appeal.
Follow Chris on Twitter @_chrislreed
Check out The Cheat Sheet on Facebook!
More from Entertainment Cheat Sheet: