Mike 'The Situation' Sorrentino's Wife Lauren Was Asked a Really Awkward Question at the 2019 VMAs
Lauren Sorrentino had a blast at the MTV Video Music Awards on Monday night. The wife of Mike 'The Situation' Sorrentino attended the awards ceremony in Newark, New Jersey, with Jersey Shore: Family Vacation stars Jenni 'JWoww' Farly, Nicole 'Snooki' Polizzi, Deena Nicole Cortese, and Angelina Pivarnick. But things got a bit awkward when a reporter asked Sorrentino where her husband was. 
How Sorrentino reacted to the awkward question
During a red carpet interview, a reporter for Access Hollywood asked the ladies, "Where are the boys?" 
Sorrentino's pained facial expression and head tilt said it all. As fans know, her husband is currently in prison serving an eight-month sentence for tax evasion. He's set to be released in September. 
It's pretty obvious why the clueless question might have annoyed Sorrentino. Fortunately, Snooki stepped in to save the day, explaining why the other guys from the show weren't there. "Pauly's DJing, Vinny's stripping. And Ronnie should be here any minute. Ron's running late," she explained. 
Later, Sorrentino made light of the uncomfortable moment. "My face when she asks where the husband is," she captioned an image on her Instagram story that linked to a video of the awkward convo. 
Why The Situation went to prison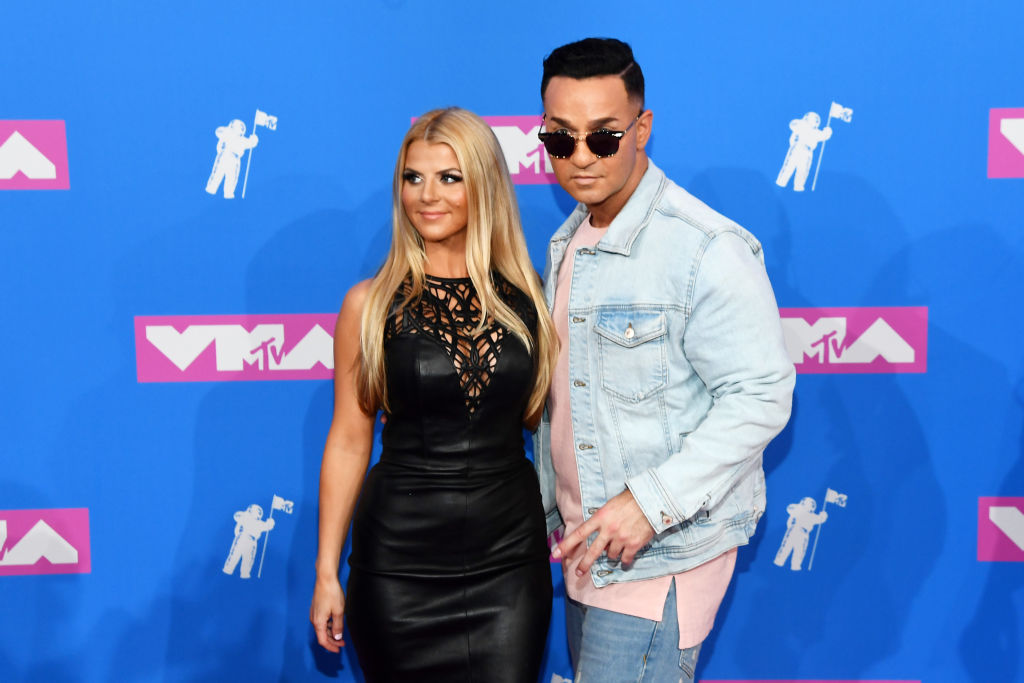 Lauren and Mike Sorrentino tied the knot in November in a lavish ceremony at The Legacy Castle in New Jersey. But the happy couple were only able to spend a few months together as husband and wife before The Situation had to report to federal prison to serve his sentence for federal tax evasion. 
Sorrentino and his brother Marc were indicted in 2014 for failing to pay taxes on nearly $9 million in income between 2010 and 2012. They were later charged with tax evasion, structuring, and falsifying records.
The Situation pleaded guilty to one count of tax evasion and received a sentence of eight months followed by two years of supervised release. He was also ordered to pay $123,913 in restitution and a $10,000 fine. His older brother pleaded guilty to one count of aiding in preparation of a false tax return and was sentenced to two years in prison, plus a year of supervised release and a fine of $7,500. 
His wife has been supporting him while he's behind bars 
Though The Situation has spent much of their marriage behind bars, his wife has been supporting him through his incarceration, visiting him regularly at the prison in upstate New York where he's serving time. 
"He sees Lauren like every week," his Jersey Shore co-star Pauly D said during an appearance on Watch What Happens Live with Andy Cohen in July.
"Mike and I are stronger than ever," the 34-year-old Lauren told Us Weekly in April. "We talk every day and we see each other at least once a week."
"We are so lucky to have a strong support system and are both looking forward to having him home," she added.
Check out Showbiz Cheat Sheet on Facebook!