7 Mila Kunis Roles More Memorable Than 'Jupiter Ascending'
Though the sci-fi epic from the Wachowski's Jupiter Ascending, was a flop, the Ukrainian actress Mila Kunis is still one of Hollywood's biggest stars on the big and small screens known for her beauty, her voice acting, and her humor. Here's a look at seven of Mila Kunis's roles that will likely be better remembered than her alien princess from Jupiter Ascending.
1. That '70s Show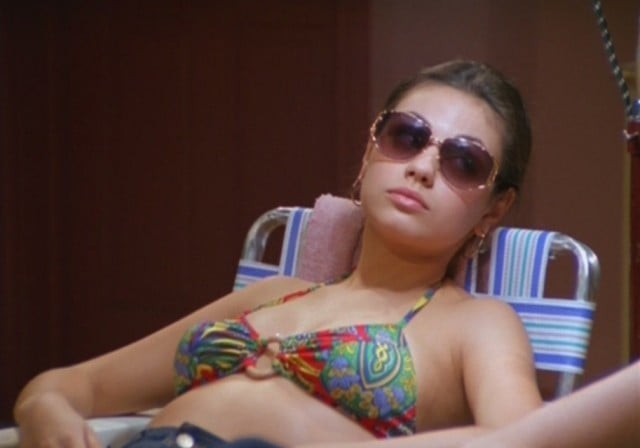 Kunis's big break came from her role as the spoiled prima donna Jackie Burkhart on the sitcom That '70s Show. She began working on the series when she was just 14 years old and essentially grew up with the character and the show. That '70s Show ran from 1998 to 2006 and focused on a group of teenagers living in a small town in Wisconsin during the 1970s. Ironically, years later she reconnected with the actor who played her love interest on the show Ashton Kutcher and the pair now have a newborn baby together. Topher Grace, Laura Prepon, and Wilmer Valderrama were also co-stars.
2. Family Guy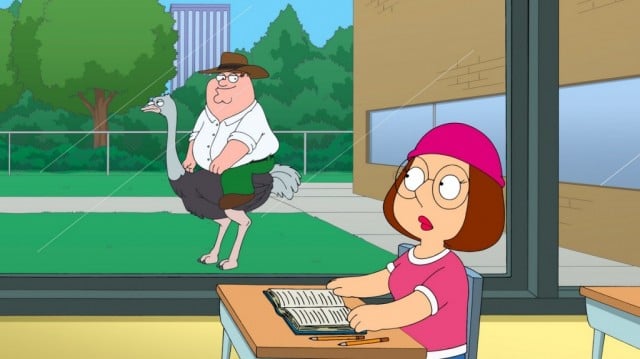 Comedy mastermind Seth MacFarlane recognized Kunis's comedic potential early on and cast her as a voice role in his long-running animated series Family Guy. She plays Meg, the sister and daughter in the family who is constantly abused by everyone else. Meg is thought to be ugly and dorky and wears glasses to signify those things, though she's actually probably the most competent and least insane member of the Griffin clan. Family Guy has been one of the most popular adult cartoons on air since 1998 and has made MacFarlane's brand of bizarre humor lampooning American culture instantly recognizable. MacFarlane has said in an interview with the Paley Center that he cast Kunis because she gave the character Meg an ability to fight back and "some bite to her" even though the other characters are constantly ignoring or insulting her.
3. Forgetting Sarah Marshall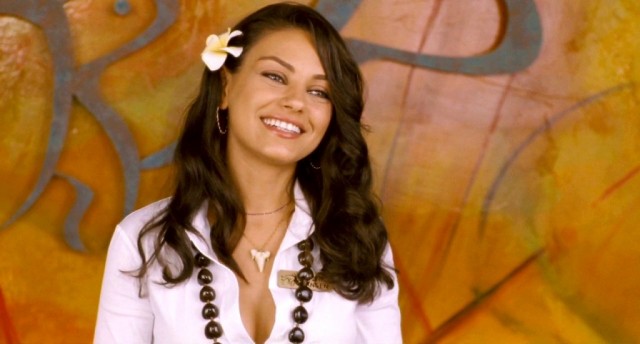 This 2008 comedy from Judd Apatow was Kunis's breakout film role after having two successful television series under her belt. The movie stars and was written by Jason Segel, who plays a guy taking an ill-fated vacation to get over his girlfriend of five years abruptly dumping him. Things go hilariously wrong when his ex ends up at the same Hawaiian resort with her new rockstar boyfriend, played by Russell Brand. Kunis plays the hotel concierge who Segel's character strikes up a new romance with when watching his ex with her new boyfriend makes him realize how terrible their relationship was.
4. Black Swan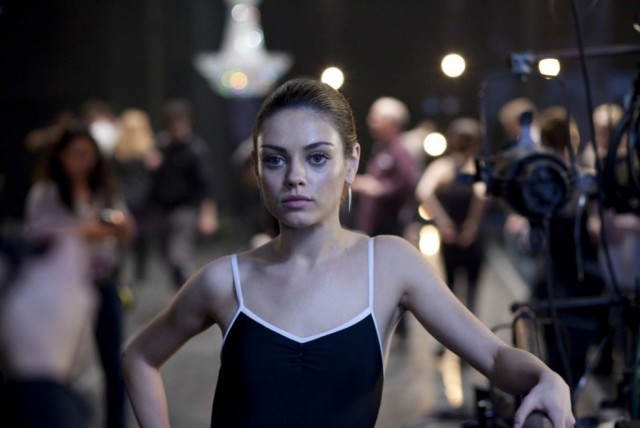 Darren Aronofsky's 2010 thriller set in the ballet world earned star Natalie Portman an Oscar, but also brought supporting actress Kunis the meatiest dramatic role yet in her career. The two women play members of a prestigious ballet company in New York City putting on a production of Swan Lake. While Portman gets the lead role of the Swan Queen, she finds herself competing for the part with a newcomer played by Kunis who more adequately embodies the dark and sexy Black Swan character. Both women had to intensely train for months to attain the bodies of ballerinas. Kunis worked out for five months to drop 20 pounds, weighing only 95 pounds by the time filming completed, she told E! All that work paid off, though, as the film received rave reviews. "This is, no doubt about it, a tour de force, a work that fully lives up to its director's ambitions," said New York Magazine critic David Edelstein.
5. Friends With Benefits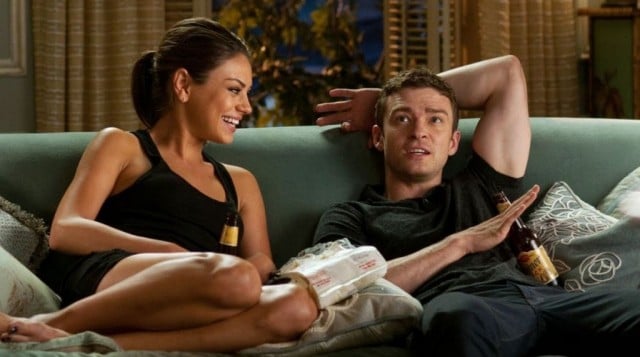 This 2008 rom-com helped boost Kunis's star power even further after making the critically acclaimed Black Swan. While this movie uses pretty much every romantic comedy cliché in the book, the chemistry between Kunis and co-star Justin Timberlake is lovely. Not only are they an uber-attractive coupling, but they are both delightfully funny as well. As the title might've lead you to guess, the movie is about a pair of friends who can't seem to find "the one" and decide to settle on having sex with each other for the time being. Of course many more emotional complications ensue than they expected. It says a lot about Kunis's appeal as an actress that she helps make this extremely predictable film enjoyable despite the fact that anyone in the audience who's ever watched a chick flick knows exactly how each scene is going to play out.
6. Ted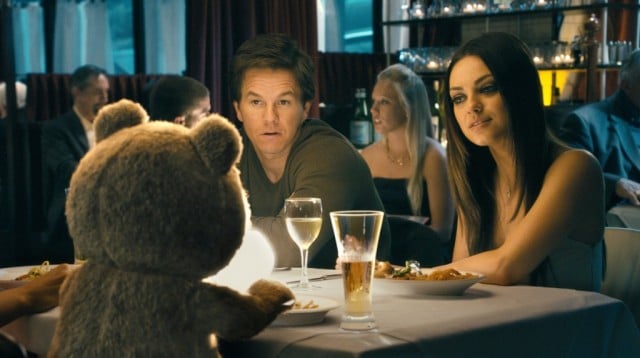 Kunis teamed up with MacFarlane for this live-action movie about a raunchy teddy bear who smokes weed, has sex, and gets Kunis's boyfriend, played by Mark Wahlberg, into all kinds of trouble. The 2012 comedy was MacFarlane's feature length directorial debut and he also wrote the script. It stars Wahlberg as a Boston native named John who wishes that his childhood teddy bear would come to life. When the wish comes true, Ted's wild activities prevent John and his girlfriend from moving forward with their lives. The movie was a big success at the box office and is currently the eighth highest-grossing R-rated movie of all time domestically, according to Box Office Mojo. Critics even liked it, with The New York Post calling the movie "ridiculously funny, outlandish, and inventive."
7. Oz the Great and Powerful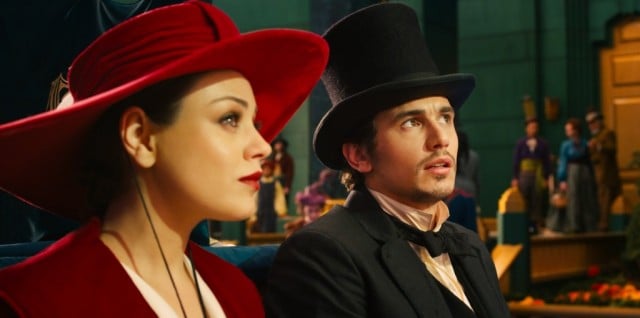 In Sam Raimi's prequel to the classic The Wizard of Oz, Kunis plays the Wicked Witch of the West whose real name is Theodora and whose backstory is elaborated upon. James Franco plays the Wizard Oscar "Oz" Diggs, who starts out as a womanizing con artist but must stop his unethical ways in order to save Oz. Theodora is at first a good witch who naively enlists Oscar's help in defeating the seemingly evil Glinda. But in the process she develops an attraction to him that eventually leads to her downfall when a rival curses her to become the Wicked Witch of the West who we know and loathe. The movie got fairly mixed reviews, with a 44 Metascore from review aggregator Metacritic, but it was significant in Kunis's career for being her first starring role in a big budget blockbuster epic.
Follow Jacqueline on Twitter @Jacqui_WSCS