Mila Kunis is Skeptical of Hannah B.'s Season of 'The Bachelorette'
"So if you know anything about me, you know that I'm obsessed with 'The Bachelor," Mila Kunis told The Ellen DeGeneres Show audience she was guest hosting.

The crowd (apparently stacked with fellow Bachelor fanatics) went wild.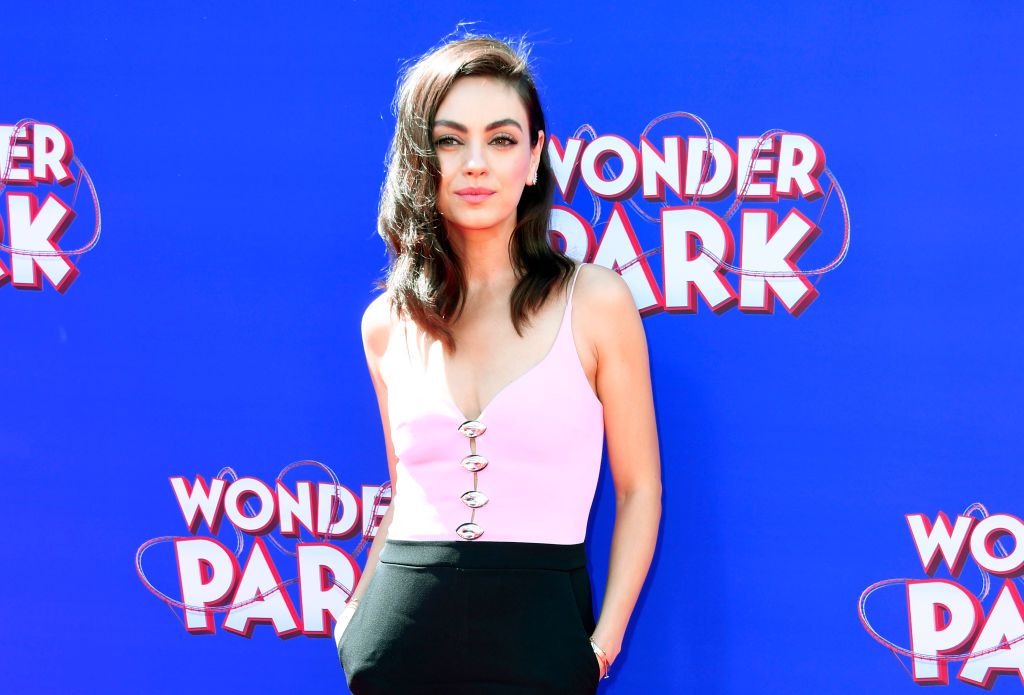 After being announced as the show's DJ, the most recent Bachelor star, Colton Underwood, walked through the gigantic, parting Ellen doors to the sound of guttural fangirl screams. He threw up his signature peace signs and made his way behind the DJ booth.

Who was sitting right next to the booth in the audience? None other than Cassie Randolph, the season winner and Colton's current girlfriend. Mila revealed that her husband, Ashton Kutcher, had picked Cassie as the season winner when he filled out his Bachelor bracket.

"This is so fun for me!" Mila squealed in genuine delight.

"This is awesome," replied Colton. "Hey, you're doing great. I was watching backstage. You're killing it."

The three talked about what Cassie and Colton have been up to. Mila asked if they were still doing their press tour or if things were starting to settle down. Colton replied that the couple just wrapped up touring and that they're happy to start living life as normally as possible.

Mila also mentioned how she tends to get star struck around reality stars.

"I've never nerded out on any actor, the only people I've ever fanned on were reality people. Is that weird? You're like no, that's not weird that's my life. But, to me, it's so crazy," she said.

Cassie talks about what she and Colton used to fight about right when the show ended

"When the show ends, before the finale, you have to hide who you are, what you do together, right?" asked Mila.

"We'd be sneaking around a lot. We were a little risky with it," said Colton.

"Colton was more risky than I was. And then that's when we would fight–when he would like try and be a rebel, and I'm like 'don't get caught'…" said Cassie.

"He jumped an eight-foot fence for you!" Mila interjected as if to say: you shouldn't ever be fighting! Colton proved his undying love for you by swiftly jumping eight feet in the air in an effort to clear his head so he could devise a plan to win you back on national television!
Mila Kunis doesn't have much faith in Hannah B's season of 'The Bachelorette'

Then Mila asked Colton and Cassie their thoughts on Hannah B. being named the Bachelorette.

"You can answer this honestly, which I hope you do: What's your take on Hannah B.?"

"I think it's gonna be a fantastic season. She's unapologetically herself, she has no filter and that makes for good TV and falling in love," replied Colton.

Mila looked less-than-impressed with his answer and like she obviously does not share the same opinion.

She then asked Cassie the same question, hoping for a more candid answer. She didn't get it.

"I second Colton. I'm so excited to watch her I think she's gonna be great," said Cassie.

"Blech! Both of you! Stop it!" replied Mila. She wasn't buying the couple's extremely Bachelorette-PR-friendly responses.

Fans seem to be split about Hannah B. being the next Bachelorette (which could be why the show's latest promo seemed to be so directly calling out the Hannah B. haters). Where some fans think she'll be, as Colton suggested, "unapologetically herself," others think she'll be too awkward to handle. We certainly know what camp Mila falls into.

Read more: 'The Bachelor': Colton Watched The Fence-Jump Episode With Cassie's Family

Check out The Cheat Sheet on Facebook!