Miley Cyrus And Cody Simpson Attended Her Brother's Wedding — What Does Her Family Think Of Him?
Breakups and new partners can be tough on any family. But for those in the limelight, they have to make due. So how is Miley Cyrus' famous family dealing with her split from Liam Hemsworth and her new romance with Cody Simpson? Let's find out.
Miley Cyrus comes from a show business family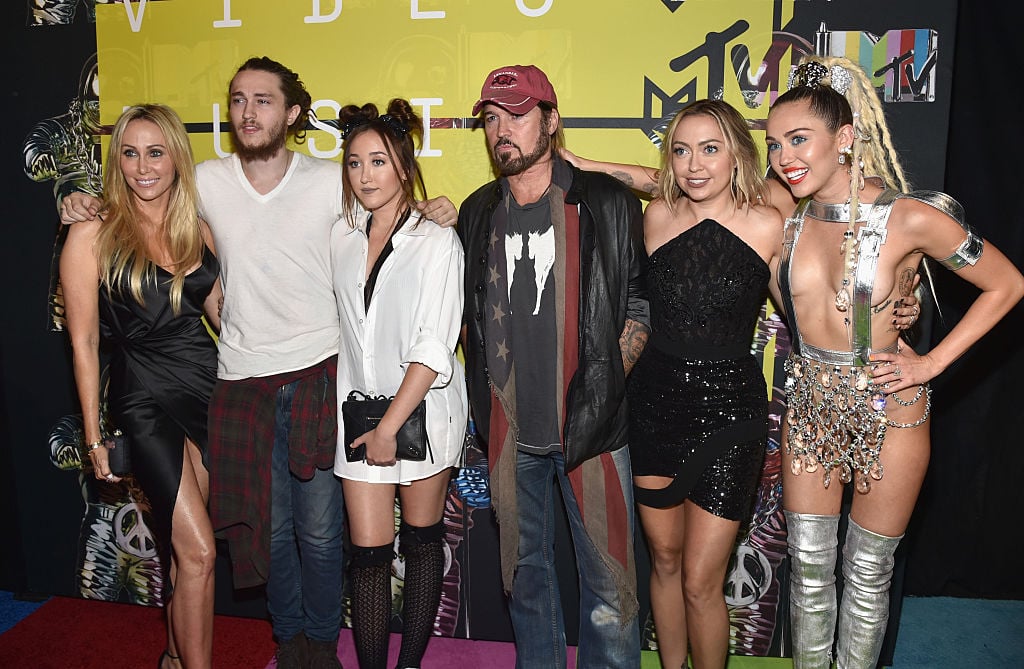 In case you're not familiar, there are a lot of members of the Cyrus family. Before she married Billy Ray Cyrus, Tish Cyrus had two children, Brandi and Trace, who were subsequently adopted by the country singer. Then came Miley, followed by Braison and Noah. Cyrus also has a son from another relationship.
Nearly all are in show business. Over the years, Cyrus has appeared in various projects with members of her family. Her mother was her manager, and she and her dad famously starred in Hannah Montana together.
Cyrus is dating Cody Simpson
Cyrus is in a new relationship. After spending the last decade in an on-again, off-again relationship (and eventual marriage) with actor Hemsworth, she's now dating singer-songwriter Simpson. And people can't stop talking about them.
Simpson and Cyrus have been very open about their relationship on social media. He was there for her when she has surgery for tonsillitis, they've gotten tattoos together, and, of course, there's the obligatory couple's costume for Halloween. They seem to be spending a lot of time together.
Simpson and Cyrus were at her brother's wedding this weekend
This past weekend, a little less than a year after Cyrus' own nuptials to Hemsworth, she attended another wedding. Her younger brother, Braison, a musician, married Stella McBride Cyrus, in what appeared to be a small outdoor ceremony in Tennessee.
The wedding was attended by the rest of Cyrus' family, including Tish and Billy Ray. Cyrus took to social media to congratulate her brother, writing, "My baby brother got married on the most stunning sunny Tennessee day standing on top of the same hills where we grew up playin…. I love you Braison. So happy for you & Stella."
Does Cyrus' family like Simpson?
In addition to the sweet post to her brother and new sister-in-law, Cyrus also shared a handful of fun photos and videos from the weekend away. Included in those are videos of her, Noah, and Tish performing a routine, as well as one of Simpson and Cyrus dancing together.
So what does the Cyrus clan think of Simpson? It's hard to say right now. They seem to be very accepting of him, which must be at least a little bit difficult, given how long they knew Hemsworth for. But there doesn't appear to be any drama in this family right now.
Simpson wrote a song about Cyrus
Yes, things really seem to be going well for Cyrus and Simpson. In fact, he's even written a new song about her, called "Golden Thing." He has has a full album in the works, so expect more music about Cyrus in the future.
As for the reverse, we have yet to hear any music of Cyrus' since her breakup song about Hemsworth, "Slide Away." But we have a feeling that won't last long. A song, or even an album, about Cyrus and Simpson's relationship is definitely on its way.