Miley Cyrus Is the Actual Queen of Honest Breakup Songs
Move over Taylor Swift. There's another singer in town who's up for your breakup track crown! When most people think love songs, specifically ex-bf songs, they think of Swift. The Love Story singer has built an entire musical empire off of her love life. She's broken sales records, sold-out concerts, and has several prestigious awards under her belt.
But she isn't the only songbird out there singing about love and lost love. The ever-controversial Miley Cyrus has been putting out breakup songs for years! In this article, we'll take a look at just how many ex-beaus the Hannah Montana alum has flamed throughout her music career.
Who has Miley Cyrus dated?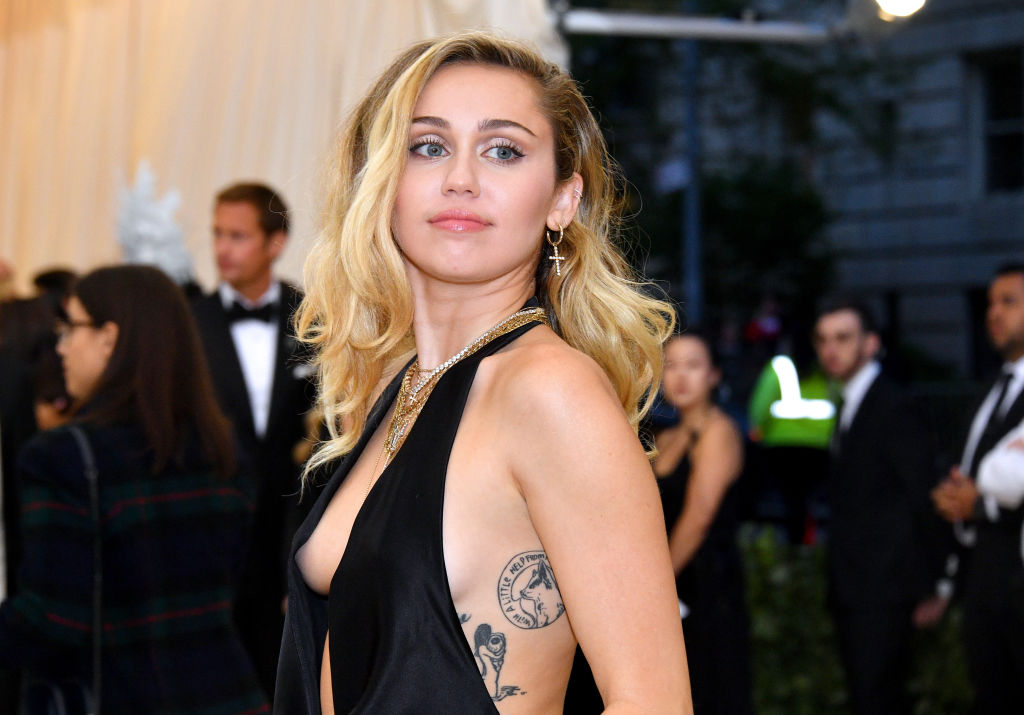 Before deconstructing her discography, let's take a look at Cyrus' dating history! Tyler Posey, a Teen Wolf alum, tangoed with the Wrecking Ball singer when they were just kids! The celebs met on the set of Doc and hit it off swimmingly. So much so that they dated for two whole years, calling it quits when they were just 11 years old!
"His daughter, Miley Cyrus, was my first kiss and girlfriend. We dated for two years and broke up when we were 11." – Tyler Posey / Seventeen
Then there was The Suite Life of Zach & Cody's Dylan Sprouse, who she dated back in her Disney days. That didn't last long, though. In an interview with Jimmy Kimmel, Sprouse shined a light on their break up: "We met on her set [of Hannah Montana], we dated and then Nick Jonas walked by and it was over."
That brings up to her next beau — Jonas. Cyrus was with him during 2006, but they barely lasted the year.
Next up is Thomas Sturges who she met right after her split with Jonas. And then model Justin Gaston who she split from to film The Last Song. There appears to be a small break in her slew of suitors up until 2015 when she crossed paths with Patrick Schwarzenegger. Even Stella Maxwell has ended up in her pull, but Cyrus completely downplayed their bond.
Which exes did Miley Cyrus write songs about?
So with a plethora of exes on her plate, who has served as inspiration for some of her most beloved breakup ballads? Well, there's Wrecking Ball which was all about Hemsworth after their initial breakup. The song skyrocketed on the charts and was one you couldn't turn on the radio without hearing.
It became so popular (and was so controversial) that Cyrus even admitted that she regretted it later on! Week Without You was also thought to be directed towards Hemsworth.
Then there is Stay where Cyrus talks about the difficulties she encountered during a long-distance relationship. Ultimately she ends it and wishes she could take back her decision. Who is this gut-wrenching song about? Many believe this was also about Hemsworth, possibly even Jonas. It really looks like Hemsworth has been the inspiration for many of Cyrus' songs.
Miley Cyrus' new song 'Slide Away' is all about Liam
Hemsworth and Cyrus had their rough patch, but the split gave them the space they needed to fall back in love. Unfortunately, the rose-tinted glasses didn't last very long, and now Cyrus is taking jabs at her former flame. In Slide Away, Cyrus bids Hemsworth adieu and the fans are absolutely living for the breakaway.
The song kicks off with: "Once upon a time it was paradise, once upon a time I was paralyzed…it's time to let it go," which already screams break up but it gets much harder. "I bought my house in the house Hills, don't want the whiskey and pills, I don't give up easily, but I don't think I'm down — so won't you slide away? Back to the ocean, and I'll go back to the city life."
This lyric absolutely sounds like Cyrus is over this relationship. She's ready to bid her married life goodbye.
Those aren't the only telling lyrics in the track though. At some point, Cyrus drops this bomb: "Move on we're not 17, I'm not who I used to be You say that everything changed, you're right, we're wrong now."
You hear that! They are wrong now. There's no going back from that, granted this isn't the first time they split.
But why the sudden breakup? In the song, Cyrus references whiskey and pills, something that she alleges Hemsworth was indulging in during their time together. However, reports say Hemsworth is calling his ex-beau's claims bogus.