Will Miley Cyrus & Liam Hemsworth Get Back Together After Separation?
Miley Cyrus and Liam Hemsworth are no strangers to breakup rumors. Formerly, one of the most powerful couples in the entertainment industry, the paparazzi seemed to follow their every move. In the process, the media often made up baseless stories about the two, often claiming that they had called it quits. This time, however, it seems that the pair have separated for the time being. But is this a permanent breakup, or is there any hope of the couple getting back together?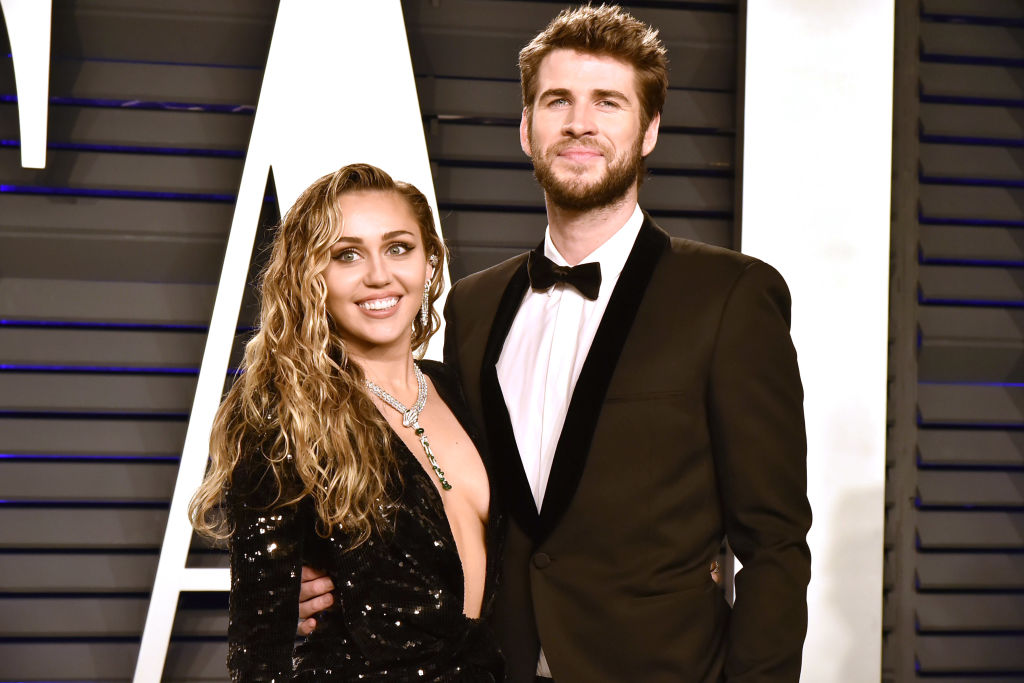 Miley Cyrus and Liam Hemsworth 2019
Speculations that Cyrus and Hemsworth had split started when Cyrus posted a picture of herself to her Instagram page on Saturday morning. In the picture, Cyrus is sitting in an ornate chair and looking pensively off into the distance. "Mute me if you don't want SPAMMED," the 26-year-old wrote for the caption. Cryus is also sporting an abundance of bracelets and necklaces in the photo. However, one piece of jewelry that is notably missing is the engagement ring that was given to her by her husband, Hemsworth. Of course, this caused fans to immediately worry.
Breakup rumors
Though Cyrus' ring was missing, this alone wasn't a cause for concern. The singer has occasionally been pretty lax about wearing her ring throughout her engagement to Hemsworth and her marriage. Some fans were still holding out hope that the couple had not called it quits after less than eight months of marriage. However, a rep of Cyrus' recently confirmed the rumors to PEOPLE magazine.
Cyrus' rep announces the couple has separated
"Liam and Miley have agreed to separate at this time. Ever-evolving, changing as partners and individuals, they have decided this is what's best while they both focus on themselves and careers. They still remain dedicated parents to all of their animals they share while lovingly taking this time apart. Please respect their process and privacy," the rep issued in a statement.
The separation came as a complete shock to fans, especially since Cyrus completely shut down all breakup rumors just two months ago. Back in June, Cyrus celebrated her ten-year anniversary to Hemsworth with a hilarious message on Twitter that called out trolls. "Happy 10 year anniversary my love, Good to see everyone is as dumb as they were in 2009! Some things never change …. & I hope the way you feel about me is one of them. You're truly," Cyrus wrote alongside a picture Miley Cyrus/Liam Hemsworth split rumors.
Cyrus is spotted kissing Brody Jenner's ex, Kaitlynn Carter
Following the announcement of the couple's separation, Cyrus was also spotted spending some quality time with friends in Italy. One friend in particular that caught people's attention was Brody Jenner's ex, Kaitlynn Carter. Cyrus and Carter were actually spotted kissing one another on a boat. Cyrus has been open about her pansexual identity and the fact that she is still very sexually attracted to women despite being married to Hemsworth.
Any hope of reconciliation
But does this separation announcement mean that the couple is splitting for good, or is there still hope for reconciliation? Of course, it's impossible for us to know what Hemsworth and Cyrus will decide to do in the future, but we can make a few inferences and consider past behavior. It's important to note that the statement said the couple was separating, not getting divorced. Though many times a separation does lead to divorce, many couples choose to stay married after a period of separation.
Is this truly the last song
Furthermore, the nature of Cyrus and Hemsworth's relationship has always been a bit tumultuous. Though the pair have known each other for a decade, having met on the set of The Last Song, they have often had an on-again-off-again relationship. If you recall, Hemsworth first proposed to Cyrus back in 2012. However, the couple broke off their engagement before reuniting in 2015. Even after reuniting it was nearly three years later before they officially tied the knot. So, history tells us that reconciliation isn't completely outside the realm of possibility.
While it is quite possible that the pair might reunite somewhere down the line, for now, we wish them the very best on their separate journeys. We trust that they, more than anyone else, know what's best for them and their unique relationship.