Miley Cyrus and Liam Hemsworth's Friends Not Suprised By Their Split
News of Miley Cyrus and Liam Hemsworth's separation didn't come as a surprise to friends close to the couple. That's what a source told People about the two who have been together for nearly 10 years (although they have split once before) who married in an intimate ceremony in Dec. 2018. Ahead, learn why friends felt their breakup proved to be a long time coming. 
'Split isn't shocking' to friends close to Hemsworth and Cyrus
A source spoke with People about the couple's breakup and said it didn't come out of the blue as the public might have thought.
"This split isn't shocking to people who are actually with them every day," they told People.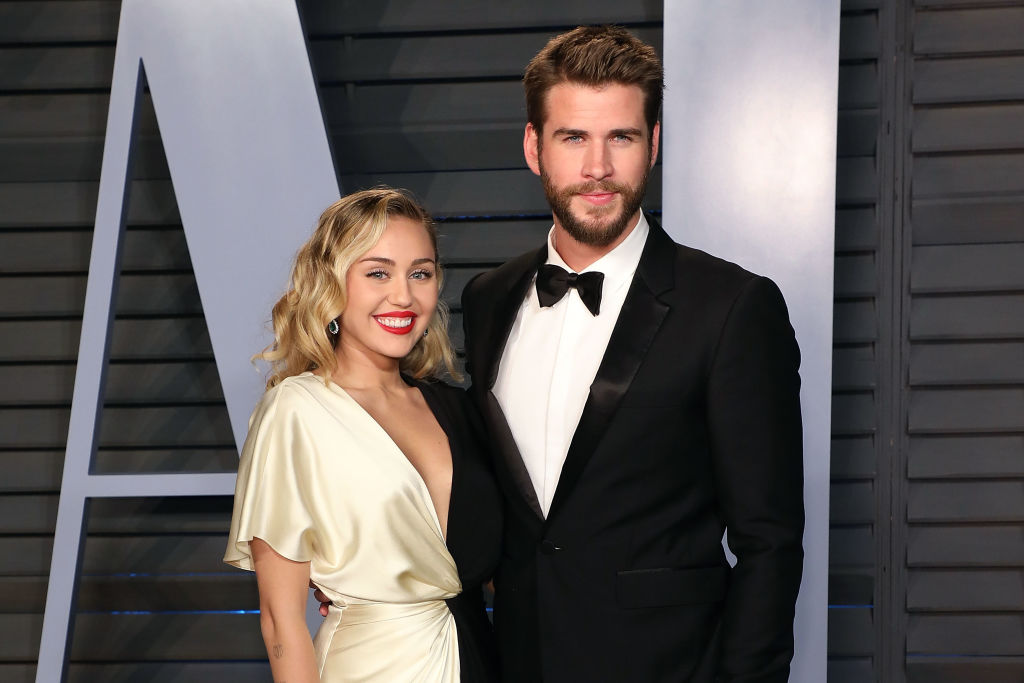 The source continued, "After they reunited, everyone thought they were this 'perfect' couple, but they still had a lot of issues. They're not on the same page when it comes to a lot of fundamental things that make a relationship work," the source added. "It's not surprising at all."
Cyrus and Hemsworth claim they are 'ever-evolving' and 'changing as partners'
In a statement, 26 and 29-year-old Cyrus and Hemsworth announced they had separated citing they had possibly grown apart as they are "ever-evolving" and "changing as partners and individuals."
Here's what a spokesperson for Cyrus told People when they confirmed the couple's separation:
"Liam and Miley have agreed to separate at this time. Ever-evolving, changing as partners and individuals, they have decided this is what's best while they both focus on themselves and careers. They still remain dedicated parents to all of their animals they share while lovingly taking this time apart. Please respect their process and privacy."
The possibility of 'a break' has been discussed for 'the last several months'
Another source spoke with another outlet, this time Entertainment Tonight, about the Cyrus and Hemsworth's breakup.
In the hours before they confirmed their split, pictures surfaced of Cyrus kissing Kaitlynn Carter, 30, who like the "Wrecking Ball" singer recently ended a serious relationship. Carter, Brody Jenner's ex (they never became legally married after tying the knot abroad), appeared to be enjoying time on vacation with Cyrus based on Instagram posts and the photographs captured of the two. 
Although it seems as if Carter may be a sort-of rebound or way to blow off steam after a heavy breakup for Cyrus, her relationship with Hemsworth may have ended months ago.
A source told Entertainment Tonight, Hemsworth and Cyrus had been discussing the possibility of a separation for months.
"Liam loves Miley and is hurt, but he knows that she does this," a source told Entertainment Tonight about Cyrus's time with Carter. "Miley and Liam very recently separated. Miley's behavior is no shock to Liam. He is hurt but not surprised. The last several months they've been talking about taking a break."
The source continued, saying that Cyrus's movements following the separation have bothered Hemsworth. "Liam's been frustrated with some of her antics and, in turn, Miley claims she 'needs her space,'" the source said. "This seems to be a pattern in their relationship."
However, those close to the couple think they'll work on their issues and reconcile. 
"Miley and Liam love each other and always will," the source told Entertainment Tonight. "Most of their friends feel they'll be back together. No one thinks Miley and Kaitlynn are in a real relationship, they believe it's more fun on vacation."
Whatever the meaning of the vacation, we hope Cyrus and Hemsworth work through their issues together and get back together because we're suckers for a happy ending.