Miley Cyrus' New Tattoo Has Fans Convinced She's Throwing Shade at Liam Hemsworth — Here's Why She's Not
Miley Cyrus has had a wild and crazy second half of the year. The former Disney star turned pop singer has gone through multiple relationships, revamped her presence on social media, and released new music . But it all began when she broke up with her longtime romantic partner, Liam Hemsworth, in August.
Since then, Cyrus has remained mostly mum about what caused the breakup. But fans have been able to catch subtle hints, both in her music and in what she has said in interviews. Keep reading to learn about their breakup, and whether or not Cyrus recently threw shade at her ex when she visited a tattoo parlor.
Miley Cyrus and Liam Hemsworth's painful breakup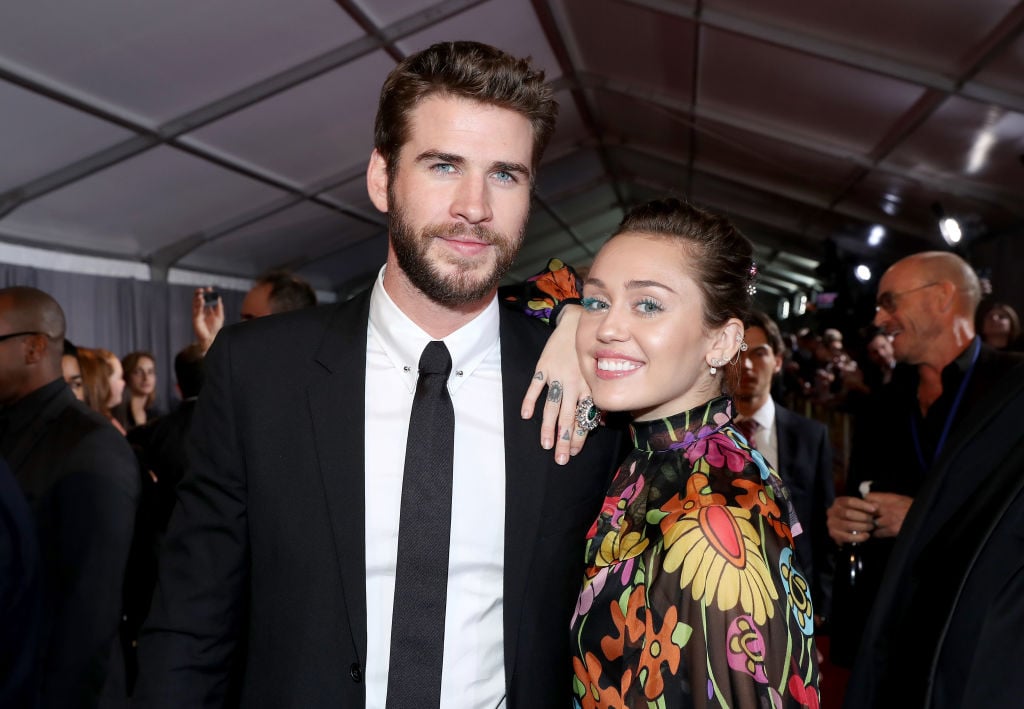 Cyrus and Hemsworth started dating in 2009, after working together on the romantic drama The Last Song. While they reportedly starting dating during filming, the young couple didn't confirm their relationship until 2010.
Over the next several years, Cyrus and Hemsworth would break up and get back together with each other a number of times, ultimately getting engaged in 2012. However, they broke off their engagement in the summer of 2013, only to get back together several years later.
Things seemed better than ever between the couple for more than two years. And, in December 2018, they tied the knot in a small, intimate wedding.
However, they would only be married for less than a year before announcing their split in August 2019. While neither publicly confirmed the reasons for the split, many have assumed that Cyrus's comments about how their marriage was "complex and modern" and that she was still attracted to women might have had something to do with it. 
How many tattoos does Miley Cyrus have?
It's no secret that Cyrus loves tattoos and has documented many different phases and stages of her life by adding new ink to her body. Cyrus has at least twenty tattoos, but most of them are very small and hidden, and therefore difficult to see clearly.
She has a tattoo to honor her grandfather, who died of lung cancer, she has the word "Love" tattooed on the inside of her ear, and in 2011, when their relationship was still new, she and Liam Hemsworth got matching sugar skull tattoos.
In 2016, Cyrus got another tattoo in honor of Liam Hemsworth: A tiny tattoo of a bottle of Vegemite, which is a yeast-based spread that is very popular in Australia, Hemsworth's native country. Vegemite is reportedly Hemsworth's favorite condiment, so it made total sense that Cyrus would pay tribute to her then-boyfriend in such a sassy manner. Hemsworth himself reportedly got a tattoo to match it on his leg sometime later. 
Did Miley Cyrus remove her tattoo tribute to Liam Hemsworth?
In October of this year, Cyrus paid a visit to a local tattoo shop to add yet another design to her body, marking at least the fourth new tat since her breakup with Hemsworth. One of her newest tattoos feature song lyrics that read: "my head was feeling scared, but my heart was feeling free," which many have interpreted as what her feelings were around the time of the breakup.
This time, Cyrus chose a rather large tattoo of a rose, which was inked on the back of her arm. When Cyrus shared some snaps of herself at the tattoo parlor to her Instagram, many fans were concerned that the singer was actually there in order to have her Vegemite tattoo covered up or removed completely.
Still, in the finished image of the rose that Cyrus shared, the Vegemite tattoo is still there on her arm, indicating that, for now at least, Cyrus has no plans of getting rid of the ever-present reminder of Hemsworth, the man with whom she shared many years of her life. Clearly, she isn't taking shots at Hemsworth through her tattoos.