Millie Bobby Brown Calls This 'Stranger Things' Scene 'Raw & Emotional'
Stranger Things 4 is on the horizon and Millie Bobby Brown could not possibly be more thrilled about it. From speaking about season 4 long before it was officially announced by Netflix, to weighing in on fan theories, the 15-year-old breakout star can't wait to start filming. But a large part of Brown is still reflecting on a particularly sad scene that came during the third season of the show. (Warning: Spoilers for Stranger Things season 3 ahead.)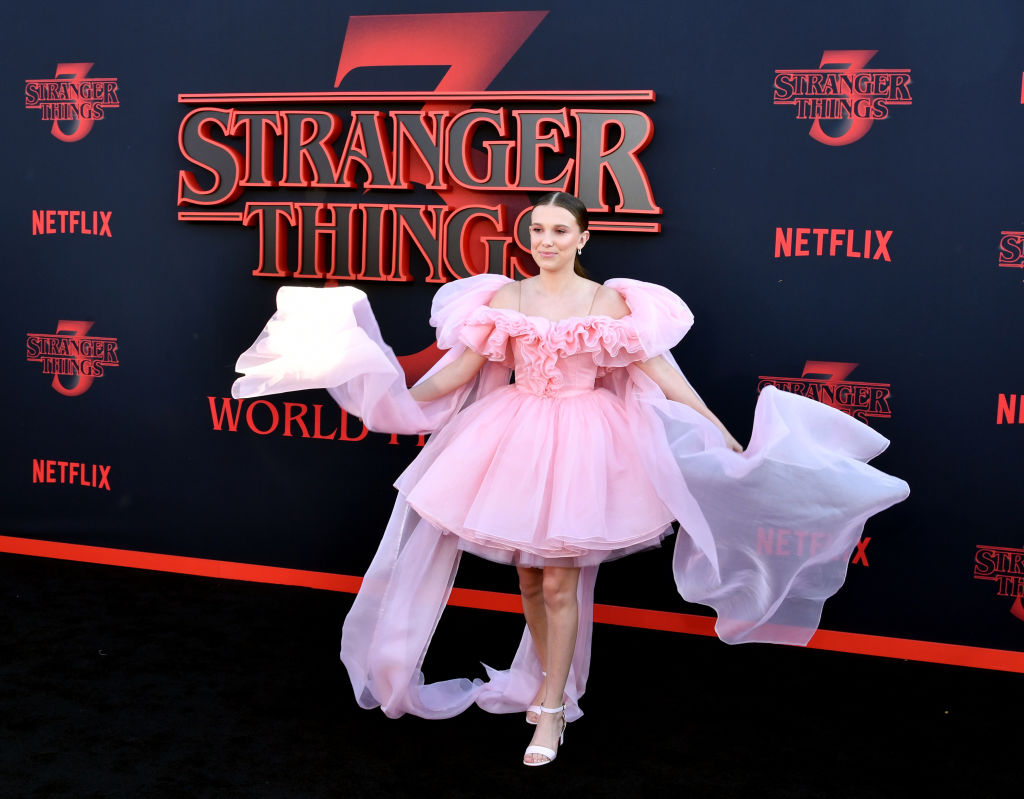 Though Joyce mentioned that it was her goal to move away from Hawkins early on in season three of Stranger Things, both the cast and the viewers were shocked by how many of their favorite characters left the town during the season finale. But perhaps nobody was more shocked than Brown herself, who admitted to being pissed upon learning the news. The 15-year-old confessed that she was against the move completely, and actually struggled to wrap her head around the idea.
The Stranger Things cast gets emotional
But despite Brown's reservations, or perhaps because of them, the cast managed to shoot a really wonderful farewell scene. But, the scene actually took a lot more thought and planning than most Stranger Things fans would guess. The young stars of the show even planned out how they were all going to bring themselves to tears. As Brown is usually the only one crying, while everyone else watches, it was a rare occasion for all of them to cry as a collective.
Eventually, the cast came up with a plan that helped them to drop into the emotion of the scene. "I thought, are we all going to go off and listen to music? And then one of the kids was like, 'Imagine if we have to do this for real one day.' And we were like, 'What do you mean?' And they were like, 'What if, when Stranger Things is over, we'll all have to say goodbye to each other and like this is it.' And we all started crying and then they rolled camera and said action. And that was it. We all started saying goodbye to each other. We felt too real," Brown confessed in an interview with Elle.
A very real and raw scene
Brown continued on to share that this realness gave way to genuine emotion. Though she can't remember who exactly suggested it, it clearly had the desired effect. "I'm pretty sure it was either Sadie or Gaten. But I remember they said it and we all started crying. And then when we were saying goodbye to each other, hugging, Mike and I were hugging. I mean obviously we have to act, but afterwards we felt like it was really real. So it was actually a real raw emotional scene," the Stranger Things star shared.
We can see how the younger cast members of Stranger Things would be very emotional about the possibility of saying their final farewell as a cast. This is especially true for Brown as Stranger Things has undoubtedly been her breakout role and the role that helped catapult her into superstardom. Fortunately, for Brown and her fellow castmates, they still have at least one more season of filming with one another.
When will Stranger Things 4 premiere
Though Netflix has yet to announce the premiere date for one of their most popular shows, filming for Stranger Things 4 is expected to begin in 2020. We can't wait to see what's in store for Brown and the rest of the talented cast.