Millie Bobby Brown Kept the Strangest Thing From the 'Stranger Things' Set
After a film/TV shoot has wrapped, cast and crew often take on-set mementos away with them as souvenirs. Millie Bobby Brown did that on Stranger Things, and what she has is very in keeping with her character.
One might guess she took a box of tissues to deal with all those nosebleeds her character gets, but that would be too obvious and practical.
We'll detail some things she took, and look ahead to Brown's future, including Season 4 of Stranger Things – for which she may not need all that blood.
On-set souvenirs: The sentimental and the macabre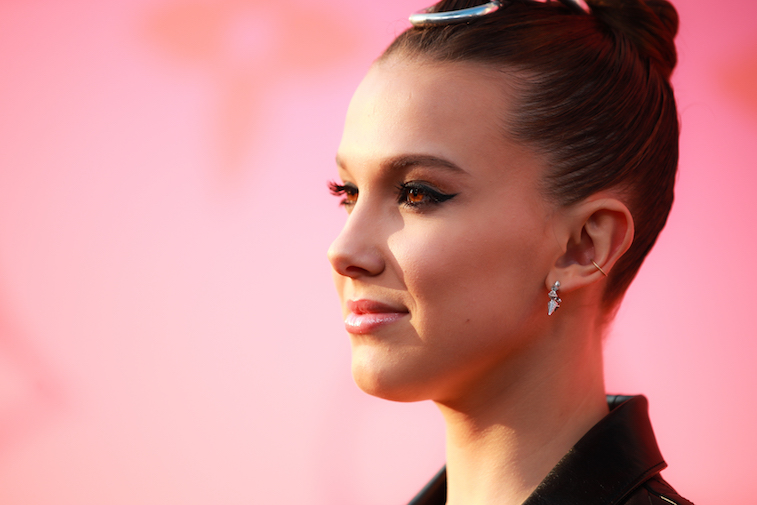 When stars take home souvenirs from their sets, it's often something of sentimental value. For instance, when The Big Bang Theory wrapped up for good earlier this year, Kaley Cuoco took a piece of art with her: a rendering of the Rock-Em Sock-Em Robots.
"It's always in my eyeline from where I sit in the living room set, so I'm glad I'm going to put it in my own living room so I'll see it forever," she told People.
When Glee wrapped in 2015, Lea Michele took the football jersey worn by her onscreen and real-life love Corey Monteith, who died six years ago this month.
What did Brown take from the Stranger Things set? A bottle of fake blood. Because of course she did.
She said in People "It was like a little bottle and I just kept it on me because I have a memory book, so I keep all my lipsticks from every awards show I went to. And then my envelope from the MTV Awards. And then the blood from Stranger Things."
Brown had her first kiss on 'Stranger Things'
There's something else Brown took with her from the set, although it's something not quite as tangible as a bottle of blood: It's the memory of her first kiss of any sort.
"It was a strange experience. Having 250 people looking at you kissing someone is like, 'Whoa!'" Brown told Variety. As to whether it was her partner's first kiss, that's a matter of some debate.
"He (Finn Wolfhard) says I wasn't, but I definitely think I was," Brown, 15, said. "I think he was just trying to be cool."
She and Wolfhard have certainly gotten a lot of experience since then, as this season, the romance between Mike and Eleven went from the occasional awkward smooch to full-on necking, much to the chagrin of El's adoptive father Hopper.
Where will Eleven and Brown go in the future?
Here's where we got into potential SPOILERS, so stop here if you haven't finished watching season 3.
When El uses her telepathic/telekinetic powers, especially when she expends great effort, her nose bleeds, hence all that fake blood in the bottle she kept. By the end of season 3, after the climactic battle with the mind flayer at the mall, her powers have diminished considerably, if they haven't disappeared completely. She can't even get a stuffed animal off a high shelf in the last episode.
Having had enough of being targeted by monsters, the Byers family, which now includes El, moves away from Hawkins, although we're not told where to. So for awhile at least, Brown won't have any more bottles of blood to collect, although she has one handy if/when El's powers return.
Season 4 has not been officially confirmed, although the Duffer Brothers and their collaborators are working on it.
In the meantime, Brown's visibility will only continue to increase. Having appeared in Godzilla: King of the Monsters this summer, Brown will also appear in the follow-up, Godzilla vs. Kong next March. There were rumors that Brown would appear in Disney/Marvel's The Eternals, but Brown said on Instagram that she is not … "for now."