Millie Bobby Brown Texts and FaceTimes With Miley Cyrus All the Time
Millie Bobby Brown says she was always a huge fan of Miley Cyrus, but now the two are friends in real life.
The Stranger Things star revealed this while speaking to InStyle this week, noting that she frequently speaks to Cyrus, who herself has experience with being a child actress.
"We text and FaceTime often," Brown said. "She's fabulous."
Brown says that she has been a fan of Miley Cyrus going back to Hannah Montana. She wrote on Twitter back in August, "I love this gal so much!way back to my Hannah Montana days! You rock Miley." Cyrus tweeted back, "Love you too Milllllz!"
This came after Brown and Cyrus took a photo together at MTV's Video Music Awards back in August, with the official MTV Twitter account noting how cute they looked.
Wait, but look at how cute @MileyCyrus and @milliebbrown are. #VMAs pic.twitter.com/BJFVMEXo5B

— MTV (@MTV) August 28, 2017
Millie Bobby Brown would have been just two years old when Hannah Montana premiered its first episode back in 2006, though she was seven years old by the time it ended in 2011. Clearly, Brown is not exclusively a fan of Cyrus' acting work, as she has also been seen rocking out to some of her songs on Snapchat. But presumably the fact that Cyrus grew up on a television show like Millie Bobby Brown is right now is something that the two of them bond over.
It was at the age of nine that Millie Bobby Brown first started acting, appearing as young Alice in ABC's Once Upon a Time in Wonderland. After that, Brown landed small parts on shows like NCIS, Modern Family, and Grey's Anatomy, but in 2016, she got her breakout role as Eleven on the Netflix original series Stranger Things. With this fame has come the opportunity to meet a lot of the celebrities that Brown admired growing up, including Miley Cyrus. As noted in this InStyle profile, Brown has also had the chance to meet Meryl Streep and Barack Obama, both of whom she called "very sweet."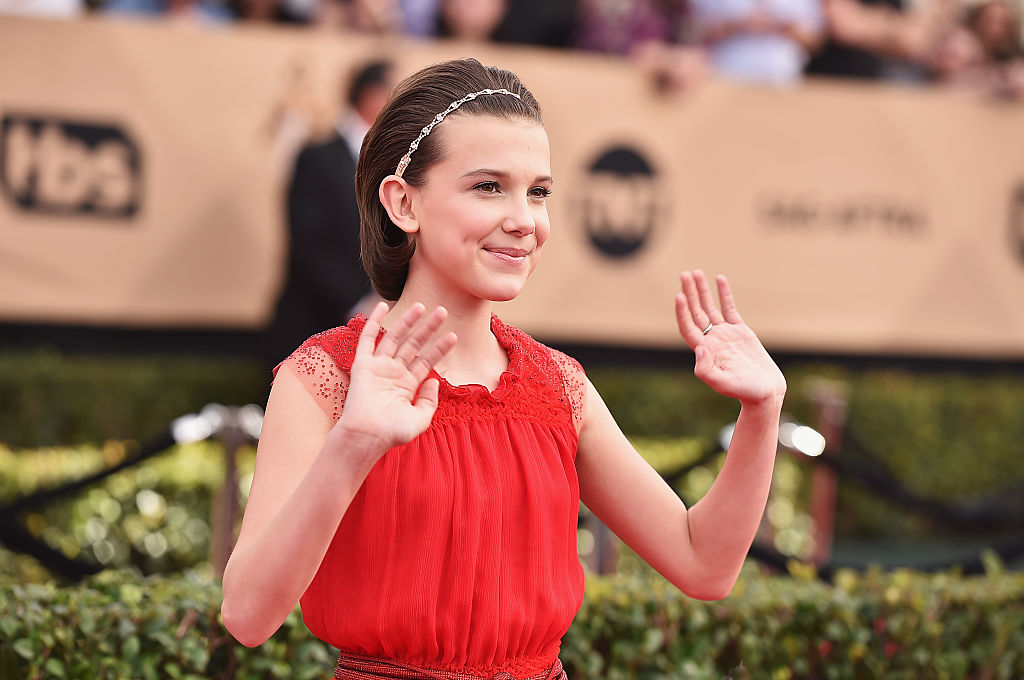 At the same time, Brown says that she ultimately is not all that different from a typical 13 year old girl; she just happens to be one who was nominated for an Emmy.
"You know, I'm just a 13-year-old like any other 13-year-old, so I just plan on living my life and take it step-by-step," Brown said, adding that she hopes to be in college in five or eight years' time.
Millie Bobby Brown will return as Eleven in the second season of Stranger Things, which premieres on Netflix on Oct. 27.