Millie Bobby Brown Names Her 3 Favorite Fashion Brands
With the premiere of Stranger Things back in 2016, Millie Bobby Brown went from a virtual unknown to a household name, seemingly within a matter of hours. Brown is known for playing Eleven on the hit Netflix phenomenon, which has already been confirmed for the fourth season.
Before Stranger Things, Millie Bobby Brown appeared in NCIS, Modern Family, and Grey's Anatomy. While all of these are successful primetime shows, Brown only appeared in each for moments at a time, in an episode or so. Brown got her big break with Stranger Things, and she has continued to ascend the ladder to A-list status ever since.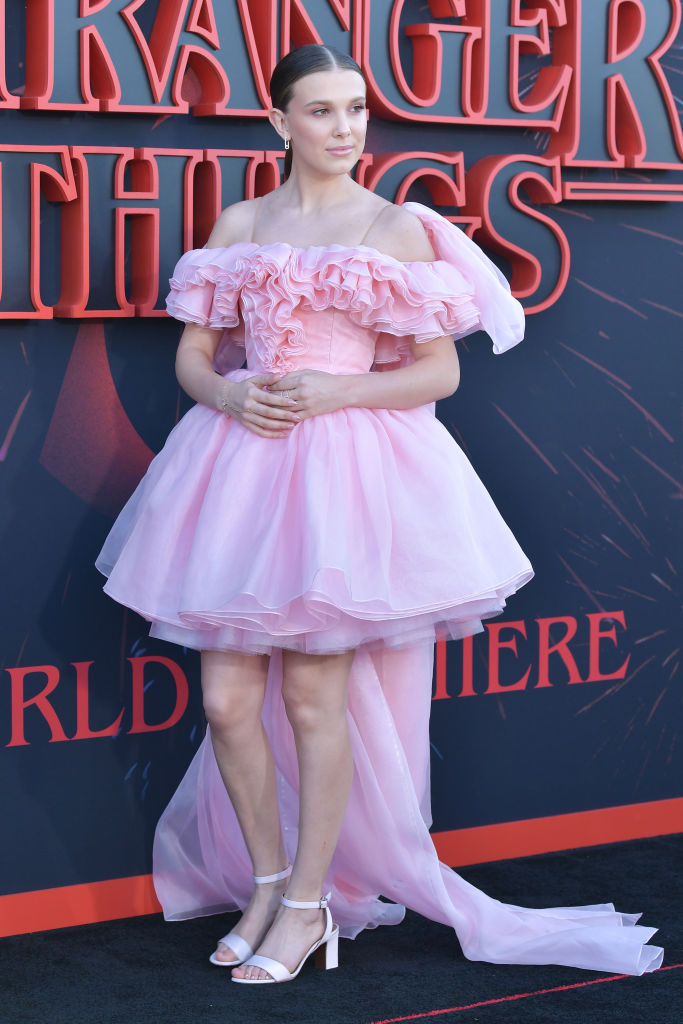 Since signing on for Stranger Things, Brown has appeared in Godzilla: King of Monsters and Spheres; she is also set to star as Sherlock's younger sister in Enola Holmes, and she will appear in Godzilla vs. Kong and The Thing About Jellyfish. While making waves as an actress — impressing casting directors and fans alike with her innate talent and proclivity for performance — she has also become quite the fashion icon.
From light blue jeans and kicks to fancy designer gowns, Millie Bobby Brown wears what she wants, and she isn't afraid to play with style. She does not stick to one look, and she has become a source of style inspiration for many of her devout followers. 
During an interview with Vogue, Millie Bobby Brown talked about fashion, and she even revealed her three all-time favorite fashion brands!
Millie Bobby Brown talks fashion and names her favorite brands  
During her interview with Vogue, Millie Bobby Brown explained that she loves fashion, but hates the shopping process. When asked to name her three favorite fashion brands, Brown stated Burberry, Stella McCartney, and Coach.
This interview was conducted a few years back, and Brown went on to say that her mom picks her outfits, for as much as Brown loves all the fancy designer clothing, she would keep things a bit more lax if she could. Brown stated:
I'm not a girly girl. I love wearing this stuff, but if it was my choice I'd come in in my tracksuit. But my mum's like, 'no, you put this on, you put that on…

Vogue
Millie Bobby Brown, at such a young age, isn't afraid to express herself through her clothing. She is drawn to fashion, and with support from her parents, always winds up in an awesome outfit. When you're young, it can be hard to take risks with clothing, it can be hard to stand out from the crowd, and Millie Bobby Brown helps younger fans express themselves. 
From Stranger Things to the red carpet, Millie Bobby Brown is a force to be reckoned with. In a few years, she may just be giving her first Oscars' speech (especially if she continues ascending the ladder as quickly as she is). She's already landed two major leading roles on the silver screen. What's next for Eleven? Who knows? Wherever she goes, she will be sure to go in style.