Millie Bobby Brown Reveals "The Best Thing About Fashion"
Millie Bobby Brown may be best known for playing Eleven in the Netflix phenomenon Stranger Things; however, she is quickly ascending to A-list status for work outside the successful sci-fi splendor. 
Millie Bobby Brown recently starred in Godzilla: King of the Monsters and is set to appear in the sequel sometime in 2020. Brown will also portray Sherlock Holmes' sister, Enola Homles, in a film chronicling the fugitive private detective; she will co-produce alongside Legendary Entertainment.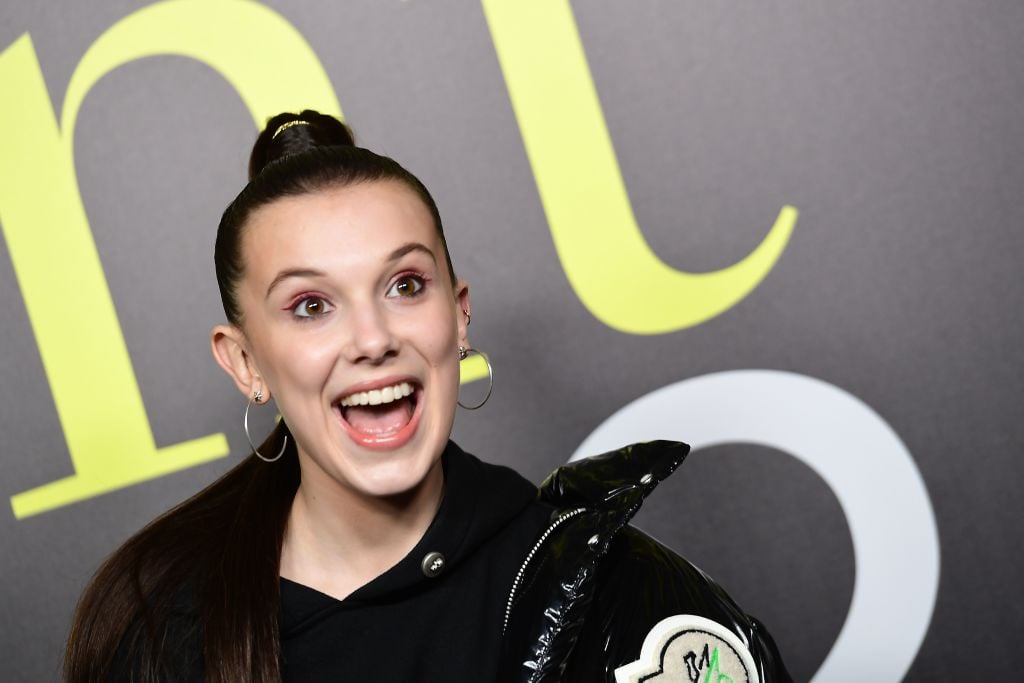 If Millie Bobby Brown's film and TV career aren't enough to impress you, don't forget that the 15-year-old UNICEF Ambassador is also a fashion icon. As the face of Converse – and a girl who's got Louis Vitton and Calvin Klein after her – Millie Bobby Brown's wardrobe, and overall style is the envy of fashionistas everywhere. 
From sporting plaid pants and crop tops to arriving on the red carpet in the most regal designer gown, Millie Bobby Brown's sense of style is eclectic and quirky – kind of like her contagious personality. While she may appear laid back and "cool" in one photo – sporting an oversized sweater and kicks – she will be dressed to the nines in the next. 
During an interview with Teen Vogue, Millie Bobby Brown discussed her sense of fashion, while also revealing what she deems to be "the best thing about" the form of expression. 
'Stranger Things' star Millie Bobby Brown talks fashion
Teen Vogue asked Millie Bobby Brown, "How does fashion, making bold decisions and expressing yourself through the way you look, play a role in speaking to young people about identity." Millie Bobby Brown stated:
"I don't think that there's any role. I think that's the fun [thing] about fashion, that there's no rule to it. As long as you're being yourself, I guess that's the number one role…It's phases. And every woman, every man, every person on this planet goes through changes with their style, with who they are as a person. They change. And I think that that's one of the best things about fashion. There are no rules to it. And you should never box yourself in — even though you do, but you shouldn't."

Teen Vogue
According to Millie Bobby Brown, she enjoys the no-holds-barred aspect of fashion: you can change your style if you so desire. You do not have to follow a prescribed set of rules, for fashion is about expressing yourself. People change with time, and luckily, fashion will be right there changing alongside you. 
Millie Bobby Brown explained that what she doesn't like one day, she will like a few years from now, and she makes it clear that such a fact is more than okay. People often use fashion to box themselves in – mesh with a particular crowd they feel akin to – however, fashion should be used to represent yourself at a given moment, not restrict you to a consistent vibe, as Brown seemingly argues.
Millie Bobby Brown talks statement outfits
During the interview, Teen Vogue questioned Millie Bobby Brown on statement outfits, asking if it ever feels like she's "getting into character" with certain pieces. Brown explained:
"I feel vulnerable, I guess, when I'm doing shows. I feel like my style is out of my control. They are in full control of what I wear, and they are in full control over what my hair does and what my makeup does and what my nails do. So when I'm myself and I'm not filming — this two months of my life — I just focus on, you know, whether I'm going to dye my hair pink and purple and whatever. And I'm going to do my nails like crazy long. That's what I'm going to do because I know that in July, it's going to be, that's it. I'm their's."

Teen Vogue
Though Millie Bobby Brown is only awarded a few months out of the year to express herself through clothing, she has done so marvelously, as her various looks have attracted a fanbase unrelated to Stranger Things altogether.