Millie Bobby Brown Is 'Keeping Her Mouth Shut' About 'Stranger Things'
Stranger Things star, Millie Bobby Brown is great a lot of things, acting, singing and vocal impersonations, and even running her own company. But one thing the 15-year-old has never been good at is containing her excitement. Brown's passion for the things she loves seems to erupt from her like lava from a volcano. Perhaps …
Stranger Things star, Millie Bobby Brown is great a lot of things, acting, singing and vocal impersonations, and even running her own company. But one thing the 15-year-old has never been good at is containing her excitement. Brown's passion for the things she loves seems to erupt from her like lava from a volcano. Perhaps that is the reason that she's amassed such an incredible following, with 29.8 million fans and counting on Instagram alone. Brown's contagious and relentless enthusiasm applies to everything she does, and Stranger Things is, of course, no exception. (Warning: Spoilers for Stranger Things 3 ahead.)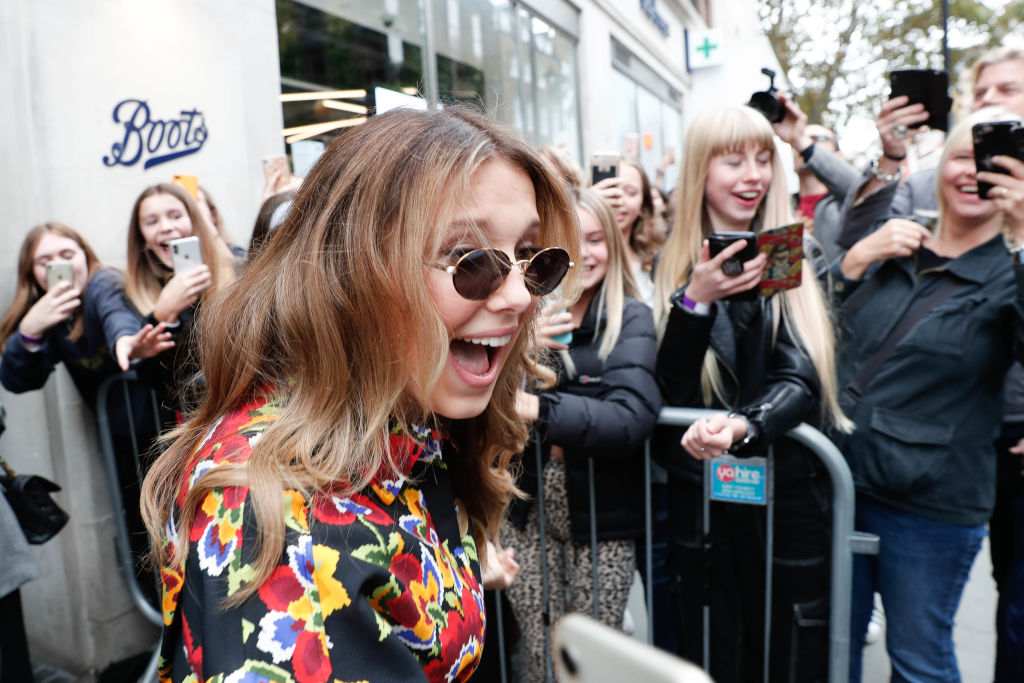 When Stranger Things 3 premiered this Summer, right in time for 4th of July fireworks, fans couldn't have been more thrilled. But even their excitement paled in comparison to Brown's. In fact, moments before the third season premiered, the breakout star took to her Instagram story to express how thrilled she was with the work that the cast and crew did throughout this season of the show.
Millie Bobby Brown expresses excitement on Instagram
 "I can't believe that we are 20 minutes away from Stranger Things 3 premiering. Before it comes out I wanna say that every single person working on our set is an essential factor for making our show. We all work so hard to bring this to life each year," Brown began, expressing gratitude and humbly giving her thanks to every person that made Stranger Things 3 possible.
Stranger Things 3 is Brown's favorite season of the series
Brown continued on to share that Stranger Things 3 was her favorite season of the show because of the growth she saw in her character, Eleven. "I'll let you in on a little secret…this was my favorite season to film and my favorite season to watch. This year 011 is growing up. She is evolving into a real teenager. To watch her progression with fashion, relationships, and personal trauma is so beautifully written and directed and I was so lucky to be able to portray el in the way she deserved. Mike and El in this season are ADORBBBBSSSS and just wait for MAX and EL OMG I NEED TO SHUT UP IT'S ONLY 11 MINUTES," Brown proclaimed adorably.
After Stranger Things 3 premiered, Brown was still incredibly vocal about her feelings about the show. From expressing displeasure that Mike and El broke up to getting downright pissed about characters moving away from Hawkins at the end of season 3, the actress has certainly made her feelings known. But in a recent interview with Elle, Brown confessed that she's going to be keeping quiet about all things Stranger Things for the foreseeable future.
Why Brown is keeping quiet about Stranger Things 4
Brown confessed that she's accidentally put her foot in her mouth by talking about Stranger Things 4 before Netflix had even announced that it had been renewed for a fourth season. "You know what the funny thing is? I was walking around saying, 'Oh yeah, season 4? We're filming it next year. Yeah, yeah. And then I realized, Oh, we haven't even confirmed it,'" Brown began.
"I looked at my Instagram [and saw the announcement], and I was like, 'Well would you look at that.' None of us really knew that it was not actually [announced]. We were like, 'Oh okay, we shouldn't have said that.' So now I'm keeping my mouth shut on all things Stranger Things," the actress confessed. We're sure that the executives at Netflix understand Brown's tiny faux pas. We can't wait to see what's next for 011 and the rest of the cast.