'Million Dollar Listing' Dads Proudly Show Off Their Babies On Their Instagrams
Million Dollar Listing New York is cuteness overload as four of the brokers are sharing adorable photos of their new babies on Instagram.
Fredrik Eklund started the baby boom when he and husband Derek Kaplan welcomed their gorgeous twins, Fredrik Jr. and Milla 23 months ago. All along, Ryan Serhant and his wife Emilia too hoped to have a child. The couple shared their pregnancy journey this year on the show when they learned invitro fertilization worked. The Serhants welcomed a sweet baby girl in February.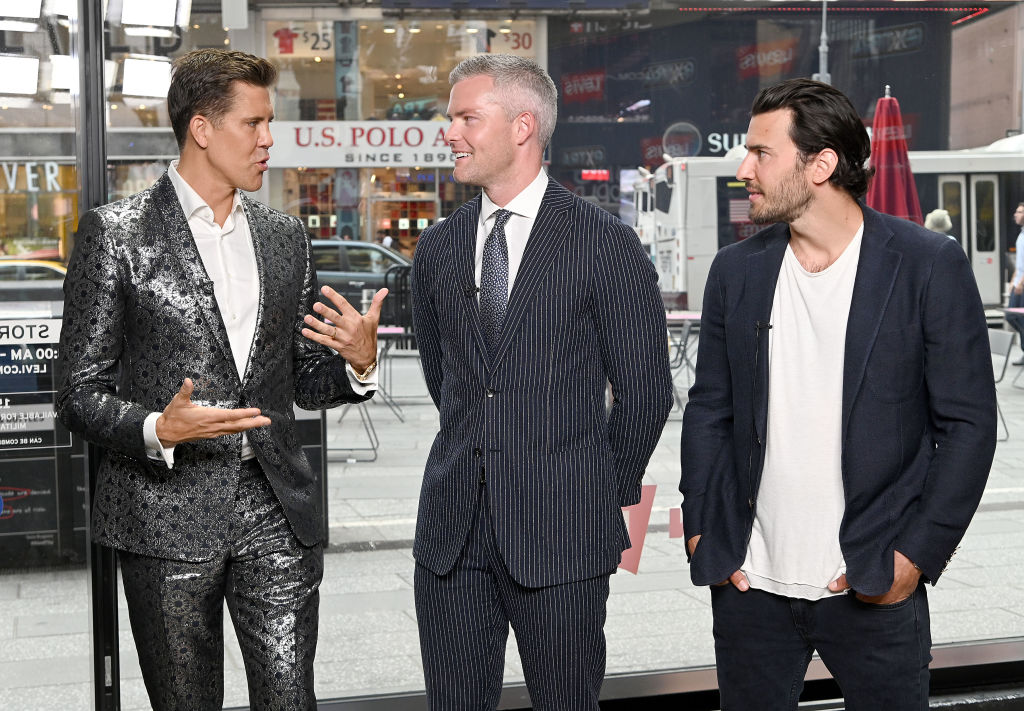 At the same time, broker Steve Gold and girlfriend Luiza learned they too were expecting. Gold had to keep the pregnancy under the radar, especially when Luis D. Ortiz revealed he too became a father. All four brokers welcomed beautiful baby girls, plus Eklund's son Freddie makes five new babies to the franchise.
Ortiz re-emerged on Instagram thanks to his daughter
After Ortiz left the show he embarked upon a new adventure and travel. But, as he shared on his return this season, the adventure didn't turn out to be sweet. He shared in a (now) deleted Instagram post after Kate Spade and Anthony Bourdain's deaths. "For the past year I have been struggling with depression and during the last three months all I can think of — day and night — is putting an end to it all," he continued, adding that it's "almost impossible" to "understand how selfish this would be for the people that love me."
He was also pretty emotional describing what it was like to return to the show too. Although he returned to Instagram, his account didn't have any posts. But since revealing his daughter was born, his page lit up with videos and images of his stunning daughter Leela.
Ortiz even shared a mini-movie leading up to Leela's birth. Plus, he's posted new videos and photos of his child. One adorable video shows Leela giving her dad a lollipop. Most recently, Ortiz shared an important bottle delivery. "Special delivery," he wrote as his excited child grabbed the bottle.
Gold and Serhant are smitten with their little girls too
Both Gold and Serhant welcomed baby girls and it is obvious their daughters are the apple of their dads' eye. Gold shared a gorgeous close-up photo of his infant daughter Rose and wrote, "On a scale from 1 to 10, how cute is this baby?! 🥰" He also recently posted some pregnancy photos where he wished his girlfriend a happy birthday.
Serhant is just as smitten with baby Zena. He shared a photo of the sleeping infant and wrote, "My heart explodes when I look at you." He also brought baby Zena to work. "My perfect distraction," he wrote looking completely in love with the sweet baby.
Thus far Million Dollar Listing New York viewers have seen Serhant and Ortiz's childbirth stories this season. Serhant recalled the wonderful day on Instagram. "Tonight we share Zena's story and our first moments together," Serhant wrote along with a video. "This was my first time holding her in my arms and I had so much going through my head and heart. I didn't know what to say or do. All I knew was that she was everything I wanted with my Puffer."
Eklund's heart melts when he posts about his twins
Eklund and Kaplan welcomed gorgeous twins who are the spitting image of their fathers. Eklund's daughter Milla could almost be his doppelganger. "Same eyes, same soul ❤️," he recently posted along with a photo with his daughter.
In fact, the babies are literally the couple as babies. "Our two mini us," Eklund wrote with a heartwarming photo of his toddlers kissing. A recent episode of the show proved that Eklund's heart belongs to his kids. He tried to work, but when the kids demanded his attention, he put down his phone and got on the floor to play with them.