A Million Little Things: Will Maggie and Gary's Relationship Survive The Reveal of Jason Ritter's Character?
Since the season 2 premiere of A Million Little Things, fans have been wondering what the great mystery is with Jason Ritter's character, Eric. Many theories abounded, including the possibility that Eric is Patricia's (Melora Hardin), new boyfriend.
In season 2's episode four, the perfect storm, we finally find out who Eric is and how he is going to shake everything up. Read on to find out how his connection will affect Maggie (Allison Miller) and Gary's (James Roday) relationship. WARNING: Season 2 SPOILERS!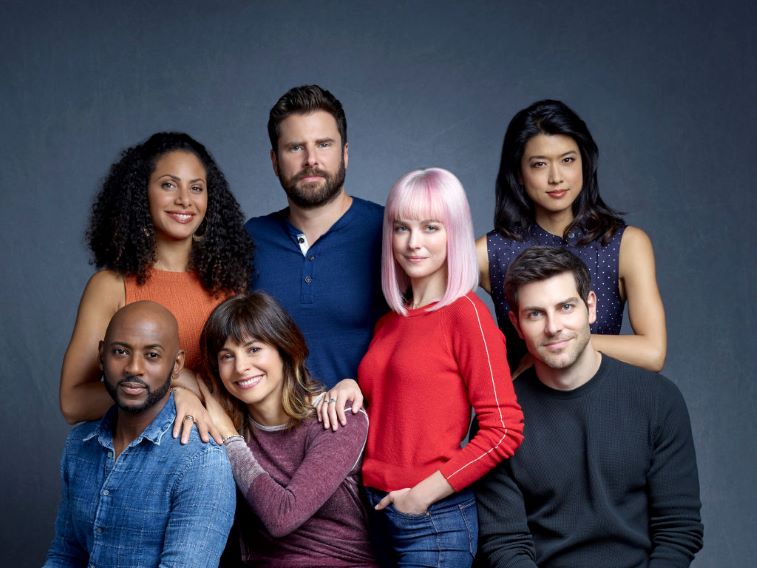 How does Jason Ritter's character, Eric fit into Maggie's life?
After three episodes of wondering who this mysterious Eric character is, the fourth episode finally reveals the truth. Maggie is completely caught off guard when her mother tells her that Eric has her deceased brother's heart.
Maggie was told that her brother, Chad died on impact so she is baffled as to how his organs could have been donated. Her mother has lied to her all these years. Patricia was able to go to the hospital and see Chad before he passed.
Maggie is fuming that her mother was able to say goodbye and she was not able to.
Why is Maggie so hurt and who does she confide in?
After finding out the lies her mother has been keeping from her, Maggie storms off through the rain. Eric catches up with her first and the two actually connect. Maggie confides in Eric first instead of Gary about why she is so upset.
Maggie tells Eric that her mother walled herself off from everyone after Chad died. Now she has found out the news that her mother has left her father and is hanging out with this young guy who has her brother's heart.
Maggie already felt slighted because her mother was closer to Chad to begin with. The gap only grew when Chad passed away. Now, she's even more upset because it turns out that her mother only came to Boston to visit Eric, not her.
She is having feelings of being second best to her brother yet again.
Ritter's character, Eric quickly bonds with Maggie
The reason Maggie confides in Eric so easily is that she quickly finds that he has experienced a tragic loss, too. Eric lost his fiancé right after they got engaged. They rented a motorcycle at Martha's Vineyard and he was driving when she died.
It is clear that Maggie feels an immediate deep connection with Eric after hearing about his fiancé's tragic death.
After their talk, Maggie goes to the airport to make amends with her mother. Instead, she finds out that even on the day that Maggie had her surgery, Patricia was visiting Eric.
"Chad is dead. I am still here and you are still choosing him over me," she screams at her mother.
After she realized that her mother only came to Boston to see Eric, she still ran to Eric for comfort. Gary saw their embrace and we can tell he is hurt.
Gary is becoming increasingly jealous of new-guy Eric
In the next scene, Gary sees a text from Eric on Maggie's phone that says, "If you ever need to talk again, I'm here." Now he is beyond hurt that Maggie confided in Eric before him. He gives Maggie the cold shoulder and tells Regina (Christina Moses) what's going on.
In the preview for next week, we see Maggie embracing Eric yet again while crying. She also says, "The psychic said a part of him lives on. I think he meant Eric."
We can see how Maggie is slowly getting closer and closer to Eric. Gary already has relationship issues because his mother left him at a very young age. This betrayal by Maggie is hitting him very hard. We are not sure that their relationship can handle it.
We will have to wait and see what happens to the Maggie-Gary-Eric love triangle in the next episode of A Million Little Things on ABC Thursday nights at 9 p.m.