Miranda Lambert Shares Another Shirtless Pic of Brendan McLoughlin as Blake Shelton and Gwen Stefani Wedding Rumors Gain Steam
Miranda Lambert is taking full advantage of her husband, Brendan McLoughlin's, shirtless body to promote her new musical endeavor. Ahead of the release of her upcoming album, Wildcard, Lambert shared a few shirtless pics of McLoughlin on social media (which are must-see if you haven't checked them out). While Lambert is clearly proud of her hubby's buff bod, her ex-husband, Blake Shelton, might be on the verge of tying the knot with Gwen Stefani.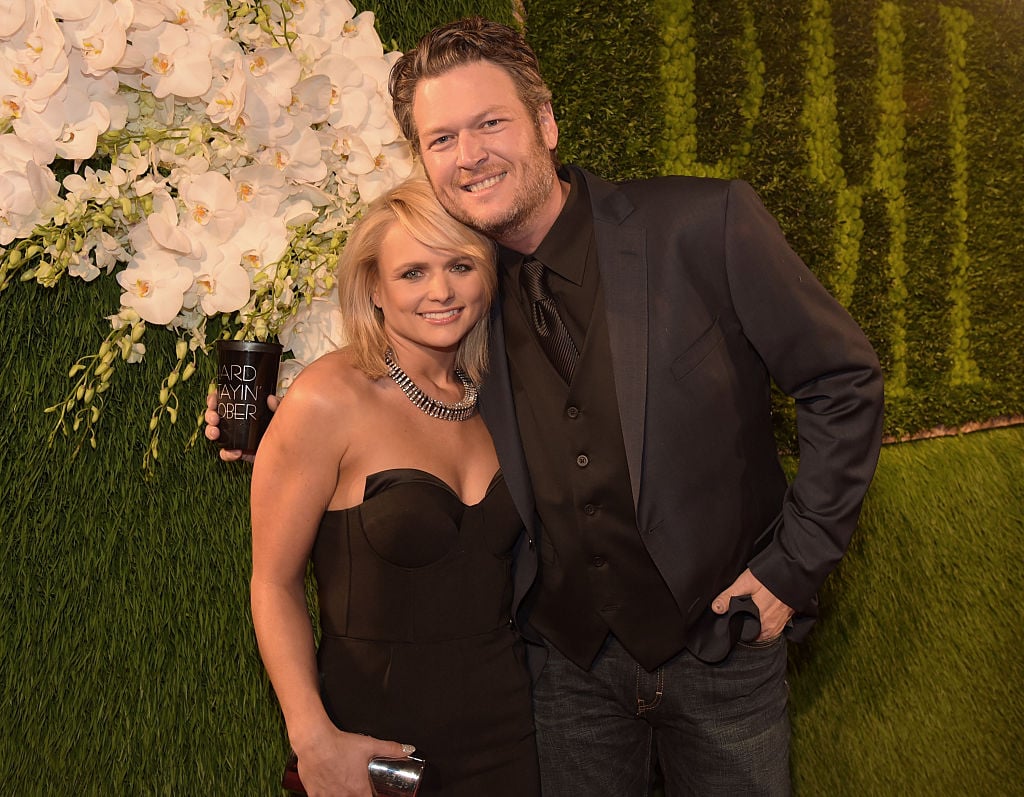 Lambert posts sexy pic of McLoughlin
Lambert shared a few shirtless pics of McLoughlin ahead of the November 1 release of her new album. One of her last posts was actually a video of her shirtless husband as he got ready for the day.
"Loving this filter! Not sure hubs loves it tho!" Lambert wrote alongside the video.
The clip features McLoughlin in the bathroom while Lambert sneaks up on him from behind. Lambert's song, "It'll All Come Out In The Wash," can be heard playing the background as she asks her husband what he is doing.
The filter gave McLoughlin a pair of sunglasses and a red bandana, which resulted in a heavy eye roll on his part. Needless to say, fans were loving another look at McLoughlin's killer body, which is probably going to help Miranda Lambert sell some records.
"He is one hot man!!" one fan wrote, while another added, "The Lord did real good with that one."
Lambert and McLoughlin tied the knot in January of this year following a whirlwind romance of three months. The pair exchanged vows in a secret ceremony and did not confirm their marriage until a few months later.
Miranda Lambert dishes on her divorce from Shelton
Sexy pics aside, Lambert also recently dished on her divorce from Shelton. In the interview, the country star revealed that she is doing better than ever and has finally gotten over everything that went down with Shelton.
"I kind of have my fire back and I'm not so internal and broody as I was four years ago," Lambert shared.
Lambert's new album is her first since 2016, which saw the release of The Weight of These Wings. The album was very personal and featured more than a few lines about her breakup from Shelton.
It also won Miranda Lambert the album of the year from the Academy of Country Music Awards.
While the verdict is still out on Lambert's new project, she admitted that her divorce was difficult to get through. She also thanked fans for their patience as she dealt with her inner demons, which it sounds like she has finally gotten over.
"I'm 35. I went through a divorce," Lambert explained. "I'm thankful that fans allowed me that time to do that. I'm just going through stuff everybody else goes through."
Inside Lambert's new album
Unlike some of her previous records, Lambert's latest work is more of rock 'n' roll piece than anything else. In fact, Wildcard sounds an awful lot like her 2005 album, Kerosene, which featured Jay Joyce on the guitar.
As fans might recall, Joyce was featured on Miranda Lambert's first three albums, and he actually served as the lead producer for Wildcard.
For Lambert, Joyce has pushed her outside of her comfort zone and she hopes fans will appreciate the new tone of her music.
Considering Lambert's track record, it is a safe bet that her latest album will be another smash hit – even if it doesn't feature as much talk about her divorce.
Are Blake Shelton and Gwen Stefani getting married soon?
While Miranda Lambert promotes her latest album, Shelton and Stefani are busy competition on the current season of The Voice, which is where they sparked their romance some four years ago.
With their relationship still going strong after all these years, Shelton and Stefani have faced a plethora of engagement rumors. The two have not confirmed that a wedding is in the works, but inside sources claim that they will be engaged before the year is out.
If that happens, the sources claim that the wedding will be small and intimate, with only close friends and family in attendance. Stefani is very close to her family in Los Angeles, so it makes sense that she would want a more intimate setting.
Shelton and Stefani met shortly after their respective divorces from Miranda Lambert and Gavin Rossdale, with whom Stefani shares three children. Their romance started on the set of The Voice and has not slowed down since.
Until Blake Shelton and Gwen Stefani make things official, fans can watch them in action when new episodes of The Voice air Monday and Tuesday nights on NBC.