Misha Collins of 'Supernatural' Calls Filming Season 15 'Painful'
Misha Collins, who first appeared on The CW's Supernatural in Season 4 as a fallen angel named Castiel, recently described filming the show's 15th and final season as "painful." 
While the cast has been forthcoming about it being time for the show to end after it managed to stay on the air for more than a decade (a rare feat in TV), it's still been hard to close a chapter of their lives. Learn why Collins called filming Season 15 "painful" ahead. 
Although 45-year-old Collins began his time on the series as Castiel, over the last 11 seasons (!) he's played a number of other characters and gone from a guest star, where he started in Season 4, to a full-fledged cast member in Season 5 and Season 6.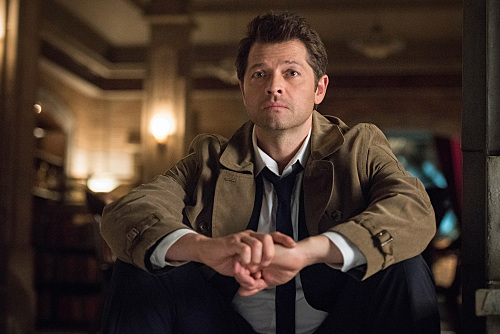 He got demoted to a guest star for another two seasons before being promoted to a regular cast member in Season 9 where he's remained ever since, according to Fandom. 
Before he landed a role on Supernatural, Colllins had parts in other TV shows such as 24, ER, N.C.I.S., and Without A Trace among others, his IMDb profile says. 
Why Season 15 of 'Supernatural' was 'painful' for Misha Collins
Ahead of Supernatural's final season, Collins spoke about what it was like to film the end of the show at the Television Critics Association summer press tour.
"Every day is painful because every day is a new last," Collins told TV Guide. 
Collins has starred in Supernatural alongside Jared Padalecki and Jensen Ackles,  known for their roles as the main characters, Sam and Dean Winchester, two brothers who fight supernatural forms of evil such as demons. 
"We're really trying to make the final season good for a change," the actor jokingly added before saying, "and we're also just struggling with a long goodbye."
Collins's description seems to us to be pretty spot-on for any show that's had as long of a run as Supernatural, which is not many. Naturally, he and the cast and crew have become close over the last decade of filming and it will strange to not return to what's become routine for them. 
Jared Padalecki on the end of 'Supernatural'
The cast of Supernatural attended San Diego Comic-Con in July 2019 and spoke about the end of the series.
When asked how he hoped the show would end, Padalecki, who has played Sam Winchester for nearly 15 years (the pilot episode aired in 2005), said he wanted the Winchester brothers to "have some version of peace," according to Cinema Blend.
For him, that could mean death. 
Here's Padalecki's full response: 
"I've been very public for a long time about saying I hope Sam and Dean die. It's probably on YouTube or something. I've said it. And I think what I was saying, in my head, I was saying they should die because otherwise, I want to see them fighting. 

But I think what I was hoping for them but not putting into words is that I wanted them to have some version of peace. Whether that meant they were dead or alive but had found a version of peace that made them not hunt. 

My whole point was if they're not hunting, I'm gonna wonder why they're not hunting. If they are hunting, I want to watch them hunt and help put them on camera hunting. So I feel like, and I'm in front of some bosses and such [laughs], I feel like the way the show ends has them in some version of peace that I'm comfortable with."

Jared Padalecki on how he hopes Supernatural will end.
Get our take on the best seasons of the show before Season 15 premieres Thursday, Oct. 10 at 8 p.m. EST on The CW.