'Mission: Impossible – Fallout': Here's How That HALO Jump Sequence Was Done
The hook of the Mission: Impossible franchise has become the increasingly death-defying stunts that Tom Cruise performs, but there's one in Fallout that is so wild, you might assume it has to be fake: the HALO jump. So did Cruise actually perform this stunt himself? How was it accomplished?
Believe it or not, yes, Cruise actually did do the HALO jump for real, although obviously the lightning was added in post. But Cruise didn't just do this jump from an altitude of 25,000 feet one time. No, he actually did it over 100 times.
As detailed in a behind-the-scenes video released by Paramount, the planning of the stunt started by building a wind machine that could be used to rehearse the choreography of the scene. During the sequence, Cruise is trying to grab a hold of Henry Cavill's character, who has been struck by lightning.
The sequence was then shot in the United Arab Emirates. According to The Hollywood Reporter, Paramount was looking for a specific type of aircraft that isn't available in many parts of the world, but they were able to get it by working with the UAE military.
The reason it ended up taking so long was that the scene is set at night, and the lighting needed to be absolutely perfect in order for it to work. That gave the crew a fairly small window, about three minutes close to sunset, during which to get the sequence filmed, and they only had an opportunity to do so once a day.
Before they could even get into the air to attempt a shot, though, everyone involved had to spend 20 minutes on the ground breathing in oxygen so as to avoid decompression sickness.
Putting Cruise aside, who was operating the camera during the sequence? According to IndieWire, they didn't teach a camera operator how to skydive but rather taught a skydiver how to operate a camera. His job was quite difficult, as he not only had to do everything Cruise did but also had to ensure he was getting coverage of everything in the scene while falling from 25,000 feet.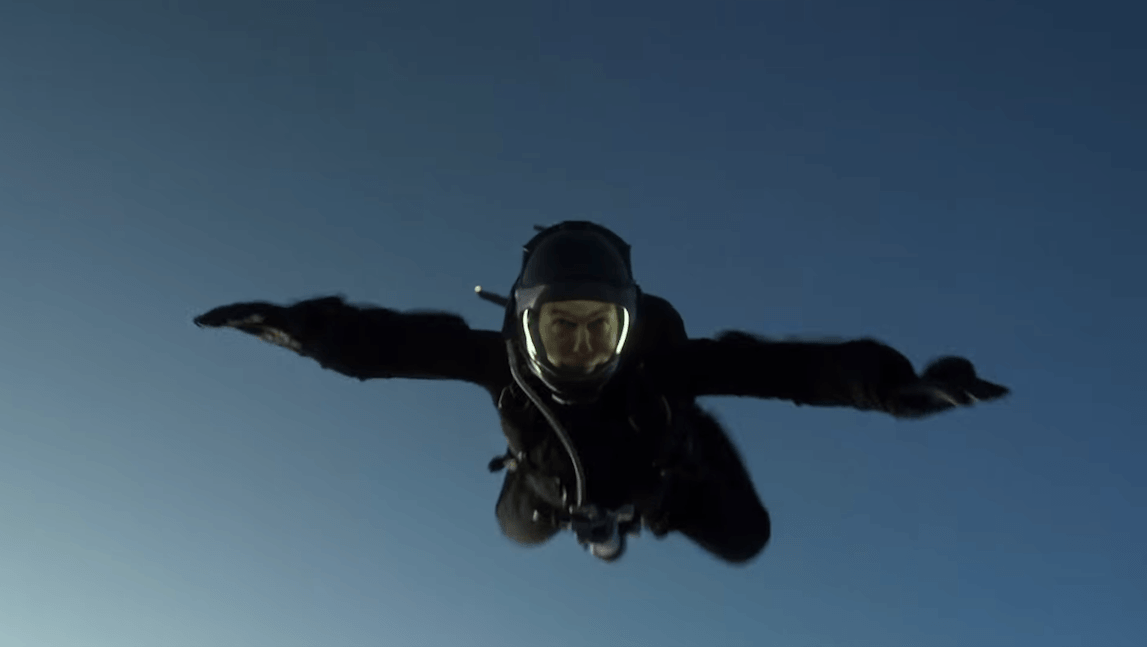 It was important that Cruise's face could be seen the whole time, and so the Fallout crew actually had to design a special helmet that did not exist before, as normally, his face would be obscured.
Director Christopher McQuarrie also wanted Cruise to fall within three feet of the camera, but three feet is a bit difficult to measure while you're falling through the air. Somehow, though, Cruise was able to eyeball it and get it just right.
By doing this stunt, Cruise becomes the first actor to ever perform a HALO jump on camera. He has called this his most dangerous Mission: Impossible stunt of all time, and it's certainly up there with his scaling of the Burj Khalifa and hanging off an aircraft at 5,000 feet in the air.
Ironically, though, the stunt that ended up injuring Cruise just involved him jumping across a roof; his leg hit the building at a bad angle during that running sequence, and his ankle ended up breaking. Despite that, Cruise continued the take, and that's what you see in the movie.