Model Nyle DiMarco Just Covered Ariana Grande's "7 Rings" in the Best Way Possible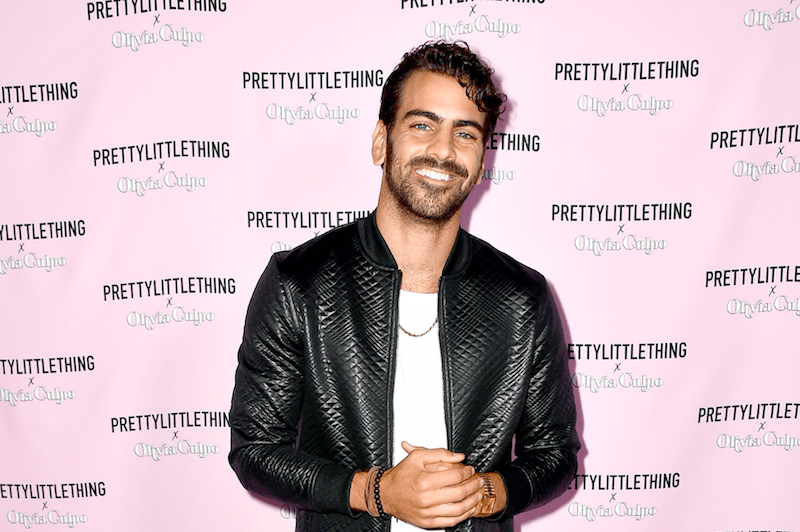 Ariana Grande might have wowed us with her "7 Rings" music video, but Nyle DiMarco left us in awe with his own take on the hit single.
The winner of America's Next Top Model put his own twist on the chart-topping song with American Sign Language.
Even Ariana Grande had given her own seal of approval with this very creative and well-done cover.
The model put his own take on the hit song
This past Monday, Nyle DiMarco dropped his own version of "7 Rings" and fans can't get enough of the top-notch cover.
Complete with blue-tint hue background, jewel-studded outfits, American Sign Language, and closed-captions, DiMarco revealed an epic yet eye-opening music video for all to enjoy.
The model has been very vocal about movies and music videos not providing closed-captions for those with hearing disabilities.
The release of the music video comes after DiMarco asked Vevo and Ariana Grande to include captions in her "thank u, next" music video.
Nyle DiMarco took to Twitter to request the video service and the singer to start including closed-captions in videos so that everyone can enjoy.
DiMarco wrote, "You earn more than 650 mill per year and can't even add captions to @ArianaGrande's #ThankUNextVideo. There ARE closed caption services that will cost you ONLY $6 (or less) to INSTANTLY appeal to a wider audience There are 466mill people with hearing loss thank u, next."
https://twitter.com/NyleDiMarco/status/1068613082702741504?ref_src=twsrc%5Etfw%7Ctwcamp%5Etweetembed%7Ctwterm%5E1068613082702741504&ref_url=https%3A%2F%2Fwww.teenvogue.com%2Fstory%2Fnyle-dimarco-ariana-grande-7-rings-american-sign-language
Since Vevo failed to listen to Nyle DiMarco's simple request, the model took the situation into his hands and made his own music video.
The two-minute music video made it possible for those with a hearing disability to see the hit song signed to them as well as having the words readily available at the bottom of the screen.
Ariana Grande approves
Not only did fans love it but Ariana Grande even gave her approval to the model and shared a few clips from the video on her Instagram Story.
The singer also shared the music video on Twitter with the caption, "beyond 🖤 love this so much."
https://twitter.com/ArianaGrande/status/1090026064515018752
Since its release, fans have been loving DiMarco's take on the hit song. The music video received so much high praise from fans that many want to see him make another.
Fans couldn't contain their excitement on Twitter that someone had delivered a work of art that everyone would be able to enjoy without any type of barrier.
One fan tweeted, "Wow Nyleeeeee finally something on trend I can share with my mom!! This made me so happy you're such a firecracker. You did that!!!!"
https://twitter.com/showmesasss/status/1089949755940036608?ref_src=twsrc%5Etfw%7Ctwcamp%5Etweetembed%7Ctwterm%5E1089949755940036608&ref_url=https%3A%2F%2Fwww.teenvogue.com%2Fstory%2Fnyle-dimarco-ariana-grande-7-rings-american-sign-language
Nyle DiMarco is an advocate for closed-captions
The model has revealed in the past how hard it is for individuals like himself to enjoy the simple pleasures of watching something that does not come with subtitles.
Nyle DiMarco has urged filmed media to include captions in order for certain individuals to not feel ousted.
"As a deaf person, captions allow me to enjoy TV, movies, and entertainment. But myself and the 360 million other deaf people in the world aren't the only ones who benefit from captions. Captions can help movie viewing experiences for people with ADHD, learning disabilities, and autism. It makes it easier for new language learners to understand dialogue. It also comes in handy in a ton of movie situations. When an actor mumbles, speaks in a heavy British accent or is trying to make himself heard amidst a Michael Bay movie explosion scene, captions are there to make the dialogue crystal clear."
Nyle DiMarco has stayed true to his belief and found a creative way to show the world that hearing loss should not get in the way of anything.