'Money Heist' Fans: Video Game Allows You to Play a Robber
The Dali masks, the red jumpsuits, and "Bella Ciao" have all become recognizable symbols to fans of Money Heist around the world. While some fans have chosen to express their love of the show through donning costumes, others have been inspired to use the song or masks as part of their local protests. What does one do for such a dedicated fan base? You gift them something else to fill the void until Money Heist (La Casa de Papel) returns for season four. Here we go.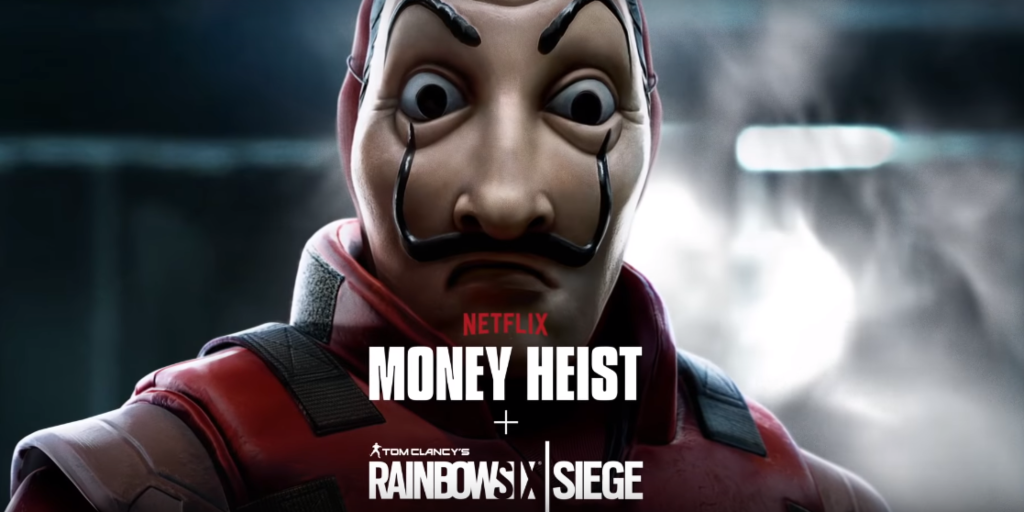 Play a robber in a 'Money Heist' video game
Fans would like to thank the creative geniuses who came up with the idea for a Money Heist-themed video game event. Ubisoft launched the special event in partnership with Netflix on Nov. 20 for "Rainbow Six Siege" that enables players to dress in the now-famous red suit and mask to rescue a hostage.
From Ubisoft:
"With Operation Shifting Tides and the arrival of new Operators on the horizon, the crossover with "Money Heist" mixes things up by introducing a themed game mode that takes players to the Bank map (where else?) and challenges the Attackers to rescue a hostage dressed in the show's attention-grabbing getup. New bundles for Hibana and Vigil will allow you to add the iconic outfits to your permanent collection for R6 credits while the event lasts (the two unique bundles include headgear, uniform, weapon skin, and charm)."
Those who play "Rainbow Six Siege" regularly are already familiar with Hibana and Vigil but if you're a fan of Money Heist too, adding those bundles to your operator's cache sounds like the coolest thing ever right now.
It's a limited time 'Money Heist' event
If you want to play, the Money Heist live game mode is available from Nov. 20 to Nov. 24, and gaming is free for the weekend from Nov. 21 – 24. Ubisoft is offering a promotional discount of up to 70% off for the "Rainbow Six Siege" game and players can carry their progress over to the full version. If you're on the fence, maybe the trailer will convince you.
It's playable on the PS4, Xbox One, and PCs, and although you won't be taking on the persona of Tokyo, Helsinki, Nairobi, Denver, or any of the others, why not try it out?
Fans want to play but are ready for 'Money Heist' season 4
Money Heist swept the globe up in its Robin Hood charm and fans are excited about the gaming event, even if they aren't normally into playing video games. Online, people are praising Ubisoft's collaboration with Netflix and they are hoping the show's creators continue to do crossover projects like this one.
But it certainly is hyping people up for the new installment of La Casa de Papel which is rumored to be dropping on Netflix sometime in January. That information hasn't officially been confirmed by showrunner Álex Pina or Netflix, but one of the series' actors told Cadena 3 that filming has wrapped and January 2020 is when we can expect part four. Until it arrives, dress up, sing "Bella Ciao," and play games.